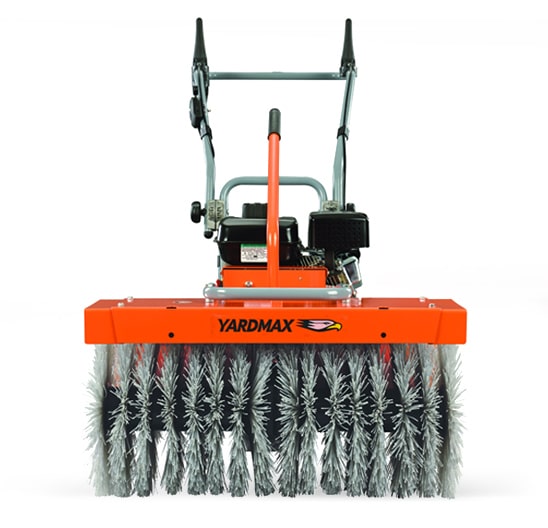 Yardmax, a manufacturer of innovative, high-quality outdoor power equipment (OPE), presents the availability of its new power sweeper. Yardmax focuses on providing exceptional quality for a low price, incorporating enhanced design features to all products for no additional upcharge — such as the power sweeper's durable nylon brush, Briggs & Stratton engine, ergonomic design and adjustable handlebars.
The Yardmax Power Sweeper is built to clean and clear surfaces in various conditions year-round, including snow accumulation up to 6 inches. This power sweeper uses a Briggs & Stratton engine with 9.5 ft-lb torque, to blast through snow, dirt, sand, gravel and other debris on sidewalks, driveways and decorative surfaces such as backyards and brick patios. Specially-designed nylon brushes spin at 520 RPM, removing tough debris while protecting the surface structure below. Special features include:
• Briggs & Stratton engine with 208cc displacement
• Adjustable nylon brushes with three sweeping directions
• Easy-to-use and well-balanced structure design
• 28-in. sweeping width with 14-in. brush diameter for high-capacity sweeping
• Advanced handlebar design is height-adjustable, ergonomic and folds for convenient storage
• Forward and reverse speeds
• Optional dust collection bucket
World-Class Support
The Yardmax Power Sweeper is backed by robust warranties and personalized customer support, including in-stock, readily available replacement parts — express-shipped if necessary. Standing behind its products, Yardmax offers a two-year residential warranty on all equipment and a 90-day commercial warranty.
Available for Purchase
The Yardmax Power Sweeper is now available for purchase at Amazon.com for $599 (MRSP). Additional Yardmax products are also available on Amazon.com, Logsplittersdirect.com, Powerequipmentdirect.com, Chippersdirect.com, Hayneedle.com and at 53 Family Farm & Home store locations.
For more information about where to buy the Yardmax Power Sweeper, or the full line of OPE products, visit www.yardmax.com/wheretobuy.
Tags:
Briggs & Stratton
,
Yardmax