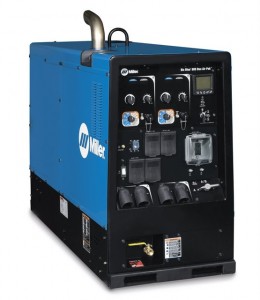 The new Big Blue 800 Duo Air Pak and Big Blue 800 Duo Pro diesel-engine welder/generators from Miller deliver more power, flexibility, improved weld control and dual operation capabilities. Users will get estimated fuel savings of 34 percent with the dual-operator machines, when compared to two single-operator units. The revamped Big Blue machines offer multi-operator flexibility, perfect for applications with limited space, such as construction jobsites.
"Miller has redesigned its diesel engine-driven welder/generators to maximize power output and fuel efficiency," said Joe Gitter, industrial engine drive product manager for Miller Electric Mfg. Co. "The result is a full product lineup of exceptionally powerful and robust diesel engine-driven welder/generators."
A 33 percent increase in rated power output results in 27,000 watts of generator power and up to 800 amps of weld power for a single operator or 400 amps each for two weld operators. Additional inverters can be plugged into the machines to create a multi-operator work platform, with operators able to weld and get three-phase power at the same time. The multi-process machines provide improved weld control that increases arc quality and optimizes welding output, resulting in better welds on thicker material.
The new engines, compliant with Tier 4 Final emission regulations from the U.S. Environmental Protection Agency, offer reliability, optimized performance, fewer emissions and reduced maintenance.
In addition to fuel savings on a per-arc basis, the dual-operator feature also saves space on the work truck and jobsite, with lower maintenance costs compared to two separate machines. The Air Pak model adds an Ingersoll Rand screw-type air compressor with 30,000-hour life expectancy for gouging in heavy equipment repairs and maintenance. It also can operate a full range of pneumatic tools, supplying up to 60 cfm of air at 100 psi with a 100 percent duty cycle. For more information about the new offerings, visit the Big Blue 800 Duo Air Pak and Big Blue 800 Duo Pro product pages.