Designed with its customers in mind, the Hilti powder-actuated tool DX 9 is engineered for the most demanding metal deck installations. Featuring an ergonomic handle, a digital service indicator and Bluetooth connectivity, the new DX 9 delivers the next generation in deck fastening.
The upright design of the DX 9 allows for reliable fastening at a high rate. It's ideally suited for fastening metal decking to bar joists or fastening metal roof and floor decking to structural steel.
The DX 9 service indicator display helps users maximize productivity. It shows the operating temperature range to help users work at the optimal pace and provides real-time feedback on recommended cleaning and service. Built-in Bluetooth connectivity syncs with the Hilti Connect app where users can access tool usage data, review how-to videos, and request Hilti service.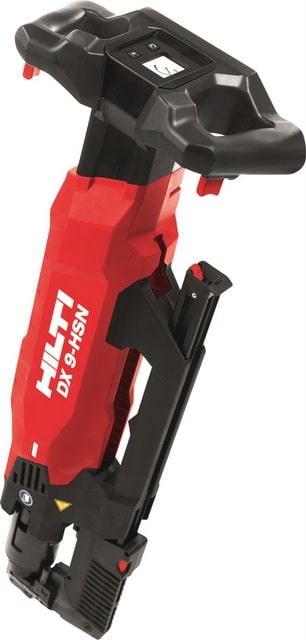 The DX 9 is backed by Hilti's 20/1/1 year warranty — 20 years of repair or replacement of defective parts; 1 year no cost repair including wear and tear; and a guaranteed 1-day turn-around on repairs* — so you can be sure it will be ready to go to work when you are.
For more info on Hilti, click this link. We've made it very clickable.
Tags:
Hilti