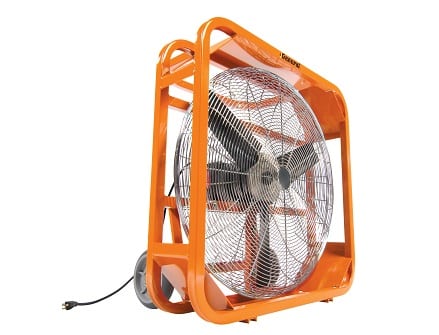 General Equipment Company has expanded its line of ventilation products with the new EP30 TEMP-BUST-R ventilation fan. Featuring heavy-duty construction, the EP30 is ideal for a variety of ventilation and climate control applications, including industrial use, trench construction, general construction, heating and cooling, general demolition, oil and gas, and other demanding work environments. It can help enhance worker productivity by improving the jobsite climate, or it can also be used for blowing dust, fumes and other contaminants out of non-hazardous work areas.
Producing up to 13,000 CFM, the EP30 TEMP-BUST-R has a 1.5-hp electric single-speed motor and a six-blade propeller made from reinforced composite material. The frame is constructed of heavy-gauge steel tubing, which is welded into one continuous structure to minimize damage from typical jobsite abuse. The two-section fan enclosure meets UL and CE requirements.
Integral lifting bails are provided for easy loading and unloading of the EP30. The unit also contains large, 8-inch-diameter composite wheels with high-strength polymer hubs and bearings for easy pulling and greater control, even when rolling over jobsite debris. A manually activated, fully adjustable braking system helps keep the unit properly positioned during operation.
Dimensions of the EP30 are 34 in. wide by 35 in. high by 19 in. deep. The unit weighs 145 lbs.
Tags:
General Equipment Company