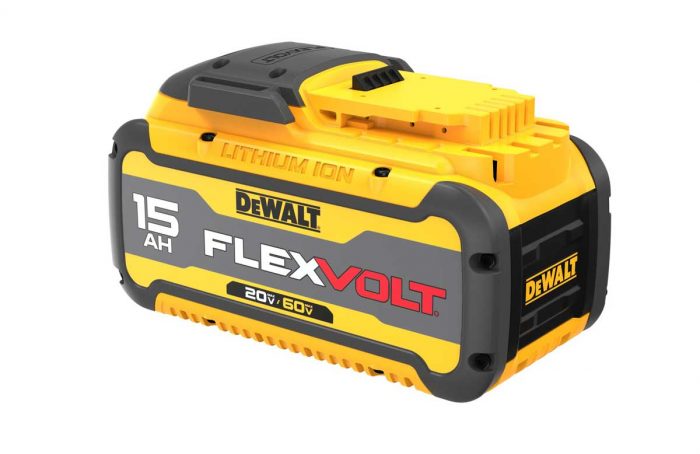 DEWALT recently announced the FLEXVOLT 20V/60V MAX* 15.0 Ah Battery (DCB615), the highest capacity lithium ion battery offered as part of the DEWALT cordless system. Delivering a new threshold of performance in the FLEXVOLT Battery lineup, the 15.0 Ah Battery is designed to provide maximum runtime in heavy-duty commercial applications including concrete and masonry, metalworking, building and remodeling. Utilizing patented technology to automatically switch voltage in accordance with the tool it is paired with, this battery is part of the 200+ products in the DEWALT 20V MAX* system and is compatible with all DEWALT 20V MAX* chargers. For extreme conditions, the battery operates in outside temperatures as low as 0° F and is designed with a three-light LED fuel gage indicating the state of charge.
 DEWALT is also releasing two new 60V MAX* Brushless SDS MAX Combination Rotary Hammers in 1-7/8-in. (DCH735) and 2-in. (DCH775) sizes, both ideal tools for use with the FLEXVOLT 15.0 Ah Battery. These high-performance 60V MAX* SDS MAX Combination Hammers offer fast concrete drilling in a wide range of applications. The 1-7/8-In. hammer delivers 13.3 Joules of impact energy** and a midweight design that allows for horizontal and downward drilling for #6 through #9 rebar dowl applications, dry coring up to 5 in., chipping in lower to mid walls, ground rod driving, and bushing. The 2-in. hammer provides a powerful 19.4 Joules of impact energy** and tackles horizontal and downward drilling for #9 through #14 rebar dowel applications, dry coring up to 6 in., chipping in lower walls or floor, ground rod driving and bushing.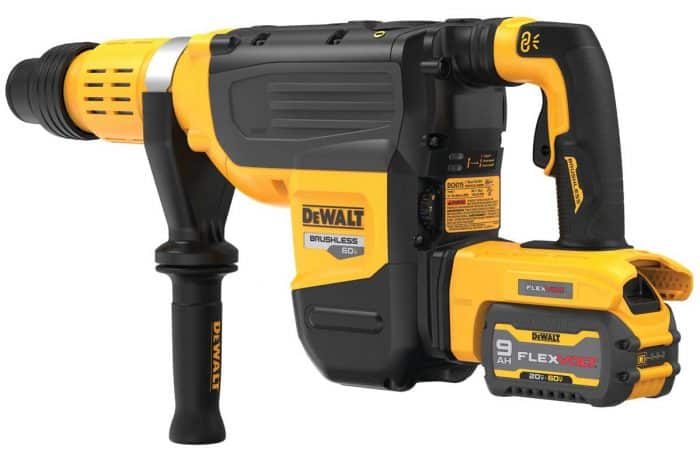 The rotary hammers are part of the DEWALT PERFORM & PROTECT product line, integrated with the Anti-Rotation E-CLUTCH System that shuts down the tools in bind up situations, and the SHOCKS Active Vibration Control System that reduces vibration felt by the user at the handles. In addition, both rotary hammers are:
Equipped with WIRELESS TOOL CONTROL, which allows the user to link the tools to the DCV585 60V MAX* Dust Extractor (sold separately) for remote extractor activation
Tag-Ready with a designated area for DCE041 TOOL CONNECT Tag placement allowing tracking through the TOOL CONNECT System via the DEWALT Site Manager app (tags sold separately)
OSHA Table 1 Compliant when used with the either DWH050 or DWH053 Shrouds and the DCV585 Dust Extractor (shrouds and dust extractor sold separately)
*Maximum initial battery voltage (measured without a workload) is 20 and 60 volts. Nominal voltage is 18 and 54.
**According to EPTA-Procedure 05/2009
One of the best parts of small equipment is the variety of attachments. From buckets and breakers to mowers and plows, click here to see what's out there.
Tags:
Dewalt