Today, we had the chance to visit Subaru Industrial Power Products at World of Concrete and check out its upgraded line of commercial-grade SGX generators. The line boast larger fuel tanks, no-flat tires and larger mufflers. In addition, the generators feature a new blue and silver look to coordinate with the company's automotive division. The upgraded generator will be on display during the show at the company's booth (C4621).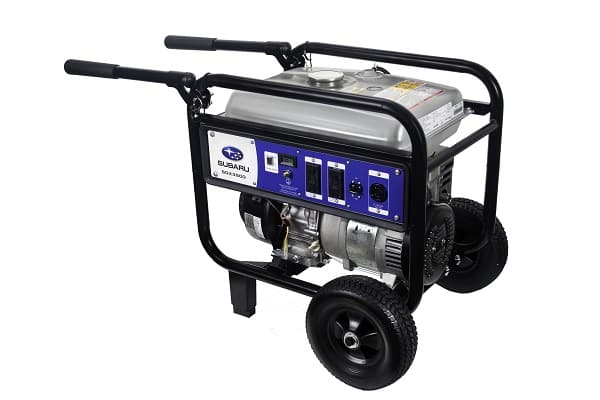 The SGX line, which includes the SGX3500, SGX5000 and the SGX7500E, is packed with high-quality components, uses durable construction and features technologically advanced Subaru EX Series overhead cam engines. The reliable and rugged generators are suited for anyone from homeowners to professional contractors.
Subaru continues to use 100 percent copper windings, which improve conduction and maximize surge capacities. Stators now come with a full varnish dip for a stronger bond than the previous dripped-on applications. This provides better coverage in all the crevices for better winding protection from movement, moisture and debris.
Subaru also modified its professional-grade control panel, adjusting both the hour meter and the placement of the engine switch.
The upgraded hour meter displays total operating hours even when the unit is not running. The engine on/off switch is now mounted on the control panel for easier access, and a protective cover over the switch protects it.
Low-tone mufflers on the SGX generators are nearly double the size of previous models, so the tonal quality of the unit during operation is smooth and clean. The mufflers also feature the U.S. Forest Service-approved spark arrestors.
Wheel kits with two no-flat tires offer enhanced portability and save operators time and money by eliminating checking, inflating, repairing or replacing tires.
The SGX line offers OSHA-compliant ground fault circuit interrupter, or GFCI, receptacles, and twist-lock receptacles enhance safety.
All SGX models incorporate an automatic voltage regulator system that provides precise voltage control output for more sensitive equipment and electronics, a low-oil-level sensor with automatic shutoff to protect the engine from damage, and an easy-to-read fuel gauge.
The SGX3500 delivers a maximum output of 3,500 watts, and it features Subaru's EX21 7-hp engine and a 4-gal fuel tank for a total run time of eight hours at the rated load. A 9.5-hp EX30 engine powers the SGX5000, which offers a maximum output of 4,900 watts. Subaru upgraded the SGX5000's fuel tank capacity to 8 gal for a total continuous run time of 10.7 hours at the rated load. The SGX7500E features a 14-hp EX40 engine that provides a maximum output of 7,500 watts. Its 8-gal fuel tank provides seven hours of operation at the rated load. This SGX7500E also includes an electric starting system with recoil backup.
The SGX generators are CSA (Canadian Standards Association) certified to meet electrical safety standards. Generators are EPA Phase 3 compliant and are backed by Subaru's industry-leading 5-year warranty on the engine and a 3-year warranty on the generator.
For more information, visit www.subarupower.com.
Tags:
Subaru
,
WOC2015
,
World of Concrete