Generator rental is common on most any jobsite, although the reasons for seeking the power provided by this equipment vary. In some instances, the rapid expansion of residential and commercial areas means that construction will begin long before utilities are in place. The addition of units to existing buildings may require generators for construction trailers, or a contractor may need to power tower cranes on larger sites.
Regardless of the purpose, there are generator power options to choose from in today's rental market — from battery energy storage systems to the traditional towable diesel generator. Selecting the right type and size of generator is critical — not only in terms of performance — but also cost. A rental partner can help in selecting the proper option for the job, starting with a site survey or job walk of the construction project.
The goal is to have a solution that provides enough power that the equipment doesn't become overloaded, which can lead to downtime and unnecessary costs for service. Most importantly, safe use of a power solution is critical. Power solutions should only be installed and operated by electrically trained personnel on a contractor's team or by a rental partner, whose personnel are also fully trained.
Battery Energy Storage Systems

On construction sites where there is a concern of power loss or contractors want to have a more economical and sustainable power solution, battery energy storage systems (BESS) are a good option. BESS units collect and store energy from a generator or the grid on a jobsite, operating when necessary to provide power. Available BESS units have a range of power and storage capacities, depending on the model.
BESS units receive excess power to charge the batteries when the grid or generator supply power to the jobsite. The inverter then converts the stored DC energy into AC energy. The BESS supplies energy when disconnected from the grid or when the contractor turns off the generator. The operating BESS is exceptionally quiet and, as with a hybrid energy system (HES), the system will restart when the batteries are depleted or when the energy load exceeds what the unit can support.
BESS units are rated for power capacity (measured in kW) and energy capacity (measured in kWh) and are designed to maximize both. For contractors wishing to reduce utility costs during peak hours, BESS can charge multiple times in a short duration. When used for backup power, the unit will discharge for longer periods of time.
There are multiple benefits to BESS units, including reducing fuel consumption and cost by approximately 40 to 60 percent. Depending on the application, that savings could increase to as much as 95 percent. They also reduce greenhouse gas emissions (CO2) by 83 percent, reduce generator run times by as much as 90 percent and increase generator power up to 60 kW for startup demand. BESS maximizes generator load efficiency by eliminating the need to constantly run diesel.
We'd love to keep in touch! Check us out on Facebook, Twitter and LinkedIn!
Towable Diesel Generators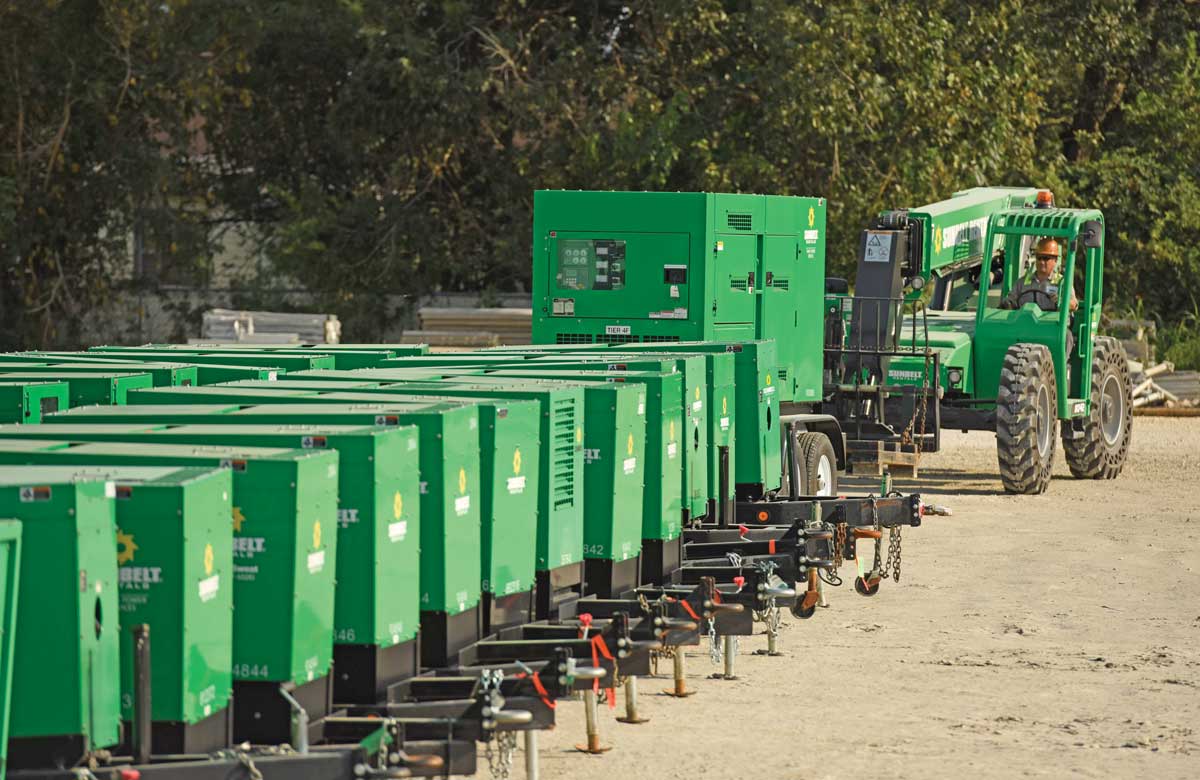 Towable diesel generators are ideal for temporary, standby and emergency power requirements. They are available in a range of sizes — from smaller 20-kW generators for building construction to 2-MW tractor trailers to support micro-grids. These micro-grids allow contractors to have their own utility infrastructure for working in more remote locations or on large sites.
Towable diesel generators are also efficient, readily available and their portability is an attractive alternative to powering a generator with natural gas, which requires a gas supply or propane tanks on site. (Note: some states and municipalities prohibit the use of diesel generators due to emissions restrictions.)
Today's Tier 4-compliant generators meet standards designed to reduce particulate matter and nitrogen oxides, two of the primary causes of smog and pollution. These generators must be operated at high enough load to clean the exhaust in order to lower emissions and improve air quality. Operating a generator at too light of a load will cause it to experience "wet stacking" (unburned fuel in the exhaust) and shut down, leaving the contractor without power. This leads to downtime, as well as increased costs for troubleshooting and potentially for service support. The key with these generators is to operate them at a higher load to ensure they continue to run smoothly and provide the desired power.
Finding the Right Solution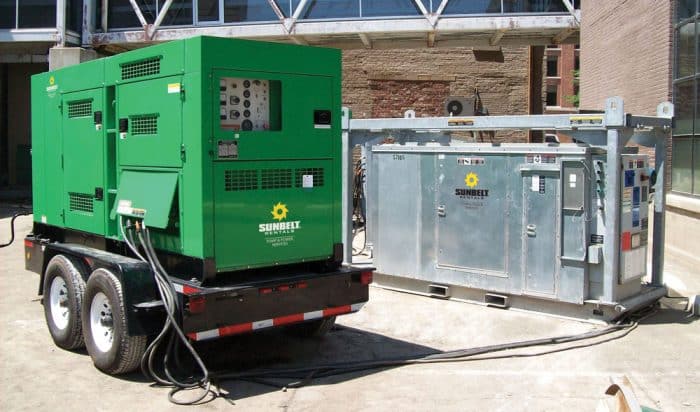 For contractors who are unsure of their power requirements or simply want to explore new generator options, rental partners can serve as an excellent resource. Rental allows for the adoption of different technologies without the risk of a capital investment or the responsibility for maintenance. If a piece of equipment requires service, the rental partner can provide that or replace the power solution to help contractors reduce downtime and improve jobsite efficiencies.
Ryan Crampton is the sustainability and innovations manager, power and HVAC services, for Sunbelt Rentals.
Compact tool carriers, compact utility loaders, mini skid steers. Whatever you call them, we can all agree these machines pack a lot of productivity in a small package. Learn more about them here!