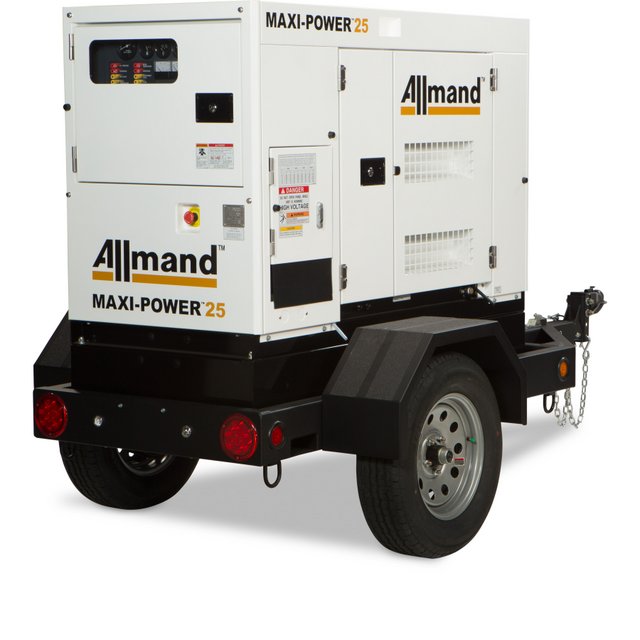 Allmand Bros. Inc., a subsidiary of Briggs & Stratton Corporation and a manufacturer of high-performance portable jobsite equipment, is excited to incorporate the industry-leading generator control module from Deep Sea Electronics on its Maxi-Power 25 mobile generator unit. The Deep Sea controller is already integrated on the Maxi-Power 65and Maxi-Power 150 mobile generators.
"Extending the incorporation of the Deep Sea controller to our Maxi-Power 25 generator offers operators more in-depth data for improved fleet management," said Joan Westwater, product manager — jobsite. "The control module adds key functionality to the Maxi-Power™ 25, making our workhorse generator even more flexible."
The control module has a clear display showing all operating parameters, including warnings, shutdown and engine status information. All operations and parameters are now centrally located on a back-lit LCD screen with illuminated LEDs and can be accessed through the convenient 4-line, five-key menu navigation.
Diagnostic codes are available for improved system maintenance and monitoring. Maintenance hours, error logs, and trending problems can be accessed through the module, showing current and historical status information with a real-time clock for accurate event logging. Multiple date and time scheduler with configurable event logging allows for maintenance periods to be configured to maintain optimal engine performance and provide load protection to the generator.
"We're excited to offer our customers enhanced command of the Maxi-Power 25 through the Deep Sea controller, so they can further maximize performance and productivity," said Westwater.
For more info on Allmand, click this link. We've made it very clickable. Honest.
Tags:
Allmand Bros
,
Briggs & Stratton