Regardless of the need, towable diesel generators are among the most prevalent solutions for jobsite power. This is due in part to the range of available sizes — from smaller 20-kW generators for building construction to 2-MW tractor trailers to support microgrids. When choosing a towable diesel generator, there are key factors to consider to determine the right size and to ensure safe operation.
Selecting the right size generator is critical — not only in terms of performance but also cost. A dealer or rental partner can help in selecting the proper size generator for the job, starting with a site survey or job walk of the construction project. The goal is to have a generator that provides enough power that it doesn't become overloaded, which can lead to downtime and unnecessary costs for service or for returning the generator to a rental partner and having a new one delivered. Conversely, renting a larger generator than required to energize the site increases costs for rental fees.
Ultimately, it is not a one-size-fits-all situation, and it's important to remember that the generator power that worked for a past project might not be the best option for a current one. If you're wondering how best to select a towable generator, we recommend these stories:
If you're looking for cool new towable generator products, we recommend these three for sure.
Atlas Copco QAS 700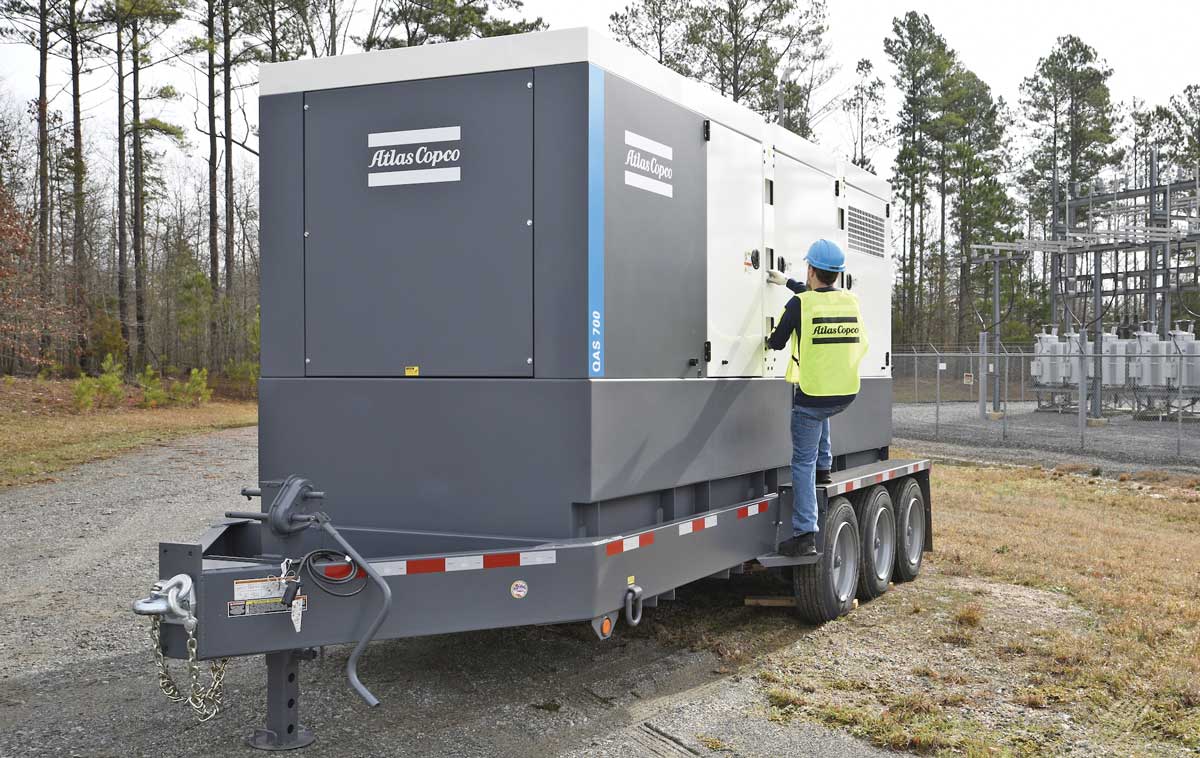 The Atlas Copco QAS 700 VD T4F generator is a multi-voltage, sound attenuated mobile generator with a power rating of 560 kW/700 kVA prime power. Equipped with a new durable Volvo Penta engine with optimized aftertreatment performance, this product gives flexibility for a wide range of applications. The QAS 700 comes with more features as standard like camlocks, external fuel tank connections with dual fuel filters, battery charger, solar battery charger, internal lights and a coolant heater. Fleetlink, Atlas Copco's telematics system, is included as standard, allowing pros to always stay connected to their fleets. With a four-position voltage selector switch that includes single-phase and 50/60Hz capabilities, the QAS 700 offers a high level of versatility. Extremely durable and environmentally sensitive, the QAS 700 is designed to be used for everything from the oil field to special event power and more. For more info, visit atlascopco.com.
Doosan Portable Power G70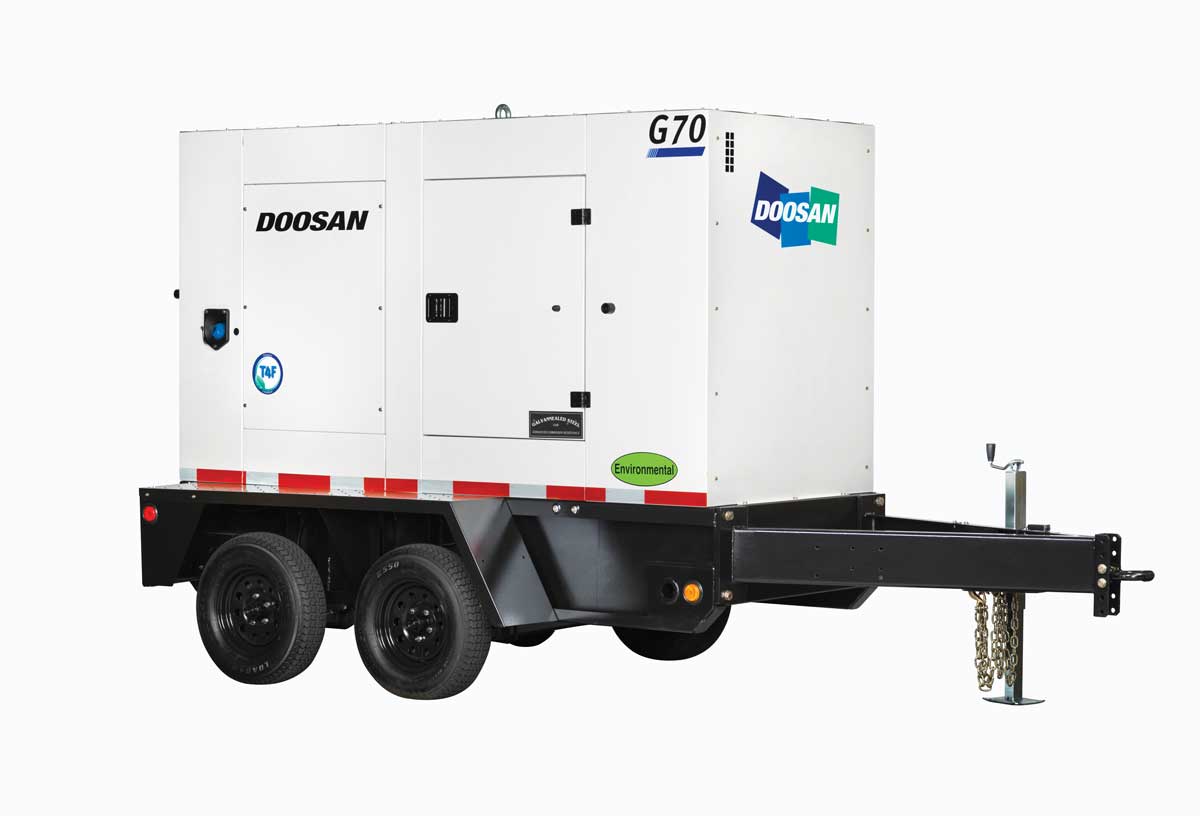 The Doosan Portable Power G70 mobile generator is equipped with the high-performance Doosan D34 engine for unrivaled motor starting capability and reliable operation in extreme conditions. The D34 engine consists of a DOC with selective catalytic reduction (SCR) aftertreatment for Tier 4 Final compliance. The G70 has an increased onboard fuel capacity for a runtime of more than 24 hours at any load factor. An optional 48-hour runtime solution is also available. The multipurpose generator model is a popular rental item, especially for general construction and event applications where extended runtime and low sound levels are required. The Doosan generator also features enhanced controls for easy operation, including a backlit LCD screen for easy viewing of common parameters and analog gauges for at-a-glance monitoring. For more info, visit doosanpowermoves.com.
On-Site Refueling: Western Global's TransCube Global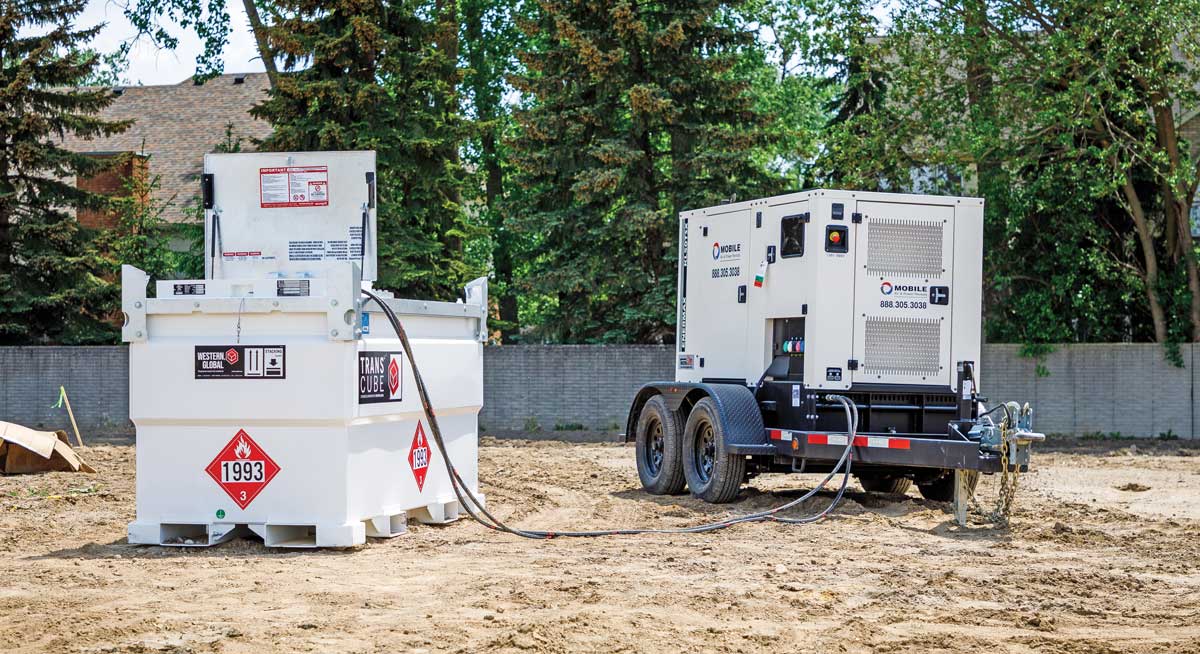 Western Global, a leading manufacturer of fuel and fluid storage solutions, offers the TransCube Global for gen sets. This is a transportable, double-walled, cube-shaped fuel tank designed specifically for auxiliary fuel supply. The TransCube Global provides efficient onsite refueling for equipment and can extend generator run time. The cube-shaped tanks feature 110-percent fluid containment and meet global transportation standards to provide safe fuel transport anywhere it's needed. The tanks have feed and return ports to fuel as many as three pieces of equipment simultaneously, making them a versatile auxiliary fuel tank. A lockable equipment cabinet secures equipment ports and pumps to prevent unauthorized access and deter theft. For more info, visit western-global.com.
I hate to be the bearer of bad news, but sometimes you can't have it all… unless you rent. From finding the right dealer to scoring the perfect rental machine, we have you covered!
Tags:
Atlas Copco
,
Doosan Portable Power
,
May June 2022 Print Issue
,
Western Global