Work requires energy. For professional contractors, towable generators have always been a reliable source for energy production on a project. Converting stored energy in diesel fuel to usable electricity, mobile generators can power everything from miter saws and laptops to mobile offices and storm recovery efforts. Towable generators can supply a variety of energy options for a variety of applications, and end-users in industries as diverse as road work, oil and gas, hospitals, parties, general construction and rental rely on them.
The industry also continues to evolve to meet new demands, increase efficiency and longevity and provide better solutions for professional power needs. A generator may seem like a simpler piece of construction equipment — engine, crankshaft, alternator, big metal box — but towable generators have benefited greatly from high technologies that are allowing manufacturers to put more power into an efficiently sized package. Todd Howe, product manager at Doosan Portable Power, pointed to three tech trends in particular when we met up at The ARA Show in February.
"Load management, paralleling and remote monitoring are three big things that I've seen going on for awhile," says Howe, leaning on a big G400WCU-T4F mobile generator. "Power generation is becoming more specialized, and it takes a company that's really focused on providing a variety of solutions to customers. Just look at the flexibility rental companies require in terms of how they manage their fleet, what power nodes they invest in and which ones they don't. Technologies like paralleling and fleet management make sure they've got the right product for their customers and their applications."
Load Management
The towable generator market is full of options today — especially size. It's possible to find fully portable generators with working power ratings from 25 to 300-plus kVA. That impressive range means power and load demands can fluctuate greatly for almost any type of application and generator. That inconsistency in load can be hard on a variety of generator systems and affect longevity and efficiency. To combat this, Doosan Portable Power has offered its Intelligent Load Management System (ILMS) as an option on its bigger generators for years. In 2019, the company announced it is offering ILMS across its full generator product line.
"As we got into smaller products, we noticed needs were different," explains Howe. "The packaging constraints of our system that we designed for large machines didn't exactly scale well down to small machines, so we came up with something new. It's sized right, and therefore priced right for small equipment. What we've come up with for small machines is a method of heating the engine coolant to operating temperature. A lot of times when we're running small machines in light load applications what you'll find is the engine coolant temperature never gets to the operating threshold, so if we're able to heat the engine up to achieve those temperatures, we reduce the effects of wet stacking and some of the performance issues that might pop up with light load operation."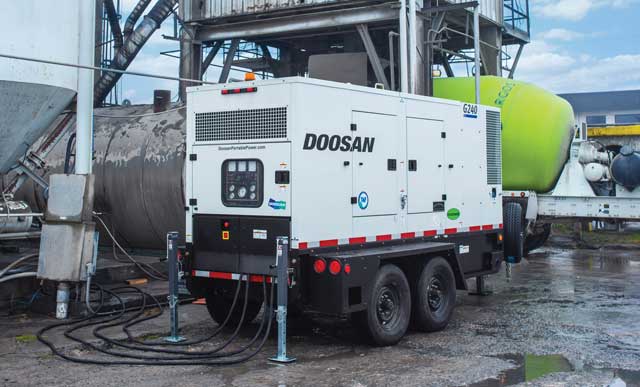 ILMS automatically adjusts engine and exhaust temperatures with supplemental heat to ensure the generator operates at full capacity regardless of load demands. For applications with fluctuating power demands, the system can instantly respond to ensure full generator capacity is always available in the event of a sudden heavy load demand, such as a motor start.
There are lots of other examples around the industry. Atlas Copco and its sister brand Chicago Pneumatic, for example, offer a Power Management System (PMS) — specifically for paralleling applications — aimed at optimizing fuel consumption and expanding the generator's life. PMS manages the quantity of generators running in parallel with load demand, starting and stopping units in line with increases or decreases in load. In this way, the load on each generator remains at a level that optimizes fuel consumption It also eliminates the need for generators to run with low load levels, which as we mentioned, can cause engine damage and shorten the life expectancy of the equipment.
"Rental companies have been benefiting from PMS for many years with benefits like modular power, redundancy and higher generator use rates," explains Angel Nieto, product manager of power and light at Atlas Copco Power Technique. "Pump companies are also adopting this technology as the load demand strongly varies from the initial starting of the pumps versus the steady state condition.
"Any application with variable profile loads are a perfect fit for PMS. Also, jobs where the load demand for the installation will change can use the modularity that the PMS system brings. PMS allows the generators to work in a variety of configurable working modes — AMF [automatic mains failure], peak shaving, etc. The most popular working mode being the load dependent start/stop. Once set, the system will automatically start/stop the generators needed to run the load, optimizing the overall fuel consumption and avoiding underload and adding additional redundancy to the installation among other benefits."
Paralleling
Paralleling involves the physical process of connecting two or more generators, which can increase power capacity, ease maintenance, use less fuel and ensure redundancy. Paralleling requires the synchronization of power outputs, which makes a power management system (that section above) an important consideration. Generators can usually be paralleled together as long as their frequencies and voltage are the same, but there are of course limitations with age, size and brands. Some factors to consider when paralleling include synchronization of units, voltage regulations, overall load balance, altitude of the site and ambient temperature, what it takes to start the motors and surge capacities.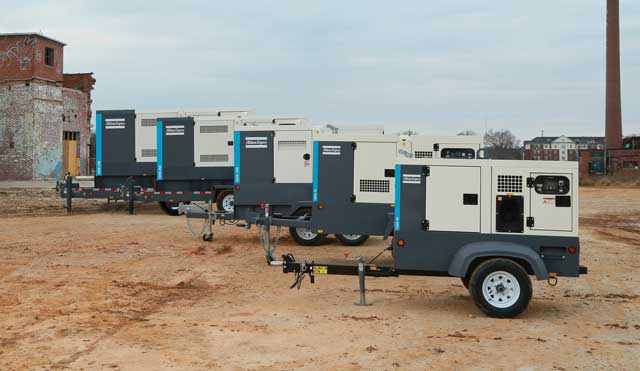 "Paralleling has been trendy, and some of it is driven by the fact that those systems are easier to operate than they've been historically," says Howe. "Back in the day they were fairly complicated, and now they're pretty well integrated into the machine and pretty seamless. It still takes a bit of setup, but you can teach an operator how to use it once it's commissioned and set up on a jobsite, and it provides some nice benefits whether it's the ability to expand to a larger power module, where you can take small machines and turn them into a large plant, or for redundancy. Two machines in parallel can give you that redundancy where you can ensure that if one machine has a problem the other machine can keep the job going."
In paralleling, the control systems of the generators need to communicate, so multiple units can produce the same voltage and frequency at the same phase angle (i.e. the sine waves peak at the same time). The connecting and synchronizing process used to include an intimidating network of wires, big switch gear and frequent manual interaction and monitoring. Modern paralleling generators benefit from today's computers that do most of the work.
"Atlas Copco offers two different paralleling systems in the QC4003 controller," explains Nieto. "The analog system [ALS] is a 100 percent plug-and-play system. Simply connect the communication cable, start the generators and press the bottom to close the breaker. The controller will take care of the rest. Then, each generator running in parallel will take the same load or proportional to the maximum power rate if we are paralleling different models. The load will see the generators as one single unit. Then there's our PMS advanced system, which will just require that three parameters are set on every generator. Once it is done and the communication cable is connected, start any of the generators and the installation will run by itself. In both cases, the setup is completely safe. If something is wrong, the generators simply will not close the breakers, so there is no risk for the operators, the installation or the generators."
According to Nieto, 32 generators can be paralleled. While the size of towable generators with paralleling capability has been getting smaller, there are still size limitations — especially on the compact models. Paralleling works on larger, medium-sized generators because the combination of larger towable units can be more cost-effective than one giant unit, but when considering smaller power needs, it is usually easier to upgrade to a more powerful unit that's similar in size and avoids the complexities and added cost of paralleling.
Remote Controls, Telemetry and More
For companies using generators in remote locations, whether they are running sprinklers on a farm or empowering operations in remote oil and gas projects, perhaps no development is more exciting than the growth of telematics and remote controls. Operators and their service companies can receive maintenance reminders to schedule service, monitor and act upon warnings, overloads and other alerts — even resolve engine problems — all from a remote location.
"Remote monitoring has gone from being kind of nichey in specific applications to something that's become a lot more mainstream," explains Howe. "Especially rental market customers, they're looking to do more management and better predictability around service and maintenance requirements to their fleets, so we're starting to see even smaller rental companies make investments so that they can keep their fleet in top shape and keep their customers happier. It's all about uptime and performance for the end-user, so now the rental company can predict when maintenance is due or when there is going to be potentially a service intervention required. That gives them a leg up in taking care of that customer before the customer knows there's even an issue."
Remote controls can allow contractors to start, stop and control a unit without being onsite. Telematics can monitor generator operation functions, maintenance upkeep and maintenance alerts and can immediately communicate those to concerned parties — dealer, contractor or rental house. Telematics can also employ geofencing and other security measures. These tools are just another bundle of options available for today's generator users and owners to make fleets and power applications more efficient and secure.
The science and ingenuity of creating clean, quality portable power is constantly evolving — with remote controls, load management systems and paralleling — but also via multiple fuel options (diesel, propane, natural gas), ultra-clean Tier 4 diesel engines, high-tech interactive control panels, hurricane-resistant enclosures and way beyond. The list of common and cutting-edge systems being engineered into portable, enclosed generators today is pretty impressive, and we're excited to see what tomorrow brings.
"At Atlas Copco, we are developing a new range of diesel generators that will be a game-changer in the mobile generator business," Nieto teases. "This range based on variable speed engine technology will bring more versatile generators with an unbeatable fuel efficiency, low noise level and wet-stacking-free performance. In other areas, ultra-silent generators, used in events and movie filming, are significant niche markets. Power nodes below 70 kVA have become a commodity market where price is one of the main drivers. Energy storage technologies are linked to the evolution of battery technology. Once reliability is out of the question and prices become more competitive, they will play a key role in the power business. Overall, portable generators will always be in demand as they offer the best versatility when it comes to temporarily filling the gap between a power need and the power available."
---
Extended Run Fuel System
Generac Mobile Introduces New Connection System for External Diesel and DEF Tanks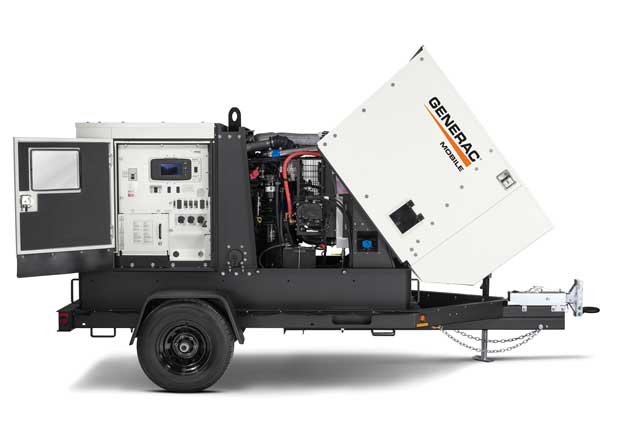 Generac Mobile users can extend their Tier 4 Final generator run time with a new extended run fuel system. The system makes it easy to connect external fuel and diesel exhaust fluid (DEF) tanks to the generator for longer run times. The system is optional on all Generac Mobile Tier 4 Final diesel generators starting at 75 kVA and up. Designed to work with TransCube external fuel and DEF tanks, Generac Mobile's extended run fuel system uses a vacuum draw technology that allows the fuel and DEF to flow seamlessly from the external fuel and DEF tanks to the on-board tanks of the generator, maximizing the total fuel and DEF capacity of all of the tanks for more operating hours before refilling is required. The extended run fuel system includes a fuel pump switch, external diesel supply port, external DEF supply port and a DEF power receptacle. For more info, visit generac.com.
Click through this powerful link for more info on generators.