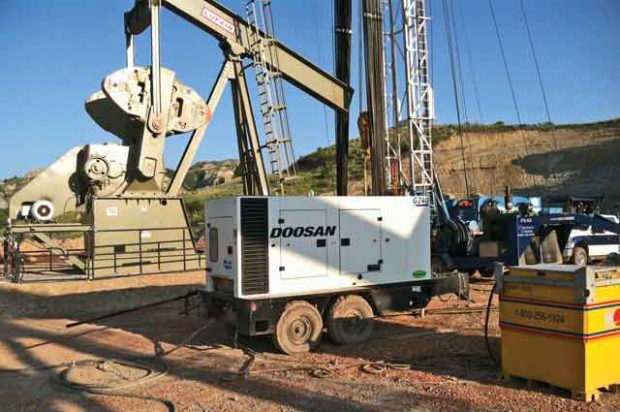 Add-On Options Improve Reliability and Performance in Challenging Conditions
Mobile generators have evolved into robust machines with features that make them suitable for a broad range of applications. For the most part, mobile generators don't require a lot of customization unless the jobsite poses a specific challenge, such as dusty conditions, subzero temperatures or a remote location. Many manufacturers offer significant options and machine configurations that can improve the performance and reliability of generators operating in harsh settings or a unique application.
1. Dusty Environments
Dust is an enemy of any generator but especially those operating in extremely arid locations or regions that experience strong winds. Dusty environments require a greater level of air filtration to keep sand and dirt from entering the package. Dust buildup can quickly clog cooling systems and radiator fins, decreasing generator performance and increasing the risk of machine overheating. Dust that makes its way inside the generator enclosure also greatly increases the potential for it to be ingested by the engine — resulting in major damage.
Options to combat excess dust include installing a large capacity air filter inside the unit and adding exterior filters to help prevent fine particles and airborne dirt from finding a way inside the generator package. Not only do the additional filters protect internal components from exposure, but they also reduce the time spent cleaning radiator fins and air inlets and wiping out the interior of the machine.
2. Subzero Temperatures
Cold weather creates a number of challenges for mobile generators. Generators don't inherently produce much internal heat, so cold ambient air temperatures can affect performance. Generator engines can experience startup issues at just 30 degrees Fahrenheit (0 degrees Celsius). Fluid viscosity also becomes a concern as temperatures drop and internal components such as the crankcase breather hose are at risk of freezing up.
The most common generator option for combating frigid temperatures is an engine block heater. The heating element warms diesel fuel and radiator coolant when the engine is shut down to prevent gelling and freezing in cold temperatures. Other options that can be added to address challenges of colder climates include features that limit the amount of cold air entering the machine. Regulating cold airflow through the machine keeps the engine and internal components warmer. For example, Doosan Portable Power offers temperature-activated air inlet louvers that automatically restrict airflow into the machine based on ambient air temperatures.
A heated crankcase breather hose is another add-on option for generators that face the potential for freezing temperatures. A heat element prevents condensation within the breather hose, eliminating the potential for ice particles to form and block the tube, which can impact engine performance.
For generators exposed to subzero temperatures for an extended period of time, a grouping of à la carte add-ons may be beneficial. One of the most popular is the tundra package. The specific components vary from machine to machine in order to meet the needs of the application; however, most tundra packages include up to five options specifically designed to prevent freezing or gelling issues, such as the crankcase heated breather hose.
3. Remote Locations
Some applications require generators to operate 24/7 without a lot of operator oversight. Generator options can be added to extend the operation and service schedule of machines in remote locations. The remote fuel valve option helps to extend refueling intervals by allowing the generator to connect to a large external fuel tank. Instead of refueling every 24 hours as standard equipped, it extends the refueling interval to one week or longer.
Similarly, the oil level maintainer option extends service intervals by making it possible for the machine to maintain an acceptable oil level without assistance from a service tech. Both options improve productivity levels for unmanned applications.
How to Customize Your Generator
Having a generator customized to the specific needs and challenges of an application doesn't happen by chance. In addition to understanding the options that are available, it's equally important to know what "options" are actually standard from some manufacturers but not others.
Knowledgeable Dealer
A knowledgeable dealer is a great resource for finding a generator equipped with options suited to a particular application. A local dealer will have an understanding of the typical challenges of the area — does the temperature drop below the freezing point, are there strong winds and so on. A dealer is also likely to have generators equipped with options specific to the region and application already in the rental yard or equipment inventory — saving time on options that require factory installation.
Aftermarket Kits
Aftermarket kits are available for customers who didn't select the necessary options when purchasing a generator. Most aftermarket kits can be installed in the field. The most popular aftermarket option is an engine block heater. A generator engine starts to struggle with temperature at 40 degrees Fahrenheit (4.4 degrees Celsius), and it gets that cold everywhere.
Whether factory installed or purchased as an aftermarket kit, customizing a mobile generator with add-on options helps to improve reliability and keeps a generator performing on the jobsite — and that's one feature that's not optional.
Todd Howe is a global generator products manager from Doosan Portable Power.