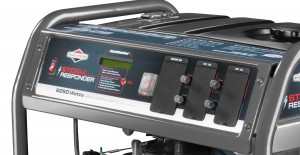 Today wraps up Hurricane Preparedness Week, and in recognition of emergency preparedness Briggs & Stratton discussed homeowner preparedness for power outages.
According to a 2014 Harris Poll sponsored by Briggs & Stratton, one out of every four homeowners had lost power to their home for 12 hours or longer at least once in the last two years. The survey goes on to report that roughly 66 percent of those having endured a prolonged outage would alter their approach prior to the next outage, according to the survey.
Hurricane Preparedness Week is sponsored by the National Weather Service's National Hurricane Center, and hurricane season officially starts June 1 and goes until Nov. 30.
"May 24 marks the beginning of Hurricane Preparedness Week, and while it's good to see homeowners are motivated to take better precaution after having endured a prolonged outage event, we really want to use this week to teach homeowners how they can prepare their homes properly now without needing that extra motivation of sitting in the dark," said Dan Roche, director of marketing – portable power and cleaning systems, at Briggs & Stratton. "While hurricane season is quickly approaching, the good news is there is still time for families living in hurricane-prone areas to prepare their homes and equip their families with the right tools to best endure the effects of a hurricane storm."
How can homeowners prepare for hurricane season and power outages?
According to the Federal Emergency Management Agency, if families do nothing else to prepare before hurricane season begins, they should at least make an emergency preparedness kit and have a family communications plan.
There is plenty more homeowners can do to prepare before the next hurricane makes its way towards land. For example, a hurricane or strong storm will likely leave neighborhoods and communities without power, so it is important to prepare for power outages. Returning utility power to a neighborhood after a hurricane can take a long time as hurricane-force winds can damage trees and block roads, making power line repair a difficult task.
Portable generators and home standby generators prevent power interruption to a home and deliver backup power to help return a sense of normalcy for a family. These two types of backup generators offer different features.
For those needing an immediate solution to power select appliances during an outage, a portable generator, is the perfect solution. Portable generators can power a homeowner's power tools to help clear a property of storm-related debris. Depending on the generator's capacity, they can also power some key home appliances for comfort. We recommend that a transfer switch be installed at the home.
Some portable generators available today are even coupled with step-by-step startup, shutdown and storage instructions, like the Briggs & Stratton Storm Responder, to maximize ease of use. Simple diagrams indicate the correct oil and fuel to use, which appliances can be plugged in and where the unit should be placed while in use.
Standby generators automatically keep the power on when a home's primary power source goes out utilizing an automatic transfer switch. Fueled by propane or natural gas, they allow homeowners to run appliances like air conditioners, heaters, refrigerators, sump pumps, clothes washers/dryers and lights.
The Briggs & Stratton 8- or 10-kW1 Standby Generators are affordable options for families trying to prepare for power outages, even ones caused by a hurricane. The compact design gives homeowners more placement options, while the powerful Briggs & Stratton Engine helps ensure all of the home's basic appliances are covered by backup power.
Tags:
Backup Power
,
Briggs and Stratton
,
Emergency Preparedness