Milwaukee-based businesses Generac and Harley-Davidson have more in common than just location. They both have rich company histories, are quick to adapt to customer needs and have expanded tremendously since their beginnings. Industry journalists had a chance to learn about both companies when we were invited to the Badger State in early May to tour Generac's new manufacturing facility in Oshkosh and take a peek at its expanded line of generators. We also were able to look around the Harley-Davidson Museum and learn some fascinating facts about the motorcycle giant.
Ever wonder where that "hog" nickname came from? Little piglets were the mascots for Harley-Davidson's racing team back in the 1920s, and riders would take the pigs on a victory lap after each win. The pigs went away, but the name stuck. Harley-Davidson also was not the first motorcycle manufacturer — motorized bikes were around for years before William S. Harley and Arthur Davidson made their first version in 1903. But their popularity has made Harley-Davidson one of the most recognizable brands in the world.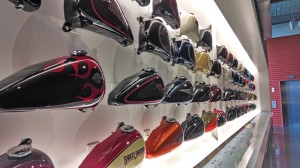 The same can be said about Generac. Definitely not the first generator producer, Generac came into existence in 1959 and worked with Sears and Craftsman to build a name for itself. Today, it's one of the top manufacturers of home standby generators and has expanded into commercial and industrial markets. From 800-watt portable generators to multi-megawatt behemoths and portable light towers in between, Generac custom provides a variety of solutions for its wide-ranging customer base.
Our tour of Generac's new facility in Oshkosh was actually because of a recent acquisition. In November 2013, Generac finalized the purchase of Baldor Electric Co., a wholly-owned subsidiary of ABB Group and a generator manufacturer. Baldor's facility in Oshkosh joined Generac's other five in the state. The Baldor acquisition allowed Generac to expand its generator lineup, now including ones as large as 3.25 MW.
"Power is our primary focus," said Generac CEO and president Aaron Jagdfeld. "We believe our comprehensive product lineup combined with our dealer network, service and engineering support make our solutions the best choice for commercial and industrial applications."
In recent years, Generac has chosen to focus on four areas: to grow its residential market, to gain industrial market share, to diversify with new products and to enter into new geographies. Signs pointing to this vision are hanging all over Generac's new Oshkosh facility.
Generac has made a number of acquisitions over the last few years to further expand the company's influence in the power generation market. In October 2011, it acquired Magnum Products, the No. 1 manufacturer of light towers at the time in Berlin, Wis. A year later, Generac bought Ottomotores UK Limited, which included Ottomotores Mexico and Ottomotores Brazil, two leading power generation equipment manufacturers in Latin America. This acquisition provided Generac with a platform for future growth outside of North America.
Since "diversifying" is one of Generac's top goals, its new lineup also comes with the ability to adjust to multiple fuel types. With diesel losing its dominance in the generator market, Generac has invested in technology to include natural gas in its systems. The Generac Bi-Fuel generator runs on both diesel and natural gas simultaneously.
"Natural gas has many advantages over diesel in a variety of applications," said Terry Dolan, executive vice president of commercial and industrial products. "It's cleaner burning, it offers virtually unlimited running time and it doesn't carry the environmental concerns associated with diesel fuel storage."
This diversification came from customer feedback. Generac aims to be a trusted expert in power generation. Dolan joked that there are two types of mechanical products — those that will break down and those that do. Generac will be there to help and understand customer challenges. Contractors are a big customer for the company, and their suggestions help mold Generac's future products.
"It's their brand [and] reputation on the line every day," Dolan said. "We want to have a great experience for them long term."
Kelly Pickerel is a contributing editor to Compact Equipment, based in Brecksville, Ohio.
Tags:
Generac
,
Generators