Today's off-highway diesel engines are impressively sophisticated and small. Engineered into equally intricate and compact construction equipment, these diesels are powerful, efficient, cost-effective and clean. Advancements like electronic control systems with high-pressure common rail systems deliver unparalleled performance and precision — faster responses and more optimized power. A variety of high-tech aftertreatment systems with acronyms like SCR, DPF and EGR are now incorporated to clean pollutants. Multifaceted options like silent packs, intelligent turbochargers, radiators and air cleaners can be included. Have we mentioned hybrids? We shall. Engine news has been pouring into the CE offices, and here's three topics we highly recommend.
The Hybrid Link: Hatz Flywheel-Integrated Permanent Magnet Generators Bridge Diesel and Electric Power
For the last five years, the conversation about electrification of powertrains has focused on the consumer level on-highway market. A lot of the major drawbacks of electric powered vehicles can be overcome in the consumer market but are still holding the industrial market hostage. Consumer vehicles can get away with only holding a 250-mile round trip charge, and there are no financial gains that are dependent on the vehicle's weight, fuel consumption and down (charging) time, only minor, personal inconvenience.
As technology in electrification advances, the off-highway machinery market is now looking to jump onto the scene, but how can the major profit-loss obstacles be overcome? How can the range or battery life be extended while still keeping weight and physical size at a minimum?
One possible solution is a permanent magnet generator integrated into a standard-fuel engine. This would be used in hybrid systems, as power outage backup or for continuous power supply applications. This technology uses a modified flywheel with magnets surrounded by a stator. This feeds an electrical current into a voltage regulator to control the voltage and current output. Using this style of electrical generator allows the user to harness the full range of engine speeds to maximize efficiency and fuel consumption as well as minimize the overall footprint of the equipment. This type of generator will also allow the user to increase the power output of their equipment by allowing the standard fuel engine to charge battery packs or capacitors, rather than powering the equipment directly.
In this vein, Hatz has developed its Flywheel-Integrated Permanent Magnet Generators. These hybrid gens can find work in mobile light towers, electric lift equipment, solar and conventional mobile road signal equipment, auxiliary power units in construction machinery and lots more equipment. Some quick highlights: Compared to a conventional generator, the permanent magnet technology boasts reduced installation space requirements and less weight. Whether from AC to DC or from AC to AC — the related inverters ensure consistently high power quality. They also enable adjustment of the engine speed according to load. The engine only runs as fast as the power demand requires, and Hatz E1 technology (the world's first electronic control for single cylinder diesels) is a standard feature and provides Internet of Things (IoT) connectivity. Learn more at hatznorthamerica.com.
Tiffany Fiedler is the engineering manager for Hatz Diesel of North America Inc.
Greener Power: 3 Reasons Propane Remains a Favorite for Generators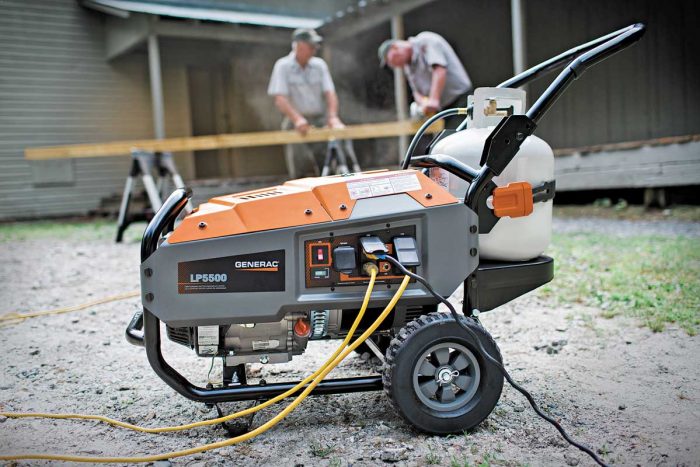 Portable generators maximize efficiency on any jobsite by providing the needed energy that keeps tools running and workers productive. For crews renting their equipment, including generators, selecting the right energy source to power it is an important consideration. A growing number of construction professionals have found propane to be an optimal jobsite energy source, helping them to get the most out of their equipment. Here are three reasons construction professionals are trusting propane to provide remote, emergency and standby power to jobsites.
A Portable, Resilient Energy Source
Independent, self-sufficient energy is critical for jobsites not yet connected to utilities or that are located beyond the electrical grid. Because propane is an independent and highly portable energy source, propane-powered generators provide crews with dependable, resilient energy — regardless of where the jobsite is located.
Clean, Safe Jobsite Power
For jobsites located in areas with emissions regulations, clean energy is a top priority when selecting rental equipment. Propane, an approved clean alternative fuel, produces significantly fewer greenhouse gas emissions than other options, including diesel, gasoline and even electricity when life cycle emissions are taken into account. Beyond reducing jobsite emissions and aiding in better air quality, propane offers additional safety benefits. Most notably, propane generators are small, quiet units that can reduce noise pollution and minimize distractions for the crew.
Versatility
In an industry where every jobsite and project is unique, versatility is critical. Propane's energy versatility lends itself to virtually any jobsite task, allowing it to become a go-to energy source for construction crews.
Matt McDonald is the director of off-road business development at PERC.
Precise Power: Kubota Engine Introduces Its First Electronically Controlled Engine Below 25 HP
Kubota is easily one of the most popular engine brands in compact equipment, and Kubota Engine America just announced an exciting new power plant — the 902-K. This is Kubota's first electronically controlled diesel engine below 19 kW (25 hp). The new D902-K is a three-cylinder diesel engine with a displacement of 0.898 L and an output of 18.5 kW. Equipped with a one-of-a-kind common rail system developed exclusively for small engines, the electronically controlled D902-K comes with a new TVCR combustion system. The result is an engine that is compact and easy to mount and reduces the amount of black smoke to an undetectable level. In addition to the suppression of black smoke, the D902-K consumes approximately 5 percent less fuel than its current conventional model. The D902-K is capable of communicating via the controller area network (CAN), which allows engine speed and torque to be controlled using signals from the vehicle and can also acquire engine operating data for telematics purposes. For more info, visit kubotaengine.com. Tags: Generac, Hatz Diesel, Kubota, May 2021 Print Issue, PERC