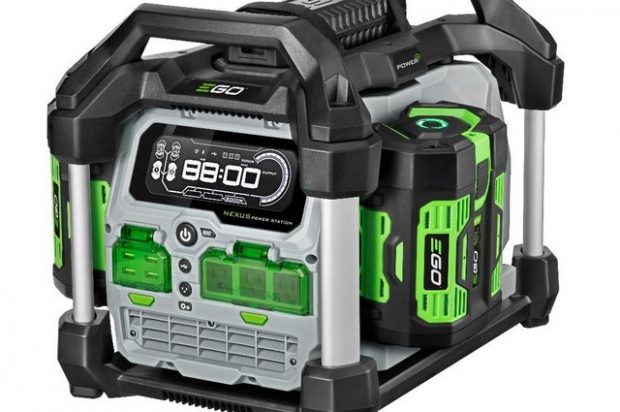 The new EGO Nexus Power Station, a battery-powered inverter, can truly be a replacement for compact gas generators. This is the first Connected product in the EGO POWER+ System; download the EGO POWER+ App to control your Nexus remotely. WIFI and BLE connections not only make this product SMART but make controlling outlets and USB connections from anywhere possible.
The flexible design allows users to harness power from any EGO POWER+ ARC Lithium battery delivering clean, pure sine wave power for hours or even days giving consumers a gas generator alternative. The Nexus Power Station uses anywhere from one to four batteries to deliver power, and when power is restored, it doubles as a charger for the 56V ARC Lithium batteries. There are no emissions omitted and the Nexus Power Station is virtually silent allowing outdoor enthusiasts to bring this camping, fishing or even hunting.
The Nexus Power Station Specifications are as follows:
3,000-Watt Peak Output (Pure Sine)
2,000-Watt Continuous Output
4 X USB Outlet
3 X AC Outlet
4-Port Charger
Solar Charging Compatible
Vibrant LCD Display
Control and Monitor via Wifi or BLE
EGO Connect Enabled
Flexible Battery Configurations
Only 1 battery required to operate
The EGO Power Station with four 7.5 Ah packs will provides 1680 watt-hours of power. Run times will vary based on batteries used and devices being powered. The runtime can be monitored from the EGO POWER+ app or viewed on the bright LCD display.
4 x 7.5 Ah batteries = 1680 watt-hours
4 x 5.0 Ah batteries = 1120 watt-hours
2 x 7.5 Ah and 2 x 5.0 Ah = 840 watt-hours
The EGO Nexus Power Station is weather resistant and weighs a slightly over 50 pounds with four 7.5 Ah batteries.
The LCD screen displays runtime and other critical information, there are more details in the app, such as the ability to:
Toggle between Bluetooth and WiFi connection
View the current watt output per outlet
Turn outlets on/off (full bank of USB and individual outlets)
View battery charge status on each port as a percentage