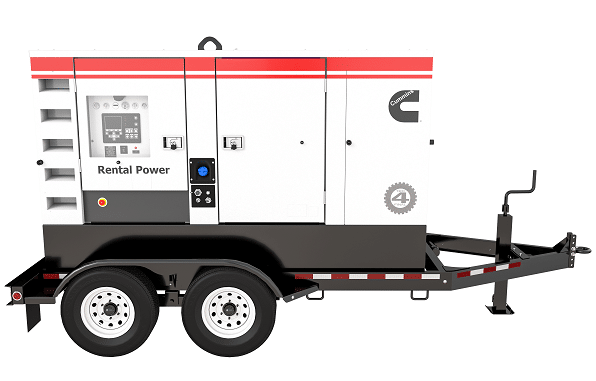 Cummins recently introduced its latest Tier 4 Final solution, the C100D2RE, a 100-kilowatt (kW) mobile generator set for use in rental applications, at the American Rental Association's annual trade show.
As the newest member of the Tier 4 Final product line, the C100D2RE is powered by a robust U.S. Tier 4 Final-certified Cummins QSB5-G11 engine. The QSB5-G11 meets the stringent EPA standards without the use of a Diesel Particulate Filter (DPF). This DPF-free solution offers more reliability and increased performance.
The C100D2RE has three percent better fuel efficiency than the previous Tier 3 solution, and incorporates power output at low load and low ambient temperatures. It is capable of powering a broad spectrum of markets due to its flexibility in terms of dual frequency, 50Hz & 60Hz, and a voltage selection switch.
The Cummins Tier 4 Final product line offers an ideal solution for the rental market in terms of generator set controls, by providing customers with the Cummins PowerCommand 3.3 with Masterless Load Demand (MLD) technology. The PowerCommand 3.3 with MLD makes paralleling easy, even allowing units of different sizes to parallel together. MLD technology adapts the power output of paralleled machines to varying load demand to allow them to run as efficiently as possible.
John Gibbons, General Manager of Rental products, said, "The new C100D2RE further strengthens our product portfolio of Tier 4 Final-certified solutions with paralleling for the rental industry. Coupled with our other higher kilowatt models, the C100D2RE provides more scalability for our rental customers when used in parallel, while also hitting an important kilowatt node as a stand-alone machine."
All major components of the C100D2RE are designed and manufactured directly by Cummins, instead of being sourced from other companies. In addition to its design, Cummins rental customers have access to nearly 200 Cummins Sales & Service locations across North America. The company refers to this integration as 'The Power of One'.
The C100D2RE offers Cummins customers a truly 'Rental Ready' solution, making it a perfect fit for many applications and duty ratings throughout North America.
Learn more about generators here.
Tags:
American Rental Association (ARA)
,
Cummins