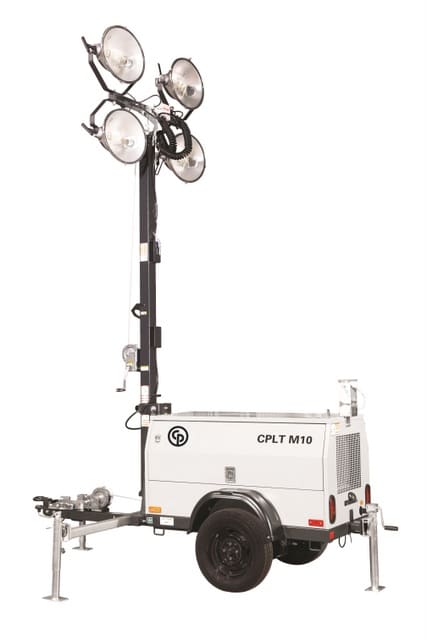 Chicago Pneumatic has launched a new light tower to the North American market with the introduction of the CPLT M10 KD4. Offering a high luminosity of up to 30,400 square meters, the new light tower is ideal for construction and mining work, sporting events and emergency applications.
The CPLT M10 features a Kubota EPA Tier 4 engine coupled with a Mecc Alte 6 kW generator, which provides ample power for the tower's four 1,000-watt metal halide lamps. Metal halide lamp technology is the industry standard for construction, oilfield, or anywhere that reliable, durable lighting is required. Not only is the machine efficient through lighting, but contractors will also be able to go days without the need to refuel with a 30-gallon fuel tank that ensures 60-70 hours of run time, depending on environmental conditions. A translucent polyethylene tank provides an instant view of the fuel level, eliminating the need for a separate gauge.
With powerful and rugged reliability, the CPLT M10 KD4 offers many benefits and features safe and quick installation. The light tower's mast can be extended to its maximum height of 31 feet in seconds and rotated 360 degrees for the perfect lighting angle without the hassle of physically moving the light tower. Two outriggers and four leveling jacks allow it to be stable in all conditions, even on uneven work sites. A compact size allows the light tower to be maneuverable with the ability to transport up to 12 units on a flatbed truck.
Not only is the CPLT M10 KD4 stable in all conditions, but it also features cold weather starting with a fuel efficient and highly reliable Kubota D1005 EPA Tier 4 diesel engine that includes a glow plug preheating system. With a lockable, weather-resistant steel canopy, the CP light tower completely protects itself from the elements and all components have been selected for durability and shock resistance. In addition, the engine is protected with an automatic engine shutdown system feature that eliminates damage due to low oil pressure and high coolant temperature.
With ultimate simplicity in mind, Chicago Pneumatic has engineered the CPLT M10 KD4 to be easy-to-use and with straightforward maintenance. The control panel features a running hour meter as well as a 120 VAC duplex receptacle for powering external equipment and circuit breakers for on/off functionality and protection. Along with hinged doors, a hinged top panel also allows operators to have easy access to the engine, generator and electrical components for quick and hassle-free maintenance.
"This is a very strong, dependable, and easy-to-maintain light tower that delivers great performance," said Jim Siffring, Product Manager for portable energy at Chicago Pneumatic. "The measures Chicago Pneumatic took in engineering the CPLT M10 KD4 has made it rather foolproof and it has a great resale value due to the light towers long lifespan. Contractors will have a great amount of success on the jobsite with this model."
The CPLT M10 KD4 is now available from authorized Chicago Pneumatic equipment distributors across the country.
For more information on the Chicago Pneumatic CPLT M10 KD4 light tower, visit www.cp.com.
Tags:
Chicago Pneumatic
,
CPLT M10 KD4
,
Kubota