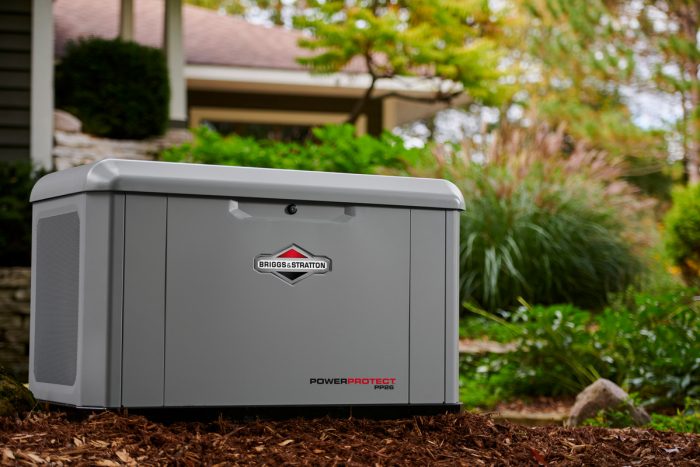 Briggs & Stratton recently announced the launch of its new 26kW* standby generator. The new unit is the most powerful in the industry and offers reduced sound levels, a smaller footprint, easier installation and an enhanced aluminum enclosure design. The 26kW is equipped with a high output Vanguard engine and features an optimized exhaust and air flow design to improve performance. The new unit is part of Briggs & Stratton's robust line of high-quality home generators ranging in power from 10 to 26kW for residential use and up to 200kW* for light commercial applications. This is also the first and most powerful in a new line up of Power Protect generators, including the enhanced 17kW* and 20kW* generators, optimized for industry-leading performance on natural gas.
"Our new 26kW home generator unit offers the highest amount of power on the market," said Bob Brandel, director of product management, Briggs & Stratton. "From our current 20kW to this new 26kW unit, we reduced the size while increasing the power on both natural gas and liquid propane, and improved both the sound and overall accessibility of the unit. As our most powerful (kW) residential unit, the 26kW is ideal for larger homes or those looking to keep multiple air conditioners, appliances and electronic devices powered on; thereby increasing peace of mind — no matter the conditions."
The 26kW is powered by a Vanguard commercial-grade engine paired with a high output alternator. An enhanced exhaust system, improved air flow and Capacitive Discharge Ignition (CDI) coils work together to provide the most powerful air cooled generator available on the market. The new unit also allows for easier access and streamlined maintenance, with tool-less entry to all major components. All internal components are protected by a new reinforced durable aluminum enclosure certified to withstand hurricane-force winds up to 186mph.
The 26kW, as well as the 12kW, 17kW and 20kW models in the Power Protect series are capable of being monitored using the InfoHub wireless monitoring system, available with cellular or WIFI capabilities. InfoHub allows in-depth monitoring of power availability, running status and alarm or fault history. This enables both the consumer and servicing dealer to stay connected to the system. The 26kW is also compatible with Amplify Power Management technology which allows customers the flexibility to prioritize up to 32 different power management modules through a smartphone app, thereby streamlining power management.
No matter what the cause of a power outage, from severe weather to poor power grid and rolling brownouts, the new Power Protect 26kW, along with the redesigned 17kW and 20kW models, will provide homeowners the peace of mind that they will have power when they need it most. * This generator is rated in accordance with UL (Underwriters Laboratories) 2200 (stationary engine generator assemblies) and CSA (Canadian Standards Association) standard C22.2 No.100-14 (motors and generators).
Tags:
Briggs & Stratton
,
Briggs and Stratton