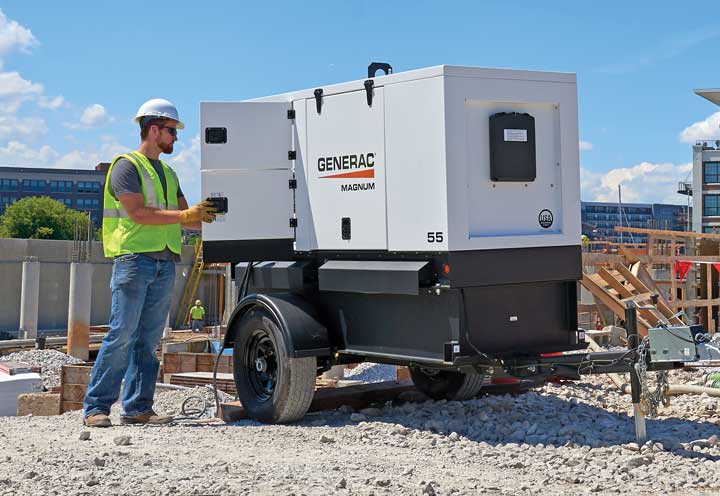 The science and ingenuity of creating clean, quality portable power is constantly evolving. Let's tick off some technological coolness: tri-fuel availability, ultra-clean diesel power plants, high-tech interactive control panels, telematics, paralleling, remote operation, power distribution boxes, hurricane-resistant enclosures and beyond. The list of common and cutting-edge systems being engineered into portable, enclosed generators today is pretty impressive (considering they just look like big, boring metal boxes). Like a digger or dozer, electricity needs to be precise, and that means creating power that meets the exacting needs of renters and contractors.
"When it comes to portability, there needs to be several options depending on where the generator will go," explains Gary Odden, product manager for generators at Kubota. "When it comes to power, you want to look at how even or clean the continuous power is and how quickly the generator recovers after surge. For example: When starting an air compressor, his creates a sudden draw of power to start the compressor motor that creates a voltage drop, and in most cases this affects other equipment drawing power from the generator. Therefore, it is important to have a generator that quickly recovers from voltage drop to ensure that power to all equipment is optimal. Those are the types of technologies and systems that buyers and renters need to consider with picking the perfect generator."
Not long ago, gen sets lacked the clean, accurate power to operate precision electronics and power tools and the amount of power service to run large commercial or industrial operations. Today, thanks to advancements in everything from computerization to the tensile strength of materials, manufacturers are making radical leaps in the amount of power they can build into a reasonably compact package. In addition, specialized add-on equipment, from workhorse distribution panels to energy-saving hybrid fuel systems, are increasing the efficiency and relevance of compact generators for commercial and industrial concerns. Your dealer and rental house are great places to start some hands-on research.
"The best approach is to have a knowledgeable salesperson demonstrate how the unit meets your requirements," says Michael Goche, senior product manager for Generac Mobile Products. "Particularly with regard to fuel efficiency, the salesperson and/or manufacturer should be able to provide data about fuel consumption and running times, and many times ease of maintenance can be determined by how easily you can access the engine and the alternator. That's one of the reasons why our mobile generators offer large access doors — to make routine maintenance as easy as possible."
The High Technologies
Commercial generators are benefiting greatly from miniaturization and other technologies that are allowing manufacturers to put more power into an efficiently-sized package. Today, it's possible to find fully portable generators with working power ratings into the hundreds of kilowatts. These power plants carry some pretty sophisticated systems. It often starts with the advanced power panels being built into compact, enclosed generators where operators can access key operations and information.
"One reason in particular that customers choose Generac Magnum mobile generators is our Power Zone controller," says Goche. "It has a large, backlit display that provides operators with a wealth of information about both engine and generator status. For the engine, the Power Zone controller can tell you about oil pressure, temperature, how much fuel is remaining, battery status and the condition of the aftertreatment system. Generator status includes line output and frequency. The controller is also available in a version that allows paralleling of multiple units for even larger mobile applications."
Power distribution gear, which gives operators access to a generator's power supply for everything from charging cell phones to powering outdoor lighting, are becoming increasingly sophisticated. Not only are cool power panels being built (mentioned earlier), but companies can now purchase well-equipped, highly portable, Nema 3R-rated power distribution boxes that offer transformer, step-up/step-down and other capabilities in a single piece of equipment.
For companies using generators in remote locations, whether they are running sprinklers on a farm or empowering operations in remote oil and gas projects, perhaps no development is more exciting than the growth of telematics and remote controls. Operators and their service companies can receive maintenance reminders to schedule service, monitor and act upon warnings, overloads and other alerts and even resolve engine problems — all from a remote location.
"Telematics is really starting to make a mark on the rental industry," says Todd Howe, manager of global generator products for Doosan Portable Power. "Particularly in applications where generators are operating for extended periods in remote locations, telematics provides rental companies with valuable data about machine performance and usage. For a rental customer, telematics improves uptime and reliability which should bring increased peace of mind that the generator will get the job done."
Telematics can monitor technologies like Tier 4 Final diesel engine aftertreatment systems, which are making generators cleaner. Here's a refresher: The most stringent yet of the EPA's regulations for off-highway diesel engines, known as Tier 4 Final, hit the majority of small diesel engine power ranges in 2015 and 2016. Tier 4 Final has diesel designers from Kubota to Perkins creating smarter, more complex and cleaner-burning power plants, but these engines will come at a price increase and may include new technologies, maintenance and fluids (but also more advanced features, fuel efficiency and cleanliness).
"By virtue of the Tier 4 Final engines, they are electronic," explains Eric Massinon, business development director at Chicago Pneumatic Construction Equipment. "Moving to electronic engines, the equipment now has to have PLC [Programmable Logic Controllers] so each piece of equipment has a computer onboard. Because they are PLC and the fact we are reading more information, that information can be paired through telemetric systems. This allows the operator to get information online or call up their units to see the operating parameters; i.e. if it is loaded properly, fuel level, hour meter, operating temperatures, oil pressures on the engine, etc. This gives them visibility to the products they have out in the field."
Considering engines, another area where manufacturers are making strides with portable generators is in fuel source options. New bi- or tri-fuel add-on systems are enabling diesel generators to use natural gas or some other variant, saving fuel costs compared to burning diesel fuel alone.
"With the tri-fuel option, the generator can operate on either natural gas, liquid petroleum gas [LPG] or wellhead gas — all with the flip of a switch," explains Goche. "Wellhead gas is a byproduct of the oil drilling process and has traditionally been burned off — something the U.S. Environmental Protection Agency typically frowns upon. Generac Magnum mobile gen sets can actually run on this gas, making them more environmentally friendly as well as giving them access in oil drilling operations to a virtually limitless and free supply of fuel."
Brand Differentiators
Other cool developments separating different brands include things like: Hipower Systems, a manufacturer of power-generation and power distribution equipment in the United States and Canada, recently announced that the enclosures used in its prime power and standby generators have been certified by an engineering firm to withstand winds up to 180 mph (think portable power units used in a hurricane). Also, enclosures in general are being engineered to keep noise levels super low.
"Being fully enclosed, we are able to minimize noise to roughly 66 to 68 dB at normal operation, which makes Kubota units very convenient for use in populated areas," says Odden.
High-performance engines are delivering increased fuel economy, and powerful motor starting capability and reliable operation in extreme conditions. Tier 4 aftertreatment technologies on diesel engines are producing barely any emissions, and many systems are utilizing diesel oxidation catalysts (DOCs), shying away from diesel particular filters (DPFs), to be increasingly maintenance free. Another customer-driven feature is increased fuel capacity. Doosan Portable Power's new G25, G50 and G70 have increased onboard fuel capacity for runtimes in excess of 24 hours at any load factor; an optional 48-hour runtime solution is available on the G25 and G70 models. Further expanding the models' versatility is a dual-frequency feature that allows an operator to select 50 or 60 Hz, dependent upon the application, and a multi-voltage selection switch.
All of these developments are significant, and they only hint at the future of power equipment advances. We predict that the market for portable generators will continue to accelerate, especially with the increasing demand for backup generators to protect against weather outages and grid overloads. That growth should drive manufacturers' efforts to give companies the power they need in an ever-more functional yet compact package. It's an exciting time for portable power.
"In the future, and we are not quite there yet, we are hoping that on the 100-kW machines, we can put five together for 500 kW. This, at least for CP, is technology coming in the future," says Massinon. "Paralleling technology is available now on CP's 250 and 330 kVA. We are hoping to make it available on some of our smaller generators in the near future, possibly down to 100 kW. Say a customer needs 500 kW, they could put two 330-kVA machines together and connect them to give the customer their 500 kW. New synchronization control systems allow the operator to tie multiple generators together and combine their total power output for a larger generator."
Gen Experts at HiPower Buy New Headquarters
Hipower Systems, a manufacturer of power generation and power distribution equipment in the United States and Canada, recently announced it is finalizing the purchase of a $24 million, 515,000-sq-ft industrial building in Olathe, Kan. Located at the corner of 167th Street and Lone Elm Road, the building will become the firm's new corporate headquarters when it opens (tentatively slated for September 2017). All operations — from design, engineering and manufacturing to sales and support — will be housed within the new facility, including production of the firm's upcoming, newly designed and engineered, Tier 4 Final-compliant portable generators.

Tags:
April 2017 Print Issue
,
Chicago Pneumatic
,
Generac Mobile Products
,
home
,
Kubota