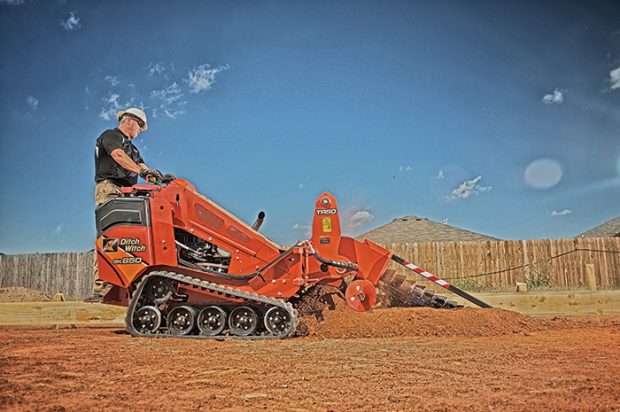 The compact tool carrier crept onto U.S. work sites as a labor-saver. Instead of workers straining their backs to shovel dirt in a wheelbarrow or lug cinder blocks from a pallet to a mason's work area, the walk-behind or ride-behind tool carrier flexed its hydraulics to lift and carry. While the little tool carrier (also called a mini skid steer) didn't move very fast, it never pulled a muscle. Now these compact machines have evolved into a small equipment staple — getting bigger, moving faster and reaching higher — and the number and sophistication of attachments is growing.
"The ability the machine has to accomplish different tasks using different attachments opened the eyes of contractors," says Andrew Schuermann, product manager for Ditch Witch trenchers and compact utility equipment. "They can take one machine on a trailer and do trenching, then move dirt with a bucket and restore the ground with a box rake. As customers learn the versatility of these machines, the demand grows."
Today, the market has a healthy number of competitors — Ditch Witch, Vermeer, Sherpa and Toro. Toro's Dingo tool carrier (a machine of Australian heritage) first became popular because of its ability to work in tight spaces, says Josh Beddow, marketing manager for Toro's sitework systems. But he cites the arrival of tracks in 2000 as a turning point. "That really opened doors. Tracks were a natural evolution and pretty quickly we saw new opportunities."
Tracks spread a machine's ground pressure so tasks in loosened soil can be performed leaving minimal impressions. At the same time, a machine's traction is enhanced with tracks so it becomes a more stable work platform. As a result of this, attachments for tool carriers began to multiply. The first tools were, of course, buckets and pallet forks, and the first assignment was moving materials, but soon came…
Trenchers
The trencher quickly became a popular application, with irrigation pipe and electrical conduit disappearing into narrow slices of earth opened by backward-moving compact carriers. Hydraulic flow on some models can be switched from high to low output, which allows a machine to adjust from high-speed trenching in loamy soils to high-torque trenching in harder ground conditions.
The Ditch Witch footings machine literally widened the company's original trencher brand. Mounted to the front of a 37-hp SK850 tool carrier, the attachment can carve footings up to 16 in. wide and 36 in. deep. In its offset position, the trenching chain will neatly carve out a footing close to a form board, and do it much faster and more uniformly than is possible using a laborer and spade. The footings attachment actually is bolted to the front end of a dedicated tool carrier, yet it can be removed and loader arms with a universal attachment plate can be fitted in its place.
Grinders, Cultivators and Augers
Stump grinders are successfully being fitted to compact tool carriers. The machines can reach into backyards or gated areas not accessible to larger pieces of equipment and reduce offending stumps to haul-able chips. The Ditch Witch mini skid steer and the company's articulated Zahn tool carrier each will accommodate a grinder.
Beddow says the popularity of an attachment is, of course, linked to its general utility. "Some attachments have everyday applications. Other attachments our customers see the benefits of renting from time to time as needed." The Toro soil cultivator falls in the everyday category for yard and garden contractors. The attachment can churn soil more than 5 in. deep in one pass and leave behind a level blended seedbed.
Augers for the Toro Dingo are another popular attachment, according to Beddow. The Dingo rotary diggers are offered in two variations that relate to the types of soil being augured. The standard auger is perfect for digging post holes and smaller-dimensioned planting holes. An optional high-torque auger head with direct planetary drive can dig holes 30 in. in diameter and 6 ft deep through clay, gravel or sandstone. The moral for end-users: Know your soils.
Some tool carriers come in narrow-track and wide-track models so a customer can choose according to his need for access. However, Beddow says he sees no correlation between the width of a machine and the popularity of attachments. Horsepower and hydraulic flow more typically determine which tool to attach.
Vacuum Lift
A Tibetan people called Sherpas made a name for themselves carrying equipment for mountain climbers in Nepal. Now a machine called Sherpa is making a name for itself as a tool carrier and creating a market for new attachments. The currently most popular tools for it are a grapple bucket and a hydraulic hammer, but a unique vacuum lift attachment is gaining converts, too.
"The way we came up with the vacuum is simple: We had a customer who had a need for it," says Alex Berg, CEO of Triple E Equipment in Pompano Beach, Fla., which three years ago became the U.S. distributor for the European machine. Using the vacuum attachment, contractors who have cut access holes in concrete floors can raise and remove the sectioned concrete without first drilling pilot holes for eyebolts. "The vacuum system can lift up to 500 lbs with no problem."
Sherpa's 100 ECO model seems poised to further open up the attachment field for tool carriers. Unlike Sherpa's conventional gas and diesel models, the 100 ECO is battery-powered with sufficient storage to stay charged for up to nine hours. With no fumes and a low-hum noise output, the electric tool carrier is finding markets in crowded malls, high-rise apartments and even hospitals, says Berg — areas that typically bar machinery that emit fumes.
"We are finding new markets every day for ECO," Berg says. He cites industrial floor workers, municipal maintenance laborers, school district maintenance crews wanting to access school buildings during class periods, equestrian stable hands protective of high-strung animals and museum building supervisors who cannot afford to introduce noxious, corrosive fumes to a pristine gallery. Custodial services in general would seem a natural fit for the machine, and attachments targeting that market are apt to develop.
As was the case with Sherpa's vacuum lift attachment, customers often plant seeds for new attachment ideas. "We get inquiries very often from Ditch Witch customers, dealers or suppliers. If an idea is within the limits of our machines, we pursue it and bring it to market," says Schuermann. What Ditch Witch chooses not to manufacture itself, it sometimes passes along to suppliers for development.
All the Other Attachments
Not every tool is wildly popular, of course. Bore head drills for creating a path for pipes and conduit under sidewalks and driveways are handy but not needed every day. Neither is a cement bowl attachment that can mix, haul and pour up to 200 lbs of cement, blending the components while spinning one direction and then reversing direction to pour it into a posthole or trench. Vibratory plows are most popular in areas of the country where soil conditions require the additional cutting power.
And in an equipment industry that is wild about excavators, the backhoe or excavator attachment for tool carriers does not have a large market. "We haven't seen a big surge on those, but it is a nice tool for certain contractors. Some really like the Ditch Witch backhoe attachment for working in tight spaces," says Schuermann.
Beddow concedes that the Toro excavator unit, which is the only seated attachment in the Toro tool carrier lineup, has less value for contractors who have a mini excavator. "It is a cost-effective earthmoving solution for some contractors, but less so for folks with a broad range of machinery in the equipment yard."
Giles Lambertson is a freelance writer for Compact Equipment.