ICUEE is dubbed the Demo Expo. Why? Because the Kentucky Exposition Center in Louisville, Ky., is maybe the best convention center in the United States that allows exhibitors and visitors to dig and operate machines. If you're looking to get hands-on with utility construction equipment and services, the International Construction and Utility Equipment Exposition (ICUEE) is set for Sept. 29 to Oct. 1. This show only happens every two years, so don't miss out on your chance to attend.
ICUEE 2015 will feature extensive hands-on equipment demonstrations in job-like conditions, best-practices education from leading industry organizations and great industry networking opportunities. ICUEE targets utilities and utility contractors in the following sectors: electric, telecommunications, wastewater, water, natural gas and cable. Do those markets sound familiar? Well, visit icuee.com to sign up or find more info. ICUEE 2015 will cover more than 27 acres of exhibits and hands-on product demonstration opportunities.
Outdoors, multiple lots will showcase equipment and services (that you can often operate) from the likes of Ditch Witch, Caterpillar, Case, Vermeer and beyond. Indoors, massive halls of booths will exhibit the latest machines and services to air-conditioned attendees, including the indoor Demo Stage, which will be hosted by Compact Equipment and our parent company Benjamin Media Inc. The stage will discuss the coolest innovations and equipment being released and exhibited at the utility-focused trade show that only happens every two years.
A Charity Auction for Veterans!
Bringing military veterans and industry jobs together is the goal of the new ICUEE 2015 benefit auction, to be held Thursday, Oct. 1, on the show floor. Benjamin Media Inc. (owner of Compact Equipment) is helping pull it together. One hundred percent of the auction proceeds will go to The Call of Duty Endowment. This national organization helps military veterans find high-quality jobs, including in the construction/utility industry, by supporting and funding groups that prepare veterans for the job market and raising awareness of the value that veterans bring to the workplace. The ICUEE 2015 benefit auction will be held 12:15 to 1:15 p.m. Oct. 1 and will not have minimums nor reserves (all items will be sold).
ICUEE Demo Expo Showcase
Ditch Witch SK850 Mini Skid Steer
To improve jobsite productivity for landscapers and renters, the Ditch Witch SK850 mini skid steer delivers more power to the attachment with its 37-hp Tier 4 diesel engine. The 29 hp of hydraulic power delivered to the attachment helps operators increase the performance for a wide range of tasks, including landscaping, plumbing and underground utility. To maximize uptime, the SK850 features a belt-free design and low-maintenance track-tensioning system. To optimize operator comfort and efficiency, the machine features a 74-in.2 operator platform and an ergonomic dual-lever ground drive controls. For more info, visit ditchwitch.com.
Toro Dingo TX 1000
As a pioneer in the compact utility category, The Toro Co. announced the newest and most powerful Dingo in its lineup — the Toro Dingo TX 1000. It has a rated operating capacity exceeding 1,000 lbs, which is the strongest in the category. When the loader arms are fully extended, the hinge pin measures an impressive 81 in. from the ground to allow the TX 1000 to easily reach over the side of dumpsters and one-ton trucks to maximize jobsite productivity. Also unique to the industry in the category is the vertical-lift loader arm design, which keeps the load closer to the machine to allow operators to lift more weight with greater confidence. For more info, visit toro.com.
Kubota SSV-Series Skid Steers
Kubota has diversified its construction equipment line with the introduction of two skid steer loaders, the new 64-gross-hp SSV65 and 74-gross-hp SSV75. With standard two-speed travel and optional high-flow hydraulics, Kubota's skid steers will meet the needs of construction, rental and agriculture customers. The rated operating capacity is 1,950 and 2,690 lbs, respectively, for the SSV65 and SSV75. Both models feature a unique, slide-up, front-entry door that rises overhead, allowing the door to be opened regardless of loader position so that the operator can enter and exit the machine even when the skid steer is in a tight or difficult position. For more info, visit kubota.com.
John Deere 310SL HL Backhoe
Customer input helped develop the new John Deere 310SL HL backhoe. Built in John Deere's world-class facility in Dubuque, Iowa, the backhoe is designed for a variety of jobs, including: loading trucks, placing pipe, digging trenches, moving materials or tearing up asphalt. The 310SL HL meets today's emissions regulations through a Tier 4 Final/ EU Stage IV PowerTech Plus diesel engine (110 hp). It also boasts a five-speed PowerShift transmission with speeds up to 25 mph. The 310SL HL heavy-lift model can deliver up to 25 percent more backhoe-lift capacity under normal conditions than comparable K-Series models. For more info, visit deere.com.
Cat F2 Series Backhoes
The new F2 Series Cat backhoe loaders include the 416F2, 420F2, 430F2 and a model new to the range, the 415F2. The new F2 Series center-pivot models build on the solid performance, reliability and durability of their F Series predecessors with engines that meet Tier 4 Final emissions standards, a new operator's station and added features and options that further enhance performance and operator productivity. The 420F2 and 430F2 continue to be available with both single-tilt and Integrated Tool Carrier (IT) front linkage, and four-wheel drive is standard for the 430F2 and available for other models. The newly designed operators station provides ample legroom for comfortably rotating the seat, and the air-suspension seat provides comfort when roading the machine. For more info, visit cat.com.
Case 580 Super N Backhoe
The 97-hp 580 Super N features impressive backhoe performance with Case's Power Lift technology allowing for bucket breakout forces of 14,452 lbs and ground level lift capacities of 3,513 lbs. Integrated into the backhoe is Case's ProControl swing dampening system for improved cycle times, precision placement and overall increased productivity. The 580 Super N features a Tier 4 Final engine using an SCR (selective catalytic reduction) solution that lets it run at peak performance for maximum power. The backhoe also features an exclusive over-center design, which transfers weight to the front of the machine for smooth roading and better traction. For more info, visit casece.com.
Kioti CK10 Series Tractors
Built with Tier 4-compliant Daedong eco-friendly diesel engines, the new CK10 models provide a powerful, yet environmentally-friendly option for operators of the low-maintenance tractor series. Along with a quiet, low vibration experience that is the trademark of the CK10 Series, the new CK10 models serve as the next generation of Kioti Tractors and include two gear and two hydrostatic transmission (HST) models ranging from 25.4 to 40 hp. HST models feature performance-proven, heavy-duty HST drives that deliver power and efficiency. The dual pedal operation makes any job easier with smooth forward and reverse engagement reducing fatigue. For more info, visit kioti.com.
Doosan C185 Gas-Powered Compressor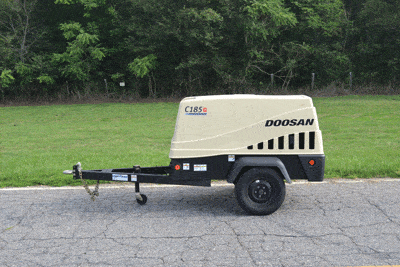 The Doosan Portable Power C185 gasoline-powered portable air compressor produces 185 cfm at 100 psi and offers the power and portability needed to meet a variety of applications, including powering handheld air tools, sandblasters, sprinkler and irrigation line blow-out, cable laying and pipeline testing. The C185G offers contractors the cost savings of a gas-powered model with the same durability of a diesel-powered unit. Powered by a 2.5-liter, fully-electronic, fuel-injected Kubota engine, the C185G defies the common conception that a gas-powered unit is less fuel-efficient than diesel, offering a comparable runtime of eight hours at full load. For more info, visit doosanportablepower.com.
Miller EnPak AirPower
As anti-idling laws become more strict and fleet managers and owner-operators look for ways to decrease overall operating costs, auxiliary power units like the EnPak power system from Miller Electric Mfg. Co. are gaining in popularity. The EnPak lineup is growing, and the new EnPak Air is an ideal solution for service trucks that don't require the use of a hydraulic crane or hydraulic tools. This integrated power system includes a rotary screw air compressor, generator and remote control panel all powered by a 24.8-hp diesel engine. EnPak uses exclusive technology to monitor user load requirements and adjust engine speed to match, plus auto start/stop and the EnVerter power system. For more info, visit millerwelds.com.
Subsite Electronics TSR Mobile Software
There will be many new products showcased in the Subsite Electronics booths at ICUEE, including the new TSR Mobile software. Subsite Electronics introduces the new TSR mobile software to download horizontal directional drilling (HDD) bore information from Subsite TK HDD guidance systems directly to mobile telephones or tablets. TSR mobile software allows drillers to generate an as-built report as soon as the pilot bore is completed. TSR mobile software is included with the purchase of a TK system, and it may be downloaded at no cost from the Subsite website. For more info, visit subsite.com/products/TSRMobile or booths K270 (outside) and 1858 (inside) at ICUEE.
IMT Mechanics Trucks
Iowa Mold Tooling Co. Inc. announced that it will feature its Dominator Contractor Series mechanic truck at booth N-1025 at the show. The Dominator CS is a lighter, mid-size complement to the Dominator family of mechanics trucks and offers the strength and durability of the legendary IMT Dominator mechanics truck in a crane mechanics body, ideal for the maintenance of small to midsize equipment used in the utility industry. The Dominator CS has an 11-ft crane body and is available with standard 52-in. right- and left-hand sidepacks or an optional 60-in. right front raised sidepack. For more info, visit imt.com.
Jarraff's All-Terrain Tree Trimmer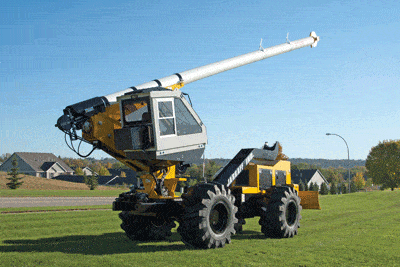 Jarraff Industries will display the latest Jarraff All-Terrain Tree Trimmer and the updated Mini-Jarraff Rear Lot Trimmer at ICUEE 2015. The Jarraff All-Terrain Tree Trimmer provides right-of-way maintenance contractors a dynamic field of operation, offering a 360-degree range of motion, 40-degree lateral tilt and 75-ft cutting height. In addition, the Jarraff's cab is completely ROPS, FOPS and OPS certified. The updated Mini-Jarraff is specifically designed for residential and municipal tree trimming. The unit's minimal footprint and compact profile allow the Mini-Jarraff to operate in areas where only climbing crews could go before. The patent-pending self-leveling carrier allows it to travel on all types of terrain and eliminates the need for traditional outriggers. For more info, visit jarraffindustries.com or booth N-2012 at ICUEE.
RockHound and Loftness Offer Excellent Mulchingand Trimming Options
The Rockhound Defender Forestry Mulcher
The FX36 Defender Forestry Mulcher by RockHound and BrushHound is the latest in the Defender line of mulchers. Engineered to work efficiently with midsize excavators from 16 to 30,000 lbs, it is the perfect tool for property maintenance, to clear a right-of-way, open up views or to create a defensible space in areas where wildfires are a threat. Equipped with Quadco knives, the FX36 is capable of handling the toughest tasks, including material up to 8 in. in diameter. RockHound has released two new products this year and took its entire roster of attachments through a robust generational upgrade. For more info, visit rockhound.com or visit booth 4730 at ICUEE.
Loftness Kwik-Trim Mechanical Trimmer
Loftness will showcase its newly updated Kwik-Trim compact mechanical tree trimmer at ICUEE. The Kwik-Trim features an upgraded chassis and powertrain to offer more horsepower, increased stability and easier maintenance than the previous model. Equipped with a turbocharged 47.6-hp diesel engine, the Kwik-Trim meets Tier 4 compliance without requiring diesel exhaust fluid (DEF). In addition to producing more power, the updated engine provides superior fuel efficiency. Compared with the previous Kwik-Trim model, the new unit is approximately 800 lbs heavier with an operating footprint that is 7 in. wider and 7 in. longer. For more info, visit loftness.com or booth N-3006 at ICUEE.
All-Terrain Transport
Rayco's RCT Series
Rayco's RCT Series of Crawler Trucks has set a new bar when it comes to the performance and versatility of rubber tracked carriers. From the heavy-hauling RCT150 with its payload capacity of 15,000 lbs or the compact RCT80 with 8,000-lbs payload capacity, these vehicles come ready to be custom outfitted for your job. The RCT Series trucks were made to carry a wide range of tools, machinery and more over terrain inaccessible to ordinary, wheeled trucks. Mud, snow and rough terrain won't stop you from getting to the worksite with the new RCT Series of Crawler Trucks. The RCT150 is powered by a 260-hp Cummins diesel engine and features 28-in. wide rubber tracks and a comfortable operator cabin with heat, A/C and single-joystick control. The RCT80 uses a reliable, Kubota 67-hp diesel, rides on 17.7-in. rubber tracks and protects its operators with a certified ROPS canopy. All Rayco RCT Series machines are proudly made in the U.S.A. For more info, visit raycomfg.com.
JCB and Hyundai Are Bringing Compact Dynamos to ICUEE
JCB 85Z-1 Compact Excavator
JCB's 85Z-1 compact excavator features an H-design undercarriage, 100 percent steel body panels and a spacious operator environment. A JCB by Kohler engine uses up to 10 percent less fuel than the previous models while conforming to Tier 4 Final emissions standards without requiring a diesel particulate filter. For enhanced safety, operators can only activate the machine's hydraulics when seated by pressing a 2-Go safety system. Attachments can only be decoupled at ground level via a positive pressure boom safe system circuit. Operators can set the 85Z-1's "Auto Idle" function to activate after the levers have not been used for 2 to 30 seconds. An "ECO" digging mode offers maximum efficiency. For more info, visit jcbna.com or booth K-175 at ICUEE.
Hyundai R60CR-9A Mid-Sized Excavator
The 9A Series excavator product line from Hyundai Construction Equipment Americas features the R60CR-9A, a 6-ton model. Complying with Tier 4 Final emissions regulations, the R60CR-9A is powered by a fuel-efficient Yanmar engine rated at 63 hp. Key specifications include: an operating weight of 13,010 lbs; maximum dig depth of 11 ft, 9 in.; maximum reach at ground level of 19 ft, 9 in.; and transport length of 18 ft, 4 in. Hyundai mid-sized excavators are compatible with a full spectrum of third-party attachments, as well as five models of Hyundai brand hydraulic breakers. For more info, visit hceamericas.com or booth K-345 at ICUEE.