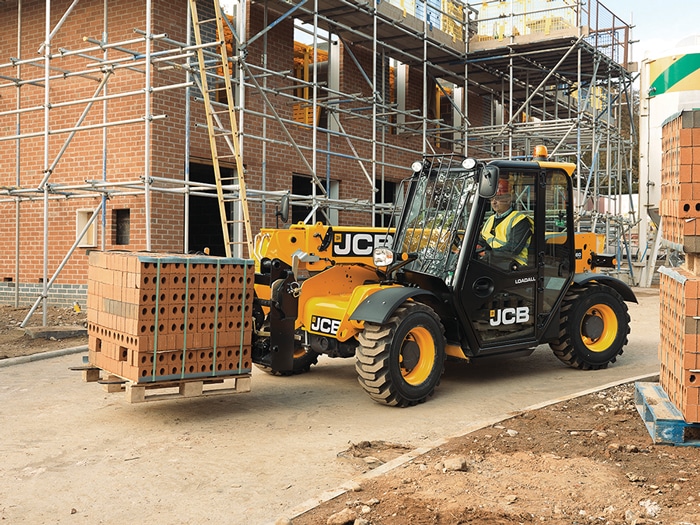 Daily Checks and Proper Servicing Keep These Mighty Machines Up and Running
While skid steers and compact track loaders are often praised for their versatility, more equipment owners and operators are discovering the versatile benefits of a completely different machine — the compact telescopic handler or telehandler. Whether they're used at construction sites, lumberyards, farms or landscaping jobs, these powerful machines offer impressive reach and lift capacity. Furthermore, since they can easily maneuver within confined spaces, compact telehandlers are becoming more and more popular for use within today's smaller yards and building sites.
"Compact telehandlers can do so much more than simply move materials from Point A to Point B," says Stuart Fox, JCB's product manager for telescopic handlers. "You can fit a skid steer coupler on the telehandler's front end and run a plethora of skid steer attachments — sweepers, grapple buckets, augers and more. That versatility makes it possible for end-users to consolidate their fleets in an effort to reduce total ownership costs."
The primary difference between a telehandler and a skid steer loader is the former's greater lifting capacity and lift height. Compact telehandlers typically have lift capacities ranging anywhere from 4,000 to 5,500 lbs with lift heights between 13 and 20 ft. In comparison, a large skid steer loader might have a lift capacity of around 3,300 lbs and a maximum lift height between 10 and 11 ft.
"As with any machine purchase, the decision whether to buy a skid steer loader or a compact telehandler comes down to the tasks you need to accomplish," Fox explains. "Both machines are capable of handling a wide variety of jobs; however, a person who regularly needs to lift heavy loads to a higher level — like a roofing contractor — would probably get more use from a telehandler. Someone who needs to do more digging and trenching would probably be better off with a skid steer."
Maintenance Musts
While compact telehandlers may be small in size, purchasing a new one is still a major investment. As a result, equipment owners should operate and maintain them with care.
"The basic maintenance of a compact telehandler is similar to the basic maintenance of any other heavy equipment," Fox adds. "Filters and fluids must be changed regularly. However, due to its small size, the compact telehandler has fewer moving parts that need to be lubricated."
Fox suggests that owners and operators become familiar with the recommended maintenance schedules on all machine systems and components to avoid possible failure. They should also perform a daily walk-around to check for any potential issues before they become major problems.
"Simply detecting a fluid leak or low tire early can save hundreds of dollars on both repair costs and lost productivity," Fox adds. "Following a few simple steps that take a matter of minutes can make all the difference."
• Step 1: Each day that the equipment will be used, check the engine and ensure its oil level falls somewhere between the minimum and maximum level indicators on the dipstick. If not, add oil until this requirement is satisfied.
• Step 2: Next, check your coolant level and add more coolant if its level is below the "minimum" line.
• Step 3: After that, check your filter liner. Ensure that it's not in the red zone. If it is in the red zone, clear any debris in the air filter or replace it altogether.
• Step 4: Then, check your transmission oil. As with engine oil level, transmission oil level should sit between the minimum and maximum levels on the dipstick.
• Step 5: Your tires are next, specifically lug nuts and tire pressure. Make sure nuts are tightened to the manufacturer's recommended ft-lbs of force and that there's enough air in all four tires to satisfy psi requirements.
• Step 6: Check the hydraulic system's site gauge to ensure there's enough hydraulic oil in the machine. Add more if necessary.
• Step 7: Make sure you have enough brake system fluid. You can typically check this at the front end of the machine. Ensure your brake system fluid level is at or above the indicator line.
"If you want your investment to continue paying dividends and not create a hole in your wallet, proper maintenance is essential," Fox says. "To ensure optimum uptime, it's particularly important to use clean fuel, lubricate high-use areas on a daily basis and use clean oils as well as adhere to the manufacturer's recommended service schedule."
Most owners and operators can easily perform their own daily service checks. However, when more serious maintenance issues happen, rely on the expert advice of an OEM-trained technician.
"It's common to think that all electric systems and hydraulic systems are the same, but manufacturers have their own ways of doing things," Fox says. "Only an OEM-trained technician will be familiar with a machine's specific needs and have a working knowledge of it. They can typically service a machine more quickly, resulting in less downtime. Furthermore, manufacturers with OEM-trained technicians stand behind them and take pride in their products."
The Future Is Now
While a daily walkaround is still the best way to make sure any machine continues to provide optimum performance, technological advances are quickly changing how operators approach equipment maintenance. Telematics and other diagnostic technology have been available on larger equipment for quite some time. Now, smaller machines like compact telehandlers are also getting "online." One primary benefit? Operators can receive alerts when their machine is due for service, making it more likely that important service tasks will be done on schedule.
"JCB's LiveLink telematics system, for example, warns of any service-related problems the telehandler may be experiencing," Fox says. "This tells the operator to stop using the machine and avoid any further damage. In the past, an operator may have no way of knowing that something was wrong, which had the potential to result in serious problems and more expensive repairs."
Fox believes that advances in machine maintenance and diagnostics won't stop with telematics systems. He foresees the advent of smart technology that will allow the machine to perform its own daily checks, further eliminating the possibility of human error, as well as saving time and money on labor.
"The machine would be able to tell the operator if there are low fluids or blackened filters," he says. "At JCB, we've already introduced something similar to this called AutoCheck on our backhoe loaders. I think that equipment manufacturers are going to continue to find even more exciting ways to make it easier for owners and operators to maintain their machines in the years to come."
Lynette Von Minden is a technical writer with Swanson Russell.