Check Out Our GIE+EXPO preview here, then find all this equipment on the show floor.
Cat XTC Mini Hydraulic Excavator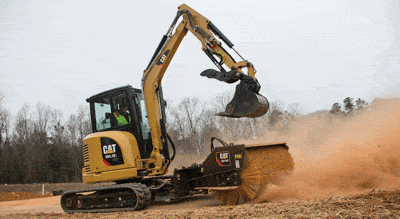 The Cat 304.5E2 XTC mini hydraulic excavator is the first model in the Xtra Tool Carrier (XTC) lineup. Built on the E2 platform, the 304.5E2 XTC offers the same level of quality, performance and operator comfort expected from a Cat mini hydraulic excavator. In addition, the machine has an innovative skid steer coupler interface for added versatility and work tool integration. This manual coupler allows for the use of compact loader tools including: general purpose buckets, multi-purpose buckets, forks, dozer blades, brooms, power box rakes and trenchers. Coupler operation is controlled through a flick of the XTC switch on the right hand console. For more info, visit outdoor booth 7650D, indoor booth 3084 or cat.com.
Case TR310 Compact Track Loader
The Tier 4 Final TR310 Alpha Series compact track loader features wide tracks (15.75 in.) for tractive effort and stability and weighs in at 8,800 lbs. The machine has 74-hp, class-leading 232 ft-lbs of torque and a bucket breakout force of 8,680 lbs. The radial-lift arm design is ideal for digging and pushing applications, and the machine's hinge-pin height (10 ft, 3 in.) is excellent for loading and unloading trucks. The TR310 also features a cooled exhaust gas recirculation (CEGR) engine with a particulate matter catalyst, which is efficient and maintenance free with no DPF filter to replace.
For more info, visit outdoor booth 7546D, indoor booth 7216 or casece.com.
New Holland L234 Skid Steer
New Holland will publicly announce a new skid steer loader model, the L234, at GIE+EXPO. The L234 will be replacing the L230. The L234 is the most powerful skid steer loader in the New Holland lineup. It provides the superior visibility and stability you expect from New Holland, with even more power and performance for your customers' most difficult jobsite challenges. With its 90-hp engine, the new L234 will feature increased rated operating capacity of 3,400 lbs at 50 percent tipping load. Best in class will be its 6,918-lb loader lift cylinder breakout force and 38-gpm high flow with 3,450 psi.
For more info, visit booth 1054 or newholland.com.
Vacuworx Skid Steer Vacuum Lifting System
Lightweight and extremely versatile, the new SS 2 Skid Steer Vacuum Lifting System from Vacuworx is the ultimate attachment for landscape contractors. Featuring all-aluminum construction, the patent-pending design has a hydraulically driven vacuum pump and can be easily attached to any skid steer to lift up to 2,716 lbs. Quick-connect hydraulic hoses and a universal mounting plate makes switching attachments fast and easy so you can maximize productivity. The SS 2 can also be used with a variety of mini excavators or small cranes using the clevis hook connection. Not only is vacuum lifting a safer alternative than hooks and chains, it also increases your productivity.
For more info, visit booth 27107 or vacuworx.com.
IHIMER Skid Steers
IHIMER offers two models at this point in the rubber-tired skid steer line, the AS-12 and AS-34. The AS-12, which is one of the smallest skid steer loaders distributed in North America, has an operating weight of 2,955 lbs and has a tipping load (50 percent) of 1,455 lbs. The AS-12 comes standard with pilot joystick controls and universal quick-coupler. The AS-12 can also be equipped with narrow or wide tires. Equipped with the narrow tires, this micro unit has a width of 38 in., allowing the entrance to most backyard gates to be easily accessible. One of the most popular attachments for the AS-12 is the snow box. The snow box is very handy for clearing sidewalks, patios or small driveways.
For more info, visit booth 9220 or ihices.com.  
Ditch Witch SK752 Mini Skid Steer
To help landscapers and renters stay comfortable and productive on any jobsite, the Ditch Witch SK752 mini skid steer features an improved operator station with customer-driven control placement and ground clearance for better visibility. The SK752 features an efficient, low-maintenance Kubota diesel engine. For more productive loading, the SK752 features an 860-lb rated operating capacity and an 83-in. hinge-pin height. An innovative high-drive track system has bolt-on sprockets and wide track rollers for longer track life, easier maintenance and greater stability.
For more info, visit indoor booth 1096, outdoor booth 7634D or ditchwitch.com.
Yanmar Bull Series UTVs
Yanmar America is introducing the all new Yanmar Bull Series utility task vehicles (UTVs), which will be available in two designs, the standard Bull model with three seats in a single row and the Longhorn edition with two rows and six individual seats. Featuring a powerful 700-cc class gas engine and premium design, the new UTVs will be sold exclusively through the company's extensive North American compact construction equipment and agriculture tractor dealer network beginning in January 2017. The UTVs' exterior design of sleek lines and a premium silver and red color scheme complements their powerful, versatile performance.
For more info, visit booth 1044 or thebullseries.com.
Kioti Tractor CK10 Models
Built with a Tier 4-compliant Daedong eco-friendly diesel engine, the new CK10 models provide a powerful, yet environmentally friendly option for operators of the low-maintenance tractor series. Along with a quiet, low vibration experience that is the trademark of the CK10 Series, the new CK10 models serve as the next generation of Kioti Tractors and include two gear and two hydrostatic transmission (HST) models ranging from 24.5 to 40 hp. HST models feature performance-proven, heavy-duty HST drives that deliver power and efficiency. The new CK10 models can be augmented with a Kioti KL4010 front-end loader with up to 1,835 lbs of lift capacity and a 60- or 66-in. quick-attach bucket.
For more info, visit indoor booth 11042 or kioti.com.
Steiner 440 Tractor and Slip Scoop Attachment
The Steiner 440 tractor is the picture of versatility. All year long, you can tackle tough jobs with professional performance and more than 25 attachments. The list includes snow blowers, mowing decks and sweepers, but one of the simplest and most versatile attachments is the slip scoop. The slip scoop attachment provides a quick, easy way to move loose material or excavate small areas. It's essentially the perfectly powered wheelbarrow. And if you're on a farm, the 48-in. slip scoop fits perfectly through barn doors. And now, for a limited time, if you buy a new Steiner 440 tractor, you'll receive a free slip scoop attachment or $1,375 off any other attachment.
For more info, visit booth 3052 or steinerturf.com/440scoop/.
Kubota Z400-Series Mowers
Kubota introduces its Z400-Series: the Z411KW-48, Z421KW-54 and Z421KWT-60. With a new design combining Hydro-Gear's commercial ZT3400 transmissions and largest-in-class low profile tires, the Z400-Series puts torque and power to the deck with segment-leading ground speed. The series features durable 48-, 54- or 60-in. decks, providing superior cut quality for a variety of property sizes across different turfs and terrains. The Z400-Series offers ergonomics and available features from the deluxe operator seat to the K-Lift foot pedal mower lift system.
For more info, visit indoor booth 5094 or kubota.com.
G-Series Compact Track Loaders
The large frame G-Series compact track loaders were inspired by extensive feedback from John Deere customers looking for more productivity, better visibility and simplified service to remain competitive in their businesses. John Deere not only answered by improving in these areas but also added a host of new features to make the large-frame G-Series machines easier to run and maintain on jobs of every scale. The biggest improvement is the refined vertical-lift boom design that rises higher, reaches farther and lifts more for easier loading. These machines have superior pushing power and boom and bucket forces.
For more info, visit booth 1110 or johndeere.com/commercial.
Arctic Snow's Sectional Sno-Pusher
The compact-duty Sectional Sno-Pusher offers construction and landscape contractors a productive solution to maximize their fleet's snow removal potential. The pushers attach to small tractors, skid steers and wheel loaders for clearing lots, sidewalks and driveways. The Sno-Pusher features a sectional moldboard with 24-in.-wide, spring-loaded, trip-edge sections and a steel cutting edge. This unique design allows each section to move up and down independently, enabling the pusher to effectively contour to uneven surfaces and remove snow in dips. Designed for equipment weighing as much as 5,000 lbs, the CD pusher is available in three sizes including 6-, 8- and 10-ft-wide models.
For more info, visit booth 7188 or sectionalsnopusher.com.
Camso Skid Steer Tires
Camso, formerly Camoplast Solideal, is a leader for skid steer solutions offering the largest range of tires, tracks and parts to respond to the various needs of the industry. Believing productivity and profitability are all about choosing the right tire for the right application at the lowest operating cost, Camso is introducing this fall two new skid steer tire solutions: the Camso SKS 753, next generation of Camso Hauler SKZ, and the Camso SKS 532, next generation of Camso Xtra Wall. The Camso SKS 753 was built with versatility and durability in mind thanks to its innovative non-directional tread pattern. The Camso SKS 532 was especially designed for soft soil surface applications.
For more info, visit camso.com.
3025E Utility Tractor
The latest addition to the 3E Series line of compact utility tractors, the 3025E, offers professional landscapers a combination of capability and comfort at an affordable price. The 25-hp compact utility tractor features an easy-to-use, two-range hydrostatic transmission (HTS), increasing tractor performance while eliminating clutching for fast and easy change of direction. The operator station offers users easy access to controls with brake pedals conveniently located for increased comfort with intuitive color coded guides. Each 3025E is equipped with a contoured, comfortable seat and the flat operator platform enables quick entry and exit from the tractor.
For more info, visit booth 1110 or johndeere.com/commercial.
Gravely Atlas Job Site Vehicle
The Gravely Atlas Job Site Vehicle was designed specifically for heavy jobsite work. With a 1,900-lb payload and 2,000-lb towing capacity, the Atlas JSV allows work crews to literally haul a ton. Supported by an on-demand, true all-wheel drive system and De Dion rear suspension, this jobsite vehicle provides the heavy-duty traction and suspension required. The all-steel MX-18 Job Box features a 1,250-lb capacity, steel walls to prevent bowing and four integrated tiedown points to secure cargo. The Atlas JSV-3000 fits three adults comfortably across one bench seat, while the Atlas JSV-6000 crew model fits six adults across two bench seats.
For more info, visit indoor booth 7120, outdoor booths 6060D and 6262D or gravelyatlas.com.
Honda Power Equipment and Honda Engines
Honda Power Equipment and its operating unit, Honda Engines, will have a dynamic presence at GIE+EXPO 2016. At its experiential interactive display at the venue's outdoor exhibit area, the Honda Power Equipment team will showcase an all-new, value-priced generator for both residential and commercial applications. These high-quality models, equipped with inverter technology and powered by the Honda GC190 engine, offer consumers reliable and quiet performance along with light weight, portability and excellent fuel economy. The Honda Power Equipment team also will discuss design enhancements to selected product lines including its HRC commercial lawn mower.
For more info, visit booth 3118 or powerequipment.honda.com.
Yanmar YT3 Series Utility Tractors
Yanmar America will be exhibiting its advanced-technology YT3 Series compact tractors for the first time at GIE+EXPO. The models YT359 and YT347 (59 and 47 engine hp) are the latest word in operator comfort and operator/machine productivity thanks to Yanmar-designed, factory-installed cabs and exclusive, new i-HMT transmission technology. The more advanced i-HMT combined with electronic operator control features deliver compact tractor versatility with improved operator ergonomics and operator labor savings previously only found on larger machines. Operators provided with a YT3 and a Yanmar-designed loader will have fingertip control of 2,500 lbs of lift capacity and industry-standard, skid steer quick-attach for buckets, grapples and other attachments.
For more info, visit booth 1044 or yanmartractor.com.
For more GIE+EXPO coverage, click this link. We wish it was greener. 
Tags:
Case
,
Ditch Witch
,
GIE+EXPO
,
Gravely
,
Honda
,
John Deere
,
Kioti
,
Kubota
,
New Holland
,
October 2016 Print Issue
,
Steiner
,
Vacuworx
,
Yanmar