Danuser Intimidator
The Intimidator is a versatile tree, post and rock puller. It's ideal for eliminating trees, saplings, shrubs, stumps, bushes and boulders and clearing near fencerows or close to buildings and other obstructions. The replaceable excavator bucket teeth and vertical jaw saw teeth allow the operator to dig and cut roots to remove larger trees. The uniquely synchronized jaws, designed for less wear and tear on the vehicle, are actuated by a rear-mounted, fully protected 3-in. diameter cylinder, allowing you to aggressively excavate objects without fear of damage to the cylinder. The tapered jaw design means larger objects can be gripped in the back of the jaws, maximizing pulling force of 21,000 lbs.
For more info, visit danuser.com.
Cat Wheel Saws
Cat wheel saws are designed for high-performance trench cutting on a variety of hard or compact surfaces such as asphalt, reinforced concrete and rocky or frozen ground. When attached to Cat skid steer loaders, wheel saws allow saw cutting and trenching to be performed in one pass with one work tool. Wheel saws are ideal for asphalt patch cutting, road expansion joint cuts and utility trenching for gas, sewer, water, electrical and cable installation and repair. Cutting trench widths from 3 to 8 in. and depths from 4 to 30 in., the Cat wheel saws are designed to work with High Flow-XPS (33 gpm/4,061 psi) and XHP (40 gpm/4,061 psi) skid steer loaders, multi terrain loaders and compact track loaders.
Chicago Pneumatic RX4 Breakers
Chicago Pneumatic Construction Equipment features the RX4 in its lineup of mini hydraulic breakers in the 1.3- to 15-ton carrier weight class. The RX4 breaker is ideal for light demolition, landscaping, building renovation and road construction. Chicago Pneumatic breakers feature a two-in-one design, as the cylinder and tool holder are one piece, eliminating strain and risk of seizures. A one-piece floating wear bush ensures maximum uptime and fast, easy field replacement. With an impact rate of up to 1,300 blows per minute, the RX4 delivers dependable power and performance.
Arctic Snow LD Sectional Sno-Pusher
Compatible with lighter-duty equipment, Artic Snow and Ice Product's LD Sectional Sno-Pushers attach to backhoes, skid steers, compact loaders and tractors. A sectional moldboard with 32-in. wide, spring-loaded, trip-edge sections combines the precision of a small plow with the capacity of a large pusher. The Sno-Pusher's hardened-steel cutting edges contour to the surface to scrape snow and ice out of dips and recessions, all while moving up and over raised objects. Bolt-on mechanical side panels and durable hardened-steel shoes add longevity. The LD Sno-Pushers come in four sizes, from 8- to 14-ft models.
For more info, visit sectionalsnopusher.com.
John Deere Trenchers (TR36B, TR48B, TR60B)
Featuring a design with strength in mind, the trencher is ideal for jobs that require efficient and powerful digging. The TR36B, TR48B and TR60B trenchers come in 36-, 48- and 60-in. digging depths, with low- and high-flow versions. Each model allows easy entrance and exit from the skid steer or compact track loader while the spring-loaded boom reduces shocks to the hydraulic motor, machine and operator. Each trencher also features a built-in skid shoe and indicators to assist in maintaining digging control while manual side shift conveniently allows trenching close to structures. For more customizability, optional chain-width and tooth configurations are available.
For more info, visit deere.com.
Kubota Hydraulic Thumb Kit
Kubota's hydraulic thumb kit greatly enhances the versatility of compact excavators, making them the ultimate digging/grabbing machines. The hydraulic thumb is excellent for manipulating, handling or loading irregular shaped objects, debris and rocks and can even pick up logs. Ideal for construction and forestry applications, the hydraulic thumb kit is custom-designed to match bucket tip radius and is retractable for trenching. It provides the ability to handle a wide range of jobs, making short work of loading and material handling applications while allowing you to manage a variety of loading and digging jobs without stopping to change implements.
For more info, visit kubota.com.
Terex 7-in-1 Backhoe Loader Bucket
Contractors expect the convenience and ability to multi-task from their construction tools. The Terex 7-in-1 bucket is the ideal attachment for general contractors, landscapers, municipalities and rental yards. Originally developed by the Drott Co. and known as the 4-in-1 bucket, this attachment has been referred to over the years as a multi-purpose or the double four bucket. Today, many contractors call it the 7-in-1 bucket to highlight this attachment's seven main functions: digging, loading, dozing, scraping, spreading and leveling and grabbing and lifting.
For more info, visit terex.com.
Ditch Witch Stump Grinder
Landscapers and rental companies can boost the value of their industry-leading Ditch Witch SK850 mini skid steers with a productive, stump-grinding attachment. The attachment from Stumper Industries fully utilizes the mini skid steer's 37-hp diesel engine to efficiently remove even the toughest stumps. The attachment features a low-speed, high-torque design to increase productivity when cutting stumps. A perpendicular cutter wheel utilizes a patented raker limiting the cut depth of each tooth, which takes more material per cut. Paired with the SK850, operators improve their usage with an auxiliary-control frees the operator's hands to control other functions.
For more info, visit ditchwitch.com.
Geith Ripper
Designed for use with excavators ranging in size from 4 to 80 metric tons, the Geith ripper penetrates and scores tough, hard-packed and frozen ground. Standard design features include a replaceable tooth and wear shroud, reinforcing gussets and side wear protection plates — extending the life of the ripper. The ripper's heavy-duty steel shank further increases ripping power for projects ranging from site prep to utility work. Compared to a hydraulic breaker, the Geith ripper provides operators with a cost-effective and low-maintenance alternative to rock breaking. In addition, the Geith ripper enables operators to extract rock with ease in areas where blasting is strictly prohibited.
For more info, visit geith.com.
Minnich A-1Q Deep Hole Drill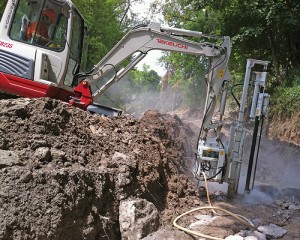 The A-1Q deep hole drill from Minnich Mfg. can be mounted on an excavator, compact excavator or skid steer loader to deliver powerful performance in quarrying, blasting, anchoring and tie-back applications. The 1,000-lb A-1Q-72 features a 110-in. mast height and 64-in. travel, while the 1,200-lb A-1Q-96 features a 140-in. mast height and 88-in. travel height. Both units feature rail leveling with a hydraulic cylinder, which allows 90 degrees of rotation and up to a full 360 degree rotation when the cylinder is repositioned. Both units can be outfitted with an optional dust collection system.
For more info, visit minnich-mfg.com.
FAE Skid Steer Forestry Mulchers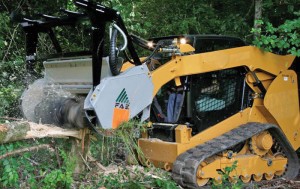 FAE is a leading provider of land clearing equipment for R.O.W., forestry, agriculture, vegetation management and construction. The UML/SSL VT is the company's top-of-the-line skid steer mulcher. It is available in 63- and 72-in. cutting widths and is capable of cutting brush and trees up to 8 in. in diameter. Here are some other cool features: a 110-cc variable torque motor for maximum production; an FAE smooth rotor system that allows better mulching, less fuel consumption; the Hy mulching door comes standard (operating cylinder located in cylinder housing and completely protected); a poly-chain belt drive; Hardox counter blades for excellent material sizing; and an adjustable push frame (four positions) and adjustable skids (three positions).
For more info, visit faeusa.com.
Pengo InterLok Coupler
Pengo's InterLok coupler is an innovative coupler system that allows the Pengo Aggressor auger to be equipped with three different connection sizes — R-256, H-200 and H-250. The InterLok system is a variable geometry auger bit coupler that allows the auger bit to utilize different coupler connections. The ability to use different connection sizes can eliminate the need for auger bit adapters. This new coupler system also allows for more universal adaptability to different types of auger drives that use various output shaft sizes and shapes. The InterLok is a perfect solution for dealers and customers that need to adapt auger bits to various types of auger drives.
For more info, visit pengoattachments.com.
Vacuworx Lifting Systems
The new hydraulic vacuum lifting systems from Vacuworx feature the same powerful performance of diesel models with much lower operating costs. Because they utilize the hydraulic system of the host machine, there are no fuel requirements and less maintenance, which saves time and money. Hydraulic vacuum lifters have fewer moving parts for greater reliability. The MC 5H is designed for use with compact host vehicles such as wheel or track-type loaders and excavators. Ideal for utility applications, the MC 5H has a lift capacity of 11,000 lbs. "H" models are also available for all RC Series vacuum lifting systems, designed to handle up to 44,000 lbs in conjunction with large-capacity machines. All Vacuworx Lifting Systems feature wireless remote operation and 360-degree rotation to position materials without the need for tag line operators on the ground.
For more info, visit vacuworx.com.
For more great attachment options, get attached to this link!!! 
Tags:
Artic Snow LD
,
Caterpillar
,
Chicago Pneumatic
,
Danuser
,
Ditch Witch
,
FAE
,
Geith
,
home
,
John Deere
,
Kubota
,
March 2016 Print Issue
,
Minnich
,
Pengo
,
Terex
,
Vacuworx