True to form: bauma was big. It was 580,000 visitors big. In actual size, it was 605,000 square meters big — that's basically like pushing 120 football fields together, and then filling those fields full of the latest, greatest construction equipment in the world. By the end of it, my feet were also big, swollen like giant yams, from walking/running to a metric tonne of press conferences and booth meetings. Luckily, among the various themes of bigness, there were still lots of activity in the realm of compact construction equipment. Skid steers, small wheel loaders, nimble-sized attachments and the latest advancements in compact engines and telematics services were all on display, and there was plenty that caught our team's eyes (just read on).
But maybe the biggest opportunities at bauma were the chances to meet the engineers, product managers and visionaries behind the machines. Caterpillar, for example, invited Compact Equipment to sit in on a roundtable with its vice presidents, and I got to pick the brains of some of the most astute machine pros in the equipment industry. Sitting across the table from guys like Ken Hoefling, vice president of Cat's Building and Construction Products division, I could ask questions like: Will European-centric machines like compact wheel loaders and attachment-focused telehandlers be invading the American market anytime soon?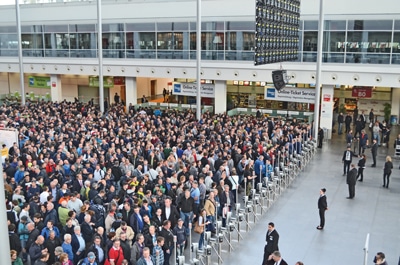 "Compact wheel loaders are the fastest growing segment in the U.S. right now," explained Hoefling at the bauma roundtable. "It's more than double digit, and that's exciting. It's interesting to see how we perceive a skid steer or [compact track loader] in the U.S. versus a wheel loader. Where we see the growth in compact machines is where we can give a better economical solution to what they're used to in the U.S. A skid steer is a fantastic machine. It's a lower cost initially, but its operating costs are relatively high compared to a small compact loader. So, for those applications in the U.S. where the acquisition price isn't the determining factor but more ongoing cost per hour, we'll continue to see that transition to small wheel loaders. Telehandlers are pretty much saturated in the U.S. We're having a tough time with teles in the U.S, but for micro hexes [compact excavators under 3 metric tons], we're seeing a significant surge."
Euro-Centric
Every three years bauma becomes the epicenter of the equipment industry, and it's the perfect opportunity to have conversations like that. For a solid seven days (April 11-17), bauma 2016 took place in the only venue big enough to hold it — the Messe München exhibition center in Munich, Germany. Some of the booths for this show were so insanely big (just check out the photos) that exhibitors started building them back in November 2015. Every bauma our team flies out to Germany to canvas the show for the coolest new compact products and the best conversations about the equipment industry.
Unfortunately, a lot of the coolest things I saw were not coming to America … just yet. An example would be the fully electric drive Kramer 5055e compact wheel loader, which won a bauma Innovation Award. First off, the Kramer product will not be available in America as of now. Perhaps in 2017 or beyond, North America may see the Kramer 5055e, a compact wheel loader that can run up to six hours on battery power with zero emissions. Kramer is a European brand of Wacker Neuson, which we don't have, but this product was so interesting, we'd love for Wacker Neuson to brand it in America.
Like always, JCB had one of the best booths at the show. Front and center were JCB's famed dancing diggers, which basically perform rad equipment acrobatics to music. The booth was full of new and popular units. We dug the just released Contractor Hammer Range, which is coming to America. JCB will double the number of hydraulic breakers in its line of hammers for excavators, backhoe loaders and compact equipment lines. All these units will come with three-year warranties and be available for carriers ranging from 0.9 to 55 tons. But the real showstopper at JCB's outdoor booth was its Hydra Dig wheeled excavator. This ultra-unique unit (eight wheels, crazy low profile and maximum visibility and stability) is not coming to America yet, but maybe next year.
"Customers know what they want from a machine: Solutions that deliver the best results on site, in the safest and most productive manner," said JCB's chief innovation and growth officer Tim Burnhope. "Customers told us that they need a single machine solution delivering visibility, stability, maneuverability, mobility and serviceability. We knew the answer was to innovate, challenge the status quo and give customers solutions they never thought possible. With the JCB Hydradig we've succeeded in delivering against all five customer requirements in the 10-ton sector."
Along with European-based equipment magnates like JCB and Wacker Neuson, Asian equipment manufacturers made a big push toward global markets at bauma. Chinese equipment giant LiuGong released a ton of new machines, including two new skid steer loaders that are coming to the US of A. The redesigned CLG375B and CLG385B models are equipped with Yanmar diesel engines, large and powerful engine fans, intense filtration capabilities, monoblock frames and original buckets from LiuGong (and the option of something called rock tires). The units made a big splash with their slick yellow, black and grey colors in the outdoor arena.
Diesel Power Plants
On the engine side, Stage V was all the talk; it's a European-only emissions regulation focused on diesel particulates, which is pushing engine makers to all use DPFs (diesel particulate filters). Cummins raised a few eyebrows with its new generation of ultra-low-emissions engines for Stage V, spanning from 100 to 430 hp (the F3.8, B4.5, B6.7 and L9). The power plants were designed to meet 2019 European Union (EU) Stage V emissions regulations with simpler, EGR-free architecture and single module aftertreatment technology. Removing exhaust gas recirculation (EGR) is a pretty big deal, allowing a simpler, more cost-effective aftertreatment system and lower cost machine installation. We expect this to migrate to America.
Perkins announced a slew of new products, including its own engine oil and Perkins Platinum Protection, which covers up to five years, 5,000 hours and the repair and replacement of 100 percent of engine components. Perkins also launched a new family of four-cylinder diesel engines that caught our attention, delivering 60 to 134 hp. Called the Perkins Syncro range of common rail engines, these power plants will meet multiple global emissions, including Tier 4 Final. With up to an 8 percent improvement in fuel economy, the Perkins Syncro range benefits from a suite of technologies including a common rail fuel system, electronic control, advanced air systems and flexible aftertreatment configurations.
"It's a 3.6-liter engine and 2.8-liter engine, with completely new platforms, designed in Peterborough," said Oliver Lythgoe, product concept marketing manager for Perkins. "We've got a fairly big team, about 50 people, working on it at the moment. It's a huge investment when it comes to the future of our brand, and it's our bet that the industry continues growing. We've engineered these engines for Stage V [European emissions standards], but there will be multiple versions. We have a world modularity concept, so we want to get the same engine, with the same ratings and same electronic interface, so we can have Tier 3 versions for China or Brazil and Tier 4 Final versions for North America."
The Age of Smart Iron
Of course, it wasn't all about the physical equipment. Caterpillar's big message at bauma — the age of smart iron — was all about utilizing sophisticated technologies (from grading tech to telematics) to enhance the user experience and make machine and man more productive. The biggest news: Throughout 2016, Caterpillar will release updates to the VisionLink user interface making it faster and easier to use with today's smartphones and tablets. Besides a new streamlined look and feel for the platform, which focuses on easy-to-use apps, this revamped version of VisionLink will be able monitor mixed fleets and mixed brands — not just Cat equipment — and that's a game-changer.
"Three years ago at bauma 2013, I talked about our investments in technology to deliver customer value," said Doug Oberhelman, CEO of Caterpillar Inc., at Cat's big bauma press conference. "Since then, it has become even more evident that digital transformation is a reality for the world and for our industry. And while the investment is challenging given current economic conditions, we are going to lead that transformation. We are accelerating our digital technology focus. Let me make this part clear: We're aiming at something very different than others. We want our customers to get the most out of it — not only their Caterpillar equipment, but all of their equipment in their fleets, and we'll do that by connecting them all."
It was one of many big messages and compact products we heard and saw at bauma 2016. Unfortunately, we can't possibly capture the show's breadth in just a few pages. Luckily, we've compiled a montage of great images, product summaries and major news releases on our website — compactequip.com (#bauma2016). We encourage our readers to visit our blog and enjoy extensive coverage of the show posted there.