Although you might not be familiar with the name, Develon has been making excavators since the '70s. You probably are familiar with the brand of orange construction equipment known as Doosan — which is now called Develon — after its purchase from Hyundai. Under the new brand name, the company will continue providing innovative products and solutions for a variety of categories, including some of the best mini excavators on the market. With compact excavators being one of the most popular types of construction equipment these days and with Develon rebranding in the market, we decided to reach out to Thomas Lee, director of product management at Develon, to discuss the market and the evolution of the brand.
CE: First off, Thomas thanks for taking the time to talk to us. We really appreciate it, and I know you're super busy. Maybe we can just start by summarizing the Develon compact excavator lineup today. How many models do you currently have?
Lee: Develon, formerly known as Doosan Infracore, and its dealers offer seven mini excavator models for sale in the United States and Canada. In 2022, Develon introduced its next-generation mini excavators, the -7 Series, with a completely new design for increased productivity and operator comfort. The Develon mini excavator lineup includes the following models:
DX27Z-7
DX35Z-7
DX50Z-7
DX55R-7
DX62R-3
DX63-3
DX89R-7
Develon plans to introduce the DX62R-7, DX63-7 and DX42-7 excavators in the first half of 2023 to strengthen its line of mini excavators. With these new models, Develon will offer eight mini excavators for customers in North America, including zero tail swing, reduced tail swing and conventional tail swing machines.
If you had to pick one or two big differentiators in your mini excavator product offerings, what would it be? A one-of-a-kind undercarriage? Unique standard features? The biggest selection? A cool, unique telematics package?
One of the big differences between Develon mini excavators and other brands is Develon mini excavators come standard with an enclosed cab with heating and air conditioning. This is often available as an option for other mini excavator brands. Develon customers can order a mini excavator with an open canopy if they prefer, but many customers like the air conditioning and heating for enhanced operator comfort.
Another differentiator between Develon mini excavators and other brands is the standard telematics system available for all Develon models. The telematics system allows owners to remotely check their mini excavators from an app on a smartphone or on a computer. This is useful for contractors as well as rental centers that buy Develon mini excavators because they can set parameters for where the machine can be operated and certain times of the day. And if customers own larger Develon machines, the data for the equipment is available in one easy-to-access interface from Develon.
What is your most popular compact excavator overall? What's your most popular unit for rental applications?
In terms of retails in 2022, the DX85R-3 mini excavator was our top-selling model [pictured]. It's at the top of our lineup and was recently updated to the new DX89R-7. The 8-metric-ton machine supplies the power, dig depth and reach some customers need from a mini excavator without moving up to a larger crawler excavator. The next most-popular mini excavator in our fleet is our DX35Z-7, which is part of the 3-metric-ton size class. Historically, this has been the most requested size class of mini excavator because of the machine's ability to work in limited-access areas while supplying exceptional digging performance. The zero-tail-swing configuration is popular for owners and renters because it minimizes the possibility of contacting other objects as the excavator's house rotates or "slews."
In your opinion, what technologies are pushing the small excavator market to evolve? Electric, attachments, telematics, automation like grade control?
Mini excavators are a staple machine on many jobsites today because of their versatility and performance. Options and accessories available for larger crawler excavators are now becoming available in mini excavators. For example, grade control, telematics and rearview cameras, to name a few. Develon offers its telematics system as standard equipment for its -7 Series mini excavators.
Mini excavators are making big waves on jobsites all over North America. Click here for the latest news on these machines and the companies that make them.
Which companies have the biggest market share for compact excavators in the North American market today?
Kubota is in the lead for compact excavator market share, followed by Cat, Deere and Bobcat. Develon is still in second tier of OEMs, but we have a solid machine lineup, and we have many initiatives to increase market share in compact excavator market, so 2023 will be a very interesting year for us. One of the area's Develon is focusing on is to broaden the offer for attachments to offer more choices for customers, depending on their preference and application.
How many compact excavators were sold in North America in 2022? How does that compare to 2021? What are your predictions for 2023?
The compact excavator industry closed off 2022 with 76,189 units, which is 2 percent market growth from 2021, and we expect to have 3 percent growth in 2023 as inventory levels replenish. Agriculture, ground maintenance and utilities activity is also showing growth along with inventory growth. We're expecting growth in 6- to 10-metric-ton segment whereas the smaller 3- to 5-metric-ton segment will likely decline due to high interest rates which will persist through 2023 and into 2024.
What growth markets do you see for compact excavators in North America? What declining markets do you see?
One opportunity for growth of mini excavator sales in 2023 will be in infrastructure projects following the passage of the infrastructure bill in 2021. The versatility of mini excavators will make them a popular choice for contractors working on road and bridge projects. In addition, contractors performing utility upgrades in older cities in North America will have a continued need for mini excavators for their compact size, as well as their digging depth and reaching abilities.
Increased interest rates coupled with home prices have made it more difficult for some homebuyers to buy new homes. We may see reduced demand for mini excavators in new home construction. Landscaping work that follows new home construction may also dip in 2023; however, some existing homeowners may opt to upgrade their residential landscaping and hire contractors to perform this work. Mini excavators are a staple for many landscaping contractors who perform homeowner landscape renovation projects or hardscaping work.
What is the most popular size class of compact excavators today?
Based on past sales data, the most popular size class of compact excavators has been the 3- to 4-metric-ton machines. Mini excavators in this size class are popular because they come a variety of tail-swing configurations and boom and arm lengths. Customers can choose from conventional or zero-tail-swing mini excavators, as well as excavators with a variety of hydraulic-powered attachments. Thumb attachments are still among the most-popular attachments for use with mini excavators and buckets, particularly for grabbing, lifting and placing objects.
Develon -7 Series mini excavators come standard with enclosed cabs with heating and air conditioning for enhanced operator comfort. Adjustable armrests in the mini excavator cabs move precisely to where operators are most comfortable. The seat base features extra layers of insulation — minimizing the heat transfer and vibration from the engine to provide enhanced operator comfort.
What do you feel are the latest trends in hydraulics and attachments for mini excavators? New more powerful attachments? Grade control? Rotating buckets and grapples?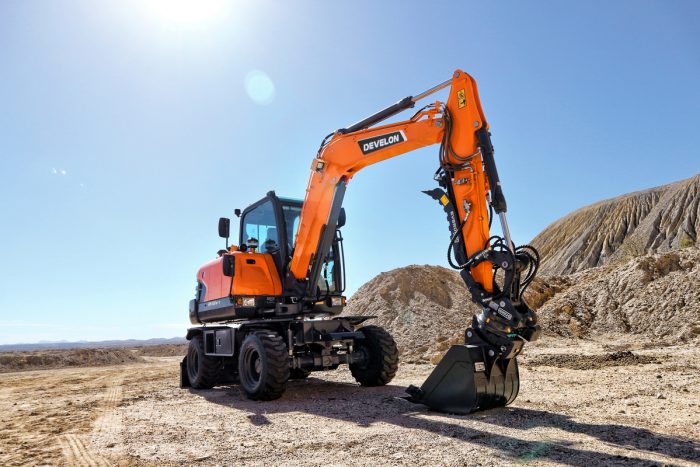 Develon is looking into implementing a diverter valve in the mini excavator auxiliary hydraulic line for better attachment versatility. Develon is actively working with tiltrotator manufacturers to supply a solution for mini excavator customers who want to add the accessory to their machines. Tiltrotator accessories greatly increase the flexibility of the mini excavator attachment and can improve the operator's productivity. The mini excavator dozer blade acts like an attachment because it expands what the operator can do with the machine. A standard mini excavator dozer blade can be used to grade an area or backfill a trench, and it can provide more stability in lifting and digging situations. Some manufacturers offer an optional angle blade for more precise placement of material and faster backfilling. Develon offers a four-way swing blade for its new DX42-7 mini excavator. Also, wheeled excavators are coming into the market.
What advice would you give to a contractor looking to rent or buy a compact excavator?
When considering a new mini excavator or renting a machine, contractors should consider the following criteria:
How deep do I need to dig?
How far do I need to reach?
What size limitations, if any, do I have for my jobsites?
How much auxiliary hydraulic flow do I need for attachments?
What does the mini excavator weigh, and will I need a bigger trailer if I want to transport it with attachments or another machine?
What safety features are available?
Develon currently sells its mini excavators with a variety of buckets and thumbs, as well as quick couplers for fast and easy attachment changes. For some contractors, these attachments are all they need for the type of work they perform. Other mini excavator owners may need more attachments for specialty work, and those attachments may include the following:
Auger
Flail mower
Grapple
Hydraulic breaker
Plate compactor
Ripper
It's best for a contractor or rental company to work with a local dealer and discuss what attachments may be needed for the type of work being performed.
Thomas, this was some great info. We really appreciate you taking the time to talk. Is there anything else you'd like to mention?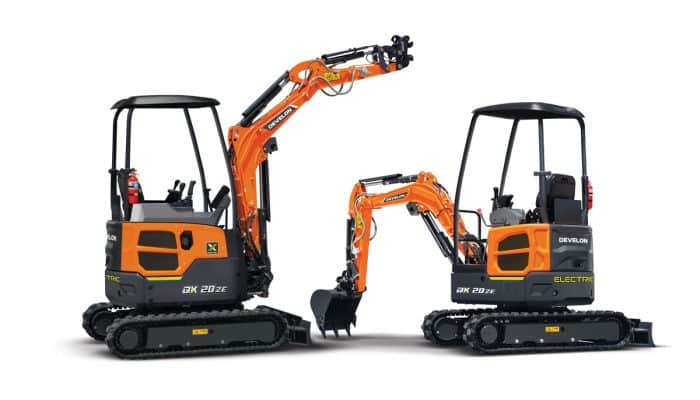 In March 2023, Develon displayed the current iteration of its electric-powered DX20ZE-7 mini excavator at CONEXPO in the Festival Grounds exhibit. As of today, Develon does not offer an electric model for sale in North America, but the company is working toward offering at least one model in the next few years for customers who need an alternative to diesel power. Develon is starting with smaller construction equipment because compact equipment can be operated with a smaller battery size at a lower voltage. Develon plans to make a shift to battery-type excavators for 10-metric tons and below.
We're excited for you to bring it to the market, and we'll keep folks updated.
Keith Gribbins is publisher of Compact Equipment.
We'd love to keep in touch! Check us out on Facebook, Twitter and LinkedIn!