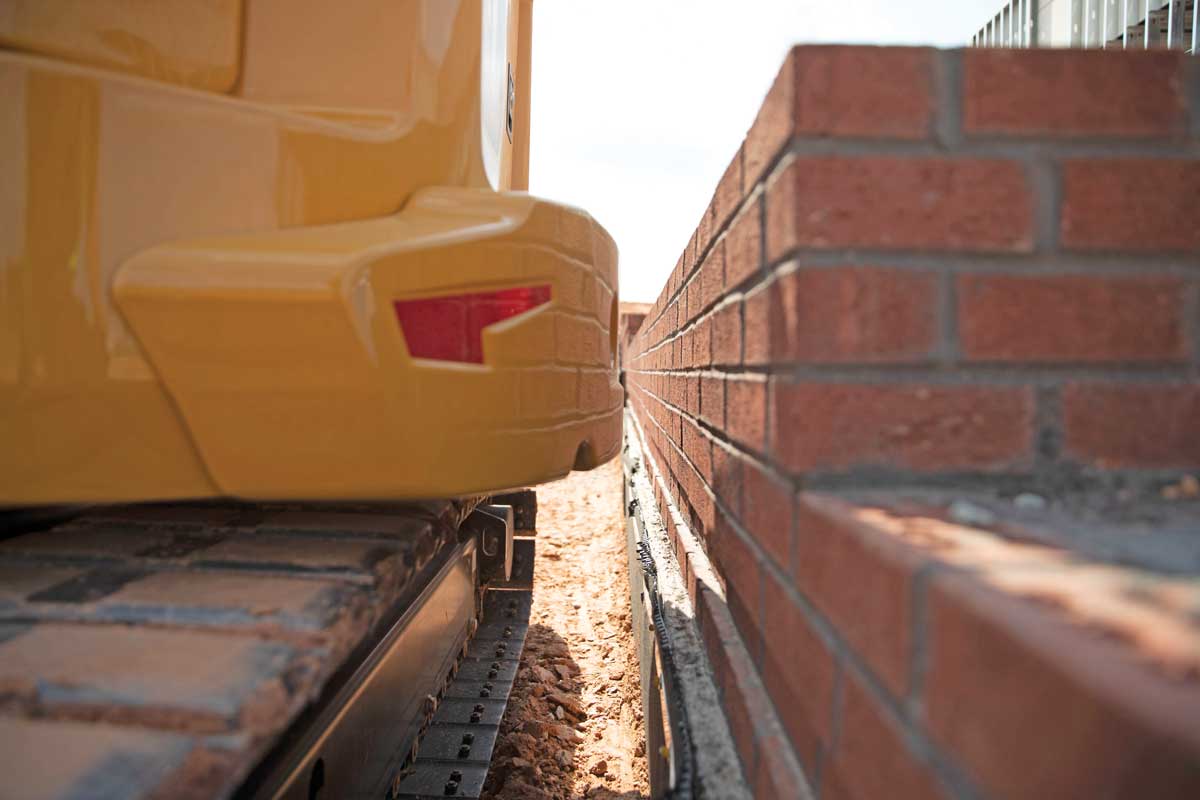 Today, mini excavators are one of America's most popular compact machine categories because of their ability to work in confined spaces from fenced-in backyards to congested roadways. Minis weren't always so popular. Two decades ago, those first units largely mimicked America's traditionally big hydraulic excavators, designed for general contracting and heavy construction apps with a slightly offset operator's station and a rear-mounted engine that also served as a substation counterweight to boost lifting capacities. Also…
"In the early designs of mini hydraulic excavators, the standard tail configuration was more prevalent," says Greg Worley, market professional, global mini excavators, building construction products, Caterpillar. "This design was easier and cheaper to produce compared to compact radius machines. As time went on, the industry started to look for more compact designs, so engineers had to get smarter on how to fit everything into a smaller space without increasing costs."
Machine makers began to rethink compact excavator designs, looking to repackage the machines in a way that would enable them to work in even tighter spaces or immediately adjacent to a busy lane of traffic. The result was the zero tail swing design. A rework that essentially moved the cab and the engine to the center of a more rounded overall machine configuration. Fast-forward to today, and things have dramatically changed in the compact excavator market — from grade control to telematics — but also tail configurations. Contractors now can select from three basic tail swing designs to guarantee they have a machine that is ideally suited to their applications.
"Today you can choose between zero, conventional or reduced tail swing models," explains Chris Lucas, product manager for excavators, JCB. But, he adds, there is still a great deal of flexibility available, no matter which choice a contractor makes on the dealer lot. "You can also apply variations in counterweights to each of these three styles," Lucas notes. "In some instances, removable weights have also been used to provide even more versatility."
Caterpillar Tail Configs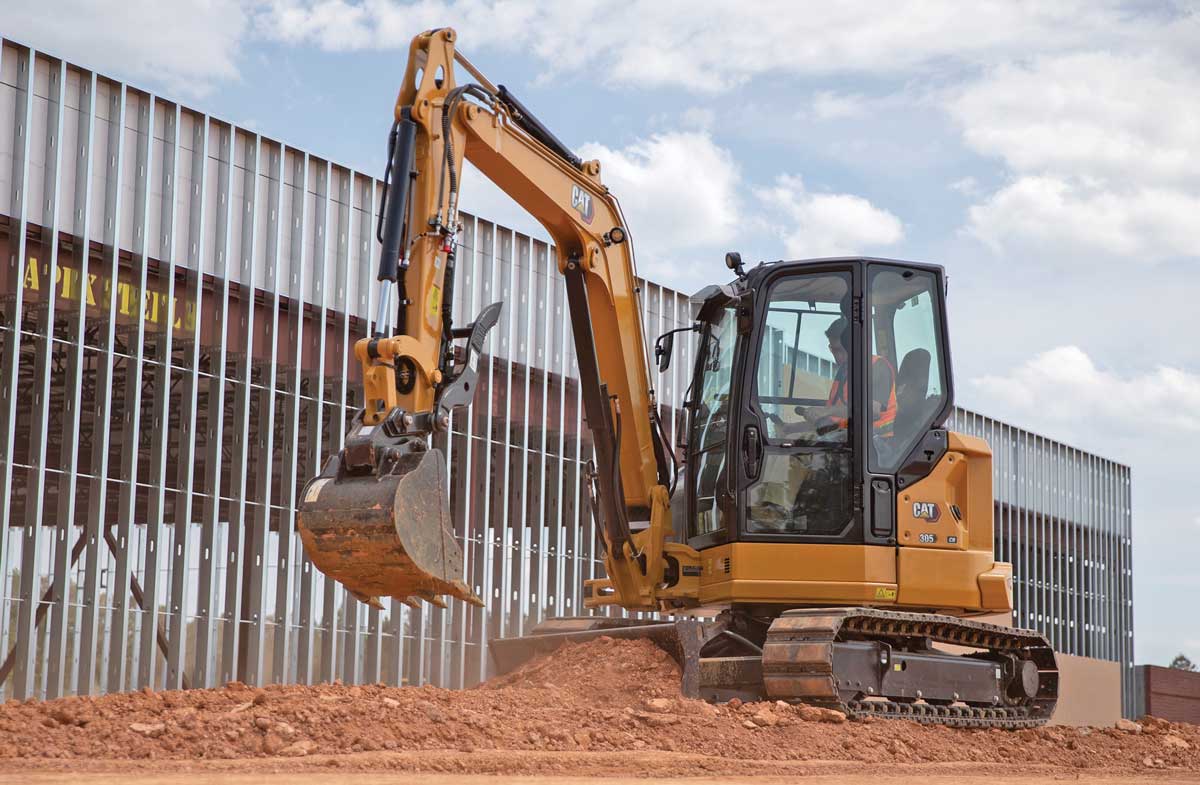 Caterpillar currently offers both compact radius and two conventional radius (CR) compact excavators in North America. In the 3-ton class, Cat offers only CR models, although its 302.7CR model features an extendable undercarriage to provide greater stability. Cat's 4- to 6-ton compact excavator range offers both Compact and CR machines, with its 304 model available in both reduced radius and CR configurations. The Cat 306 is badged as a compact radius machine but is essentially a reduced radius design. Cat 7- to 10-ton compact excavators consist of two CR models and two conventional models meeting both requirements of stability or working in tight areas. For more info, visit cat.com.
Likewise, Kubota has significantly expanded its compact excavator offerings as the market has matured over the years, according to Patrick Baker, product manager, Kubota Construction Equipment. "Looking back over the past decade, conventional tail swing models were more prevalent," Baker says. "But, as cities, neighborhoods and jobsites become more confined, reduced and zero tail swing models became more popular because they give operators more versatility when working in tight spaces."
Which models embrace that zero tail swing configuration the most?
"The most popular size class of mini excavators continues to be the 3- to 4-metric-ton category," says Aaron Kleingartner, product and dealer marketing manager, Doosan Infracore North America. "Within this category, zero tail swing machines are readily available for contractors. For example, Doosan offers a zero tail swing DX35-5 mini excavator, as well as a conventional tail swing DX42-5K mini excavator. Contractors can choose between the two designs that best suit their needs, while remaining within a popular size class for transporting the mini excavators from jobsite to jobsite."
Right Swing for the Machine
Kubota offers seven conventional tail swing models and five reduced or zero tail swing models, giving the owner or operator flexibility when purchasing or choosing the right digger for the job. Zero tail swing means the excavator's housing doesn't extend beyond the vehicle's tracks when rotating, and reduced tail swing means the housing extends no more than a few inches beyond the excavator's tracks. When it comes to pure production, conventional tail swing excavators will outperform a zero or reduced tail swing excavator.
"Kubota conventional tail swing models will lift more than a reduced or zero tail swing model," Baker notes. "Although conventional tail swings normally offer the greatest productivity and output compared to reduced or zero tail swing excavator offerings, conventional tail swing models will be larger in operating weight as well as other key excavator performance specifications."
JCB Tail Configs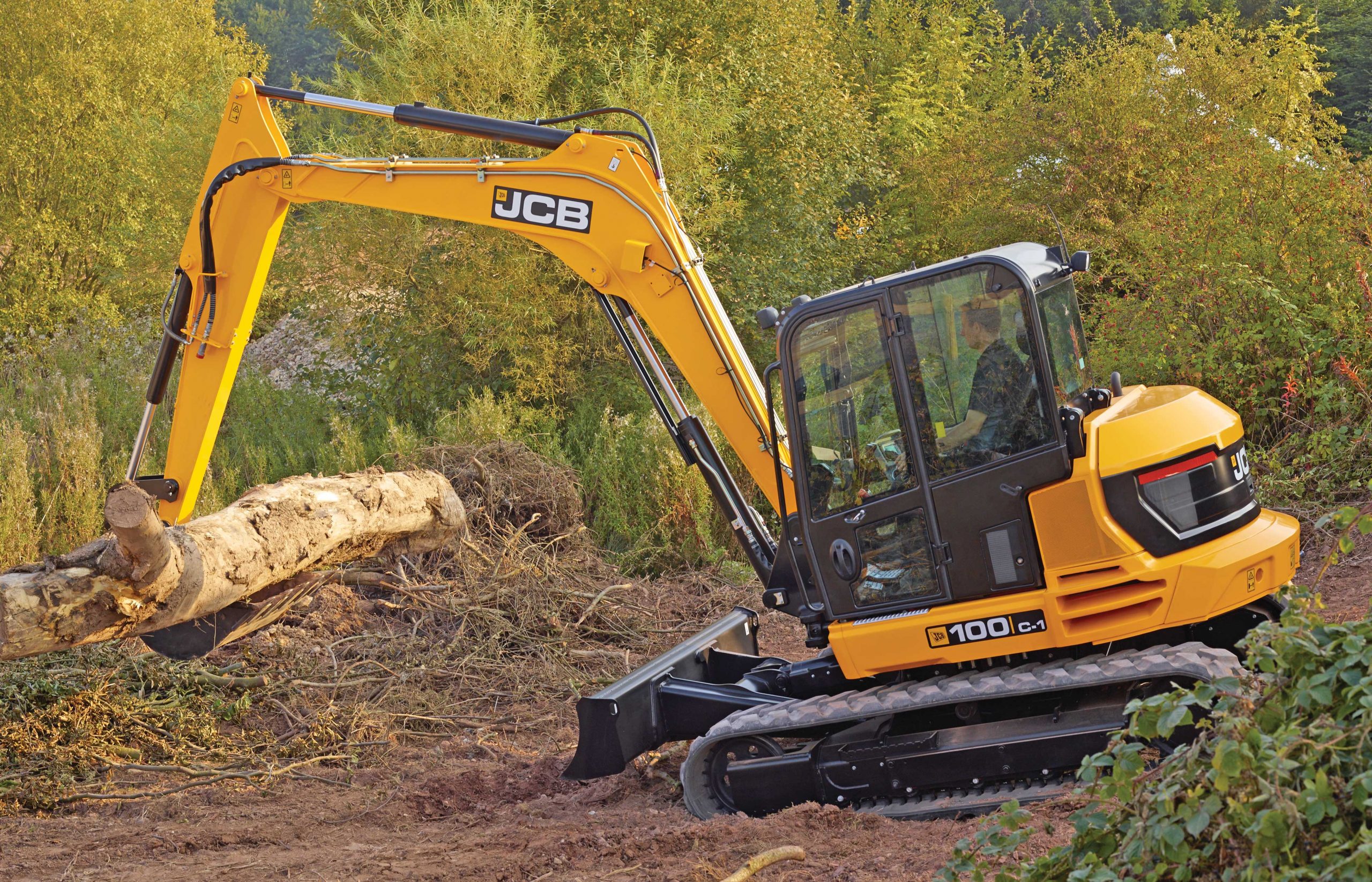 JCB offers 10 different mini excavator models in North America. These include four conventional models and six zero tail swing designs. The machines range in size from 1.8 to 10 tons. JCB says its latest technology advancements support both conventional and zero tail swing models with systems such as JCB's lift overload system, auto health check and advanced tool select. For more info, visit jcb.com.
Another advantage conventional tail swing models feature is their ability to provide more machine stability, especially with 360-degree operation, when using heavy attachments such as hammers, grapples and rotators, Cat's Worley adds. "With the blade down lifting over the front, the lifting capability is the same for the two designs," he says. "But when working over the side, with blade up or traveling with loads, the conventional design comes into its own. The downside, of course, is that conventional design machines cannot work in very tight areas."
Although the conventional models can typically lift more and handle larger attachments, the desire for a more compact machine has outweighed these needs for some contractors, Lucas notes. "Zero tail swing models are advantageous when working in confined spaces and during transport," he says. "Another advantage would be cost, as most zero tail swing models are less expensive. Also, zero tail swing designs provide increased safety with less risk of striking persons or objects. But zero tail swing models are lighter, so lifting capacity and tear-out performance will be less than conventional models."
Kubota Tail Configs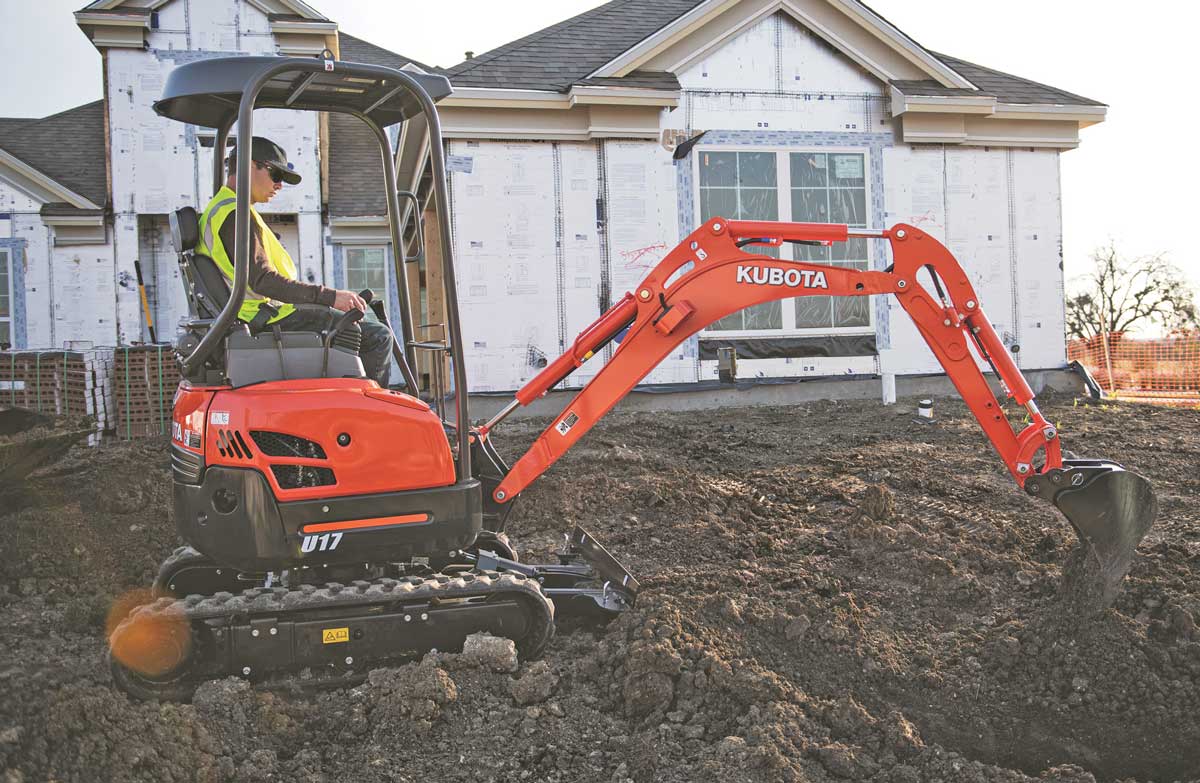 Kubota offers an extensive lineup of compact excavator models, beginning with seven conventional tail swing models: the K008-3, KX018-4, KX71-3, KX033-4, KX040-4, KX057-5 and KX080-4S2. Kubota also offers five reduced or zero tail swing machines, including the U17(zero), U27-4, U35-4, U48-5 and U55-5 models. Kubota says it has designed all of its reduced tail swing models to provide excellent comfort while maintaining a very small counterweight overhang and provide exceptional productivity and performance. For more info, visit kubotausa.com.
A conventional tail swing mini excavator offers contractors advantages when they are traveling through narrow spaces or working in tight areas, Kleingartner notes, but he cautions that conventional tail swing excavators tend to be less narrow than zero tail swing excavators.
"That means it's easier for operators to pass through a gate or travel between homes in areas where there are tight lot lines," he says. "Also, contractors who own conventional tail swing mini excavators can add counterweights to the machines for increased performance when lifting and digging. Owners may also need the additional weight if they are using attachments such as a flail mower or tiltrotator."
Attachments are the final piece of the tail swing selection puzzle, and Baker says that for the most part this boils down to correctly matching the right tool with the right size machine.
"If the correct attachment is selected for the size of the excavator, both will perform and produce at a high level," he says. "Conventional, reduced and zero tail swing, Kubota excavators go through extreme testing to make sure the excavator can properly handle the correct attachment on the dig end. So, if you do your research and talk to your dealer, attachment use shouldn't be a problem, regardless of which configuration you choose."
Jack Roberts is a freelance writer for Compact Equipment.
Mini excavators are making big waves on jobsites all over North America. Click here for the latest news on these machines and the companies that make them.
Tags:
Cat
,
Doosan
,
February 2022 Print Issue
,
JCB