SPECS:
Engine Horsepower: 23.3 hp
Max. Digging Depth: 10 ft
Max. Reach: 17 ft, 1 in.
Bucket Breakout Force: 6,085 lbf
Operating Weight: 7,760 lbs
I ventured to the John Deere-Hitachi manufacturing facility in Kernersville, N.C., to check out the new features on its line of excavators. But before we hop in the cab and tool around in the new diggers, it's important to understand the ecosystem from which that final product emerged.
The Kernersville facility is sprawled over a 1 million-sq-ft campus, involving more than 800 employees building made-to-order 13- to 47-metric-ton excavators from "steel to real" in 8 days, and it would not happen as seamlessly as it does without the combined influence of both John Deere and Hitachi, a partnership celebrating its 30th anniversary this year. Thirty years ago, the idea was to combine Deere's branding, marketing and North American dealer presence with Hitachi's hydraulic and excavation engineering expertise. Mission accomplished, but over those decades, there's also been a very real blending of Eastern and Western values that you can see throughout the entire facility — from the layout to the workflow to the excavators in the field.
"The 30-year Deere-Hitachi partnership is unlike any other joint venture in the industry and is a testament to the longstanding mutual respect and dedication of our teams," said Jon Chase, president of Deere-Hitachi. "Combining the strength of Hitachi's world-leading hydraulic excavator technology with the resources and might of the 180-year-old John Deere brand, the alliance produces excavators for the world's best customers."
This starts with the concept of Kaizen, a Japanese word for small improvements that lead to the greater good. Kaizen is a guiding principle of Deere-Hitachi.
Chase told us a lot of these small improvements started with a new approach to manufacturing safety to prevent all accidents — the STOP program. Again, some small changes to each worker's routine, the number of safety audits done (one a week), a video screen at the entrance of the building that tabulates the number of consecutive incident-free hours of production — currently a record 6 million hours without a loss time injury. The STOP program dropped incidents by 300 percent, and the success of the program made them say "hey, why don't we take the same approach to quality assurance?"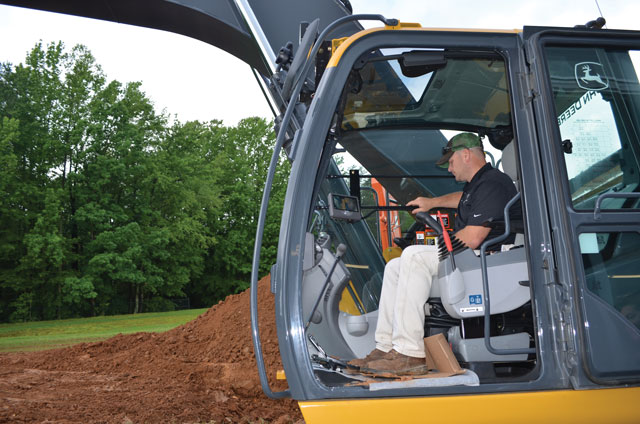 Touring the manufacturing facility revealed a collection of Kaizen vignettes that would be easy to miss on their own amid the advanced welding robots, CNC machining centers, plasma plate-cutting and ceiling high cranes transporting 25 tons at a time. There were the color-coded jig cut-outs as quick visual reference. The welders pausing before welding shut a boom so those inside welds could be inspected (100 percent of all welds are inspected). The photos that adorn certain working spaces to show exactly how it should look at the end of the day (to minimize misplacement and clutter). The cutting machines that were sunken into the floor versus plopped on top to improve ergonomics.
The manufacturing process is also purpose-driven for each employee. The basic task in each station is the same, but the built-to-order model ties every new job to an individual buyer and a specific design. Tying each project to a real end-user, and each team member being accountable for their role in building an errorless machine for that customer leads to a quality final product.
What's New?
The coolest new technology was Grade Guidance which, sorry to say, is only available in the larger excavators at the moment — the 210G LC excavator was the most recent to have this factory-installed.
The grade guidance system, developed in cooperation with Topcon, and its integration into the ever-evolving cloud-connected construction machine of the future will change the job of the operator forever. Deere-Hitachi Grade Guidance provides operators with information on the bucket's location with respect to a 2D reference or 3D design surface and is ideal for digging trenches for pipe, shaping ditches or slopes or digging structure foundations.
The integrated grade guidance displays the elevation and position of the bucket cutting edge with respect to a target plane (2D) or design surface (3D). Factory integration and calibration ensure the machine arrives on the jobsite ready to work and puts grade guidance at the customer's fingertips. JDLink integration provides information on system utilization and allows rapid diagnosis of problems. The grade guidance system will be available on the 350G LC and 470G LC excavator models in the next year.
Let's Try Stuff
Grade guidance on its own already seems foolproof, which I say confidently because I am definitely a fool and was shocked at how precise I was with help from the alert noises (which I preferred over the visual commands). This was a press event, so there was a large group of trade journalists there trying out the grade guidance system. Having been to a lot of these events, I have an expectation for how this looks from the ground. Let's just say this is not our day job. But on this trip, with the aid of grade guidance, everyone looked to be a pro out there.
But that's just guidance. Coming in 2019, Deere will be producing grade control systems that automate a lot of the movements.
On the compact side, I hopped in the 35G. Now, the cab felt spacious to me, but I'm a little guy, so that opinion might not translate for everyone. Digging and movement was so smooth. Even without a guidance system, I didn't have choppy moments or get stuck pulling the bucket back through the fairly thick mud (it rained a ton the day before) that I am used to having as a novice operator. The Hitachi hydraulics are renowned for handling any high-flow attachments, and that was apparent. On the Kaizen side, there was a handy switch under my seat to shift controls from excavator to backhoe depending on preference or the job at hand.
Final thought: I honestly think the company culture, design process and workflow that led to the machine I was sitting in, in some small way, helped me operate it, either because it was inherently easier to operate, or it all had a placebo effect on my skills. Either way, it worked. And with that, I say Sayonara to Kernersville.
Chris Crowell is a contributing editor of Compact Equipment.
---
Operational Advice
By Jonathan Spendlove, product marketing manager, excavators, John Deere Construction & Forestry
Don't forget to take advantage of the different work modes on the 35G or your other John Deere compact excavators.  For most general digging, choose Power Mode. For lighter digging, Economy Mode will get the job done and will increase fuel efficiency. Utilize the arm power in the machine.  Digging a flat trench when arming in can eliminate a clean-up pass that would be required if you dig only with the bucket curl.
---
Company Culture
By Graham Hinch, division manager, John Deere Commercial Worksite Products
The culture of the CWP division is deeply rooted and aligned with our core values of integrity, quality, commitment and innovation. While our core values guide our approach to business, we also strive to be the voice of the customer and do everything we can to deliver value that will benefit their operations.
Learn even more about John Deere and Hitachi.
Tags:
Hitachi Construction Machinery Group
,
home
,
John Deere Construction & Forestry
,
June 2018 Print Issue