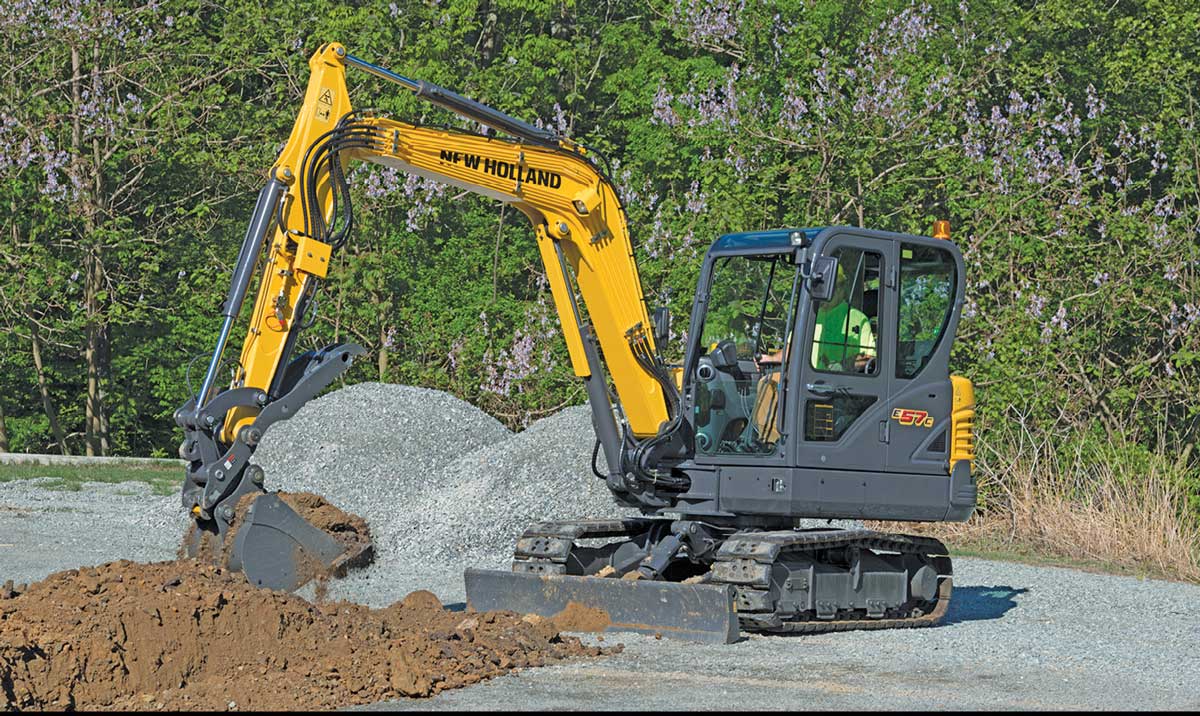 Small Size – Big Reach
This post is a part of Compact Equipment's annual Spec Guide. View other brands' product and spec info by clicking this link. View the magazine version of these summaries by clicking right here. Sign up for the print edition right here. Now enjoy!
Mini and mighty, New Holland Construction's C Series mini excavators combine power, comfort and functionality in one multipurpose machine. New Holland offers seven mini excavator models ranging in size from 1.7 to 6 metric tons. Their compact dimensions allow them to access difficult work areas and perform a variety of jobs, such as landscaping and municipal duties, agriculture and vineyard work, drainage and irrigation construction and so much more.
With canopy and cab models, short radius (SR), zero tail swing (ZTS) and conventional versions to choose from, there is the right model ideally suited for any task. Be more productive in congested areas with the ZTS and SR models' short tail swing and boom that can be offset left or right within an operating range. New Holland's conventional tail swing unit is well-suited for applications where limited space isn't an issue.
Designed to work long days, each model has class-leading excavation performance with the flexibility to power a wide range of attachments. Hydraulically powered attachments like soil augers, hammers and compactors give New Holland mini excavators powerful versatility with the strength of a larger machine. All models have three separate pumps to deliver enhanced performance, perfect for traveling between jobsites, using the dozer blade or working with the excavator. For the most demanding auxiliary attachments, a fourth pump option is available on the largest E57C and E60C models.
C Series compact excavators feature an auto shift traveling system that automatically shifts between high and low depending upon load. The auto idle feature automatically reduces engine rpm during inactivity to reduce fuel consumption and operator fatigue. Ground line serviceability access with wide open service points allows operators to easily perform daily maintenance checks.
Enjoy smooth and precise control with the advanced hydraulic system that includes a swing parking brake and an arm flow summation system. To further boost performance, the largest two models have hydraulic flow summation. This advanced system delivers the enhanced proportional control typically restricted to high-capacity excavators exceeding 20-ton capacity. All models provide a clear, all-direction view for confident, relaxed operation. Slim frame posts ensure excellent visibility. On cab models, four sides of glass provide a 360-degree view. Floor-to-ceiling sightlines allow operators to remain in the cab for both safety and higher productivity.
A comfortable operator is a safe and productive operator. All models have excellent ergonomics, with all primary controls positioned for easy access. The armrests adjust to deliver the required level of support, and the foot pedals on the smaller models fold to increase floor space. Getting in and out of the machine is simplified because the left-side console tilts out of the way, locking the hydraulics at the same time to prevent accidental operation.

Advice to Buyers
"Consider a coupler that will most benefit you," says Ryan Anderson, NHCE product manager. "New Holland offers four couplers: direct pin-on, mechanical pin grabber, KLAC and hydraulic pin grabber. Each coupler type has buckets dedicated to their design. Direct pin-on couplers are simple but less convenient for frequent bucket changes. KLAC couplers and mechanical pin grabbers use a dedicated tool to release the bucket. KLAC couplers are convenient for switching buckets, but there is a mild loss in bucket breakout force. Hydraulic pin grabbers allow the operator to use a switch in the cab to attach and detach buckets. This allows easy and fast attachment changes but has the greatest loss in bucket breakout force."