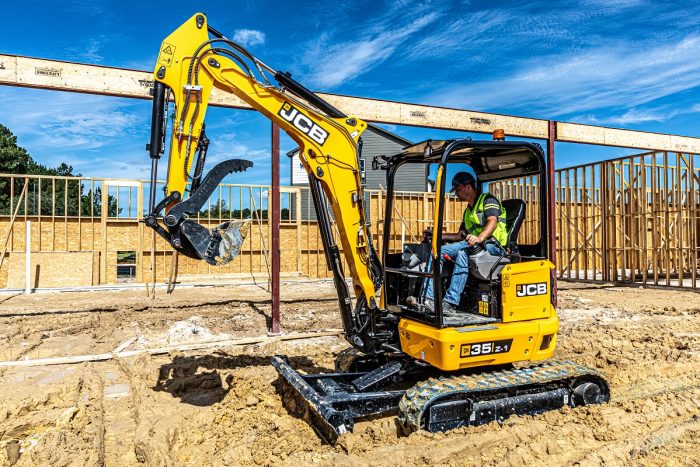 Three all-new, innovative construction solutions from manufacturing leader JCB — the 505-20E Electric Compact Telehandler, 35Z-1 Zero Tail-swing Mini Excavator and AJ48D Articulated Boom — are changing the landscape of jobsite productivity.
Built for versatile applications and with both convenience and comfort in mind, these high-performance machines will help your crew tackle whatever challenges they face and get the job done.
JCB 505-20E Compact Telehandler
Part of JCB's groundbreaking E-TECH series, the 505-20E is a fully electric compact telehandler featuring zero emissions and limited noise with little compromise on performance compared to diesel-powered equivalents. That means you can work in tight locations where maneuverability is critical while maintaining a green footprint.
JCB 35Z-1 Mini Excavator
The 35Z-1 mini excavator offers tremendous productivity while maintaining a convenient, compact size (7,432 lbs with cab, 7,253 lbs with canopy) for easy transport and on-site maneuverability. It is a highly accessible machine with enhanced safety measures to ensure the well-being of everyone on your site. Plus, the 35Z-1's durable components and 500-hour greasing intervals mean less downtime, more output, and greater profitability.
JCB AJ48D Articulated Boom
With a platform height of 48 ft, 4 in. and a maximum load capacity of 551 lbs, the AJ48D can accommodate two workers plus tools for a more productive crew on vertical job site applications. It is powered by a 48-hp Kohler diesel engine and features a touch screen display clearly showing platform capacity and machine function data.
For more information on these and other high performing solutions from JCB, please stop by your local JCB dealer or visit www.jcb.com.
We'd love to keep in touch! Check us out on Facebook, Twitter and LinkedIn!
Tags:
JCB
,
JCB North America