The Top Construction, Landscape and Rental Equipment Launched in 2022
Throughout 2022, the Compact Equipment crew traveled the countryside (tradeshows, product launches, zoom interviews, operation opportunities) to analyze and catalog every model of compact machinery released into the wild. Looking back, the last 12 months saw the introduction of an impressive array of off-highway construction equipment and OEM systems, but a certain set of equipment stood above the rest. We call them the Innovative Iron Award winners, and these particular units are, in our humble opinion, the best compact equipment released in 2022. Here comes a winner right now. See them all right here.
Hitachi Re-Arrives in America with a Powerful 5-Ton Model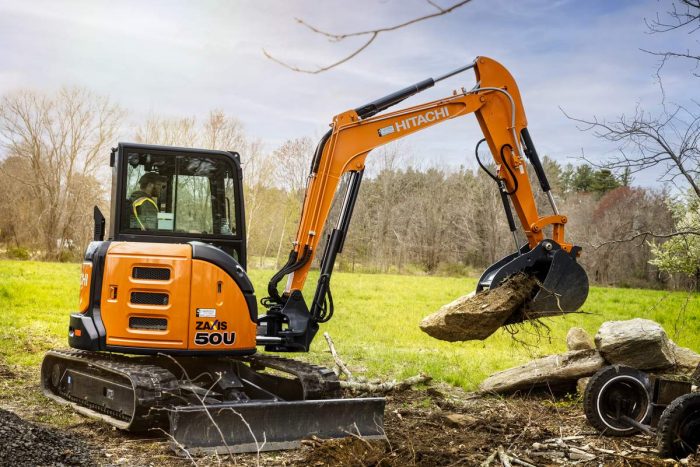 Hitachi-branded mini excavators re-arrived in North America in 2022 (we covered it), as the company evolved its OEM relationship with John Deere. It made big waves with its ZX50U-5N mini, which boasts a whole host of cool features — like its work modes that tailor engine speed to the task. Power mode provides higher engine speeds for heavy ops, while the economy mode reduces engine speed for lighter digging jobs. The results are lower noise and decreased fuel consumption. The ZX50U-5N also adopts tech from its full-size counterparts — oil-impregnated HN bushings, heavy-duty X-frames, large-diameter drive sprockets and the Hitachi Triple H hydraulic system. The most popular excavator brand in the world is now selling minis directly in America, and the ZX50U-5N is a top entry into the market. Let's get into this unit more.
The Hitachi ZX50U-5N compact excavator offers easy maintenance, reduced tail swing, auxiliary function lever, two-way hydraulic valve — all in a 5-metric-ton class. The ZX50U-5N excavator has an operating weight of 10,560 lbs, max reach of 19 ft, 7 in. and a dig depth of 11 ft, 7 in. The unit has an angled backfill blade, allowing the excavator to fill or grade while angling 25 degrees. A Tier 4 Final compliant, direct-injected Yanmar engine produces 36.3 net hp. The ZX50U-5N has two operational modes: The power mode provides higher engine speeds for most general digging work, while the economy mode reduces engine speed for lighter digging jobs. The excavator also uses the Hitachi Triple H (HHH) hydraulic system, which enables combined operations by adjusting the optimal flow rate for all the actuators.
The ZX50U-5N operating experience is enhanced with a 3.5-in. LCD monitor, which keeps the operator informed of vital information while allowing fingertip control of several functions, including auto shutdown and those power and economy modes we just mentioned. The ZX50U-5N is built to the same durability standards as larger Hitachi excavators. Oil-impregnated HN bushings are used on the boom, arm and bucket joints for increased durability. A single-pin swing post increases the structural integrity of the digging components. There's a large fuel tank plus service is minimized. There are 500- and 2,000-hour engine and hydraulic oil service intervals and 500-hour greasing intervals, which enable these excavators to work long hours between scheduled maintenance. I actually produced a Machine Heads video on this unit and the smaller Hitachi ZX26U-5N. Watch it already!
I also highly suggest this previous article on this unit's launch in Georgia. It's a good overview of the John Deere Hitachi relationship and the company's recent business moves in North America. I'm definitely excited to see more of these machines — because more are planned.
Keith Gribbins is publisher of Compact Equipment.
Mini excavators are making big waves on jobsites all over North America. Click here for the latest news on these machines and the companies that make them. Tags: Hitachi, Innovative Iron Awards, Innovative Iron Awards 2022, November December 2022 Print Issue