Welcome back to another edition of Machine Heads. I'm once again Keith Gribbins, publisher and resident guinea pig at Compact Equipment. Today we'll be discussing the expansion of the mini excavator market with two new models from Hitachi Construction Machinery Americas. As a U.S. contractor, it might surprise you to hear that Hitachi holds the crown as the biggest maker of excavators in the world. You probably know the brand via John Deere. John Deere and Hitachi have been business partners since the 1960s, working together on distribution, sales and OEM relationships in both the Americas and Asia. Hitachi specifically has supplied John Deere with its excavator lineup since the early '80s, so pros know the equipment if they don't know the name.
But things are changing. Hitachi's partnership with John Deere is changing. The two companies' 30-plus-year manufacturing joint venture ended last March, and Hitachi Construction Machinery Americas is now entering the U.S. market with a new sales and marketing force in 2022 and new Hitachi-branded products, including two new compact excavators, which it previewed at a press event in Pine Mountain, Ga., in May.
At that event, Hitachi Construction Machinery Americas teased a total of eight compact excavators coming to America in the near future, ranging from 1.7 to 8.5 metric tons. Right now, there are two units available on U.S. dealer lots — the ZX26U-5N and ZX50U-5N.
Mini excavators are making big waves on jobsites all over North America. Click here for the latest news on these machines and the companies that make them.
Let's start with the nimble ZX26U-5N. It's only 4 ft, 11 in. wide, so it's perfect for cramped urban construction and easy transport from jobsite to jobsite. The unit has a maximum reach of 15 ft, 2 in. and a dig depth of 8 ft, 6 in. There's a lot to look at here: integrated dozer blade; full hydraulic pilot controls; one-way/two-way selector valve accommodating breakers and grapples; and an easy-to-access control pattern switcher that's in a compartment beneath the seat (I'm a backhoe pattern guy, so this is important). Along with all this coolness, Hitachi is excited to bring its brand to a wider audience in America.
On the ZX26U-5N, fuel efficiency is enhanced with a Tier 4 Final compliant, direct-injected Yanmar engine that produces 20 net hp, meaning no aftertreatment is necessary and that's always a plus. A seat with suspension and adjustable armrest adds to the operator's comfort level. When it comes to maintenance, Hitachi engineers worked to ensure easy access. The ZX26U-5N provides ground-level access to daily maintenance points, grouped behind easy-access covers. The large engine cover slides open vertically for access when the machine is working in a confined area. The design of the cooling package makes cleanout a breeze. It's located behind a one-touch open cover. Hitachi has also made it easier to replace damaged glass in the cab.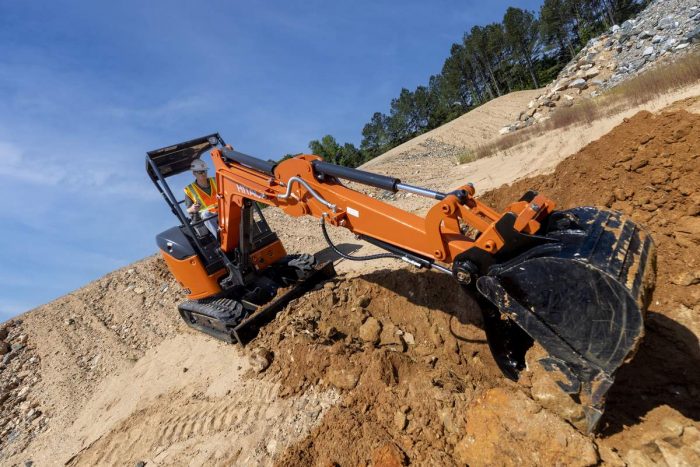 In a larger format, the Hitachi ZX50U-5N compact excavator offers many of the same advantages — flat glass, easy maintenance, reduced tail swing, auxiliary function lever, two-way hydraulic valve — in a 5-metric-ton class. The ZX50U-5N excavator has an operating weight of 10,560 lbs, max reach of 19 ft, 7 in. and a dig depth of 11 ft, 7 in. The unit has an angled backfill blade, allowing the excavator to fill or grade while angling 25 degrees. A Tier 4 Final compliant, direct-injected Yanmar engine produces 36.3 net hp. The ZX50U-5N has two operational modes: The power mode provides higher engine speeds for most general digging work, while the economy mode reduces engine speed for lighter digging jobs. The excavator also uses the Hitachi Triple H (HHH) hydraulic system, which enables combined operations by adjusting the optimal flow rate for all the actuators.
The ZX50U-5N operating experience is enhanced with a 3.5-in. LCD monitor, which keeps the operator informed of vital information while allowing fingertip control of several functions, including auto shutdown and those power and economy modes we just mentioned. The ZX50U-5N is built to the same durability standards as larger Hitachi excavators. Oil-impregnated HN bushings are used on the boom, arm and bucket joints for increased durability. A single-pin swing post increases the structural integrity of the digging components. There's a large fuel tank plus service is minimized. There are 500- and 2,000-hour engine and hydraulic oil service intervals and 500-hour greasing intervals, which enable these excavators to work long hours between scheduled maintenance.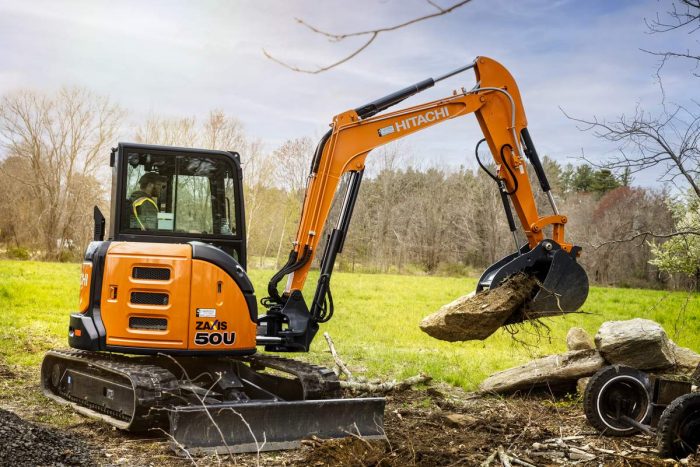 Overall, both the ZX50U-5N and ZX26U-5N are interesting new units to the American marketplace, which is craving more mini excavators right now.
As mentioned, during the press event Hitachi noted it has plans to launch eight models of compact excavators to the American dealer lot. The company also currently has two compact wheel loaders available for U.S. contractors. Hitachi will continue to hire more internal staff and grow its dealer network in the Americas. It's next big move? Watch the video.
Keith Gribbins is publisher of Compact Equipment.
Joint Venture Timeline
In 1988, the companies started the Deere-Hitachi manufacturing joint venture to produce excavators in Kernersville, N.C.
In 1998, Deere-Hitachi expanded the relationship to include the production of forestry swing machines at Deere-Hitachi Specialty Products in Langley, BC.
In 2001, John Deere and Hitachi combined their marketing and distribution efforts in the Americas.
In 2011, excavator manufacturing was expanded with the addition of the Deere-Hitachi Brazil factory in Indaiatuba, Brazil.
In March 2022, John Deere and Hitachi end their joint venture manufacturing and marketing agreements. John Deere has acquired full ownership of three Deere-Hitachi joint venture factories and has begun new license and supply agreements with Hitachi Construction Machinery Americas Inc.