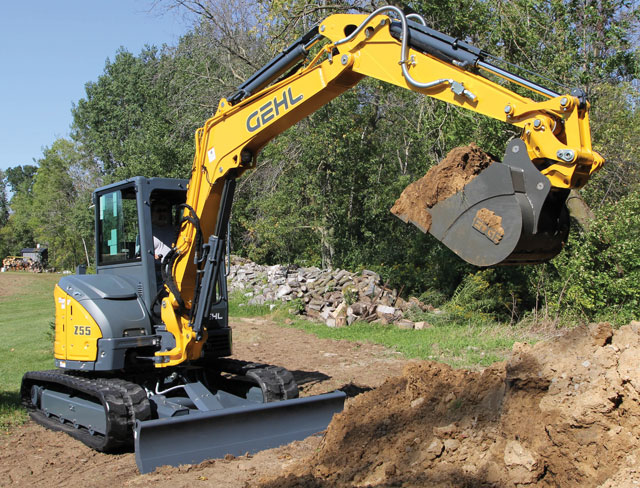 Eight Units Celebrating Four Generations of Innovative Digging
Gehl introduced its first compact excavator range in 1987. The fourth generation Gehl excavator product offering provides key market-focused models with customer-driven features. Over the years, the company's excavators have become more user-friendly, with features like zero tail swing for operation in tight places, large comfortable cabs and newly added M models — minimal tail — providing an extra compact model as well as a heavy-duty option with more than 20,000 lbs of capacity.
Today's Gehl compact excavator range consists of eight models: the M08, Z17 GEN:2, Z25, Z35 GEN:2, Z45 GEN:2, Z55, Z80 GEN:2 and the M100. Each model is built around a powerful and reliable Yanmar engine. The hydraulic system is designed to enhance engine performance, resulting in a more efficient system, says Gehl. The Z models are true zero tail swing machines, eliminating cab overhang beyond the tracks in all directions. This allows the machine to operate directly against a wall or other obstruction without causing damage to the structure or machine. The hydraulic system incorporates two variable pumps and two gear pumps. The pump oil flows are efficiently combined, redirecting oil to where it is needed and allowing for simultaneous operation without loss of hydraulic power. The Z35 GEN:2, Z45 GEN:2, Z55 and Z80 GEN:2 excavators add the Eco Mode feature. This mode reduces engine rpm by 10 percent without sacrificing power when activated, saving fuel when full speed is not necessary.
The newly added M08 and the M100 10-ton machines not only increase the range of the Gehl excavator product line, they also expand the selection with two new minimal tail options. The all-new M08 offers condensed dimensions with a width of only 27 in. and a length of 8 ft, 6 in., making it easy to transport as well as maneuver on sidewalks and travel through gates and doorways.
The all-new M100 opens up doors for dealer-owned rental fleets, utility contractors, commercial construction and agricultural markets, say Gehl. This is the largest in the Gehl excavator line with a dig depth of 14 ft, 10 in. and operating capacity of more than 20,000 lbs. The robust minimal tail swing will go 60 degrees in either direction, allowing for consistent digging without the need to reposition the machine.
Advice to Buyers
"Purchase a unit that best fits the majority of applications that you work in. In most cases, excavator designs are very similar across brands, and it is the performance, design and comfort that separates them," explains Nathan Ryan, Gehl product manager of compact excavators. "Once you have selected the best unit for your type of work, attachments are a great way to customize the unit to your application. For one-off jobs that require more dig depth or higher performance, look to rent a unit to best fit the application."
Gehl
One Gehl Way, West Bend, WI 53090
262-334-9461 | info@gehl.com | gehl.com
Click on table to enlarge