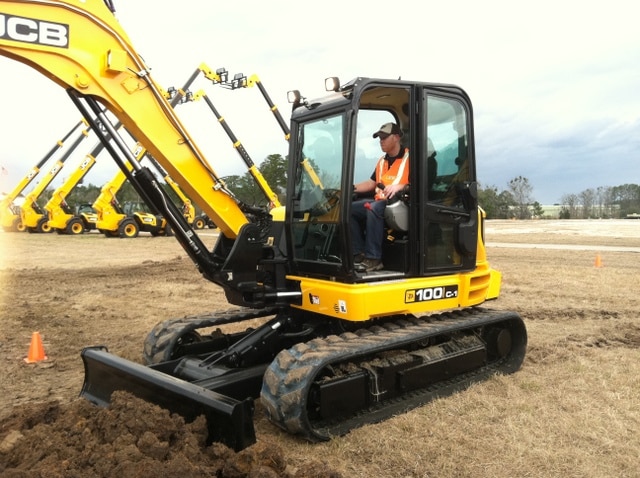 We decided to close our Friday with a recap of excavator action as well as some excavator news from earlier this week. For the social media recap via our Storify page, scroll to the bottom of this post. for the latest state of the global hydraulic excavator markets read the top of the post. If you're super cool, you'll do both.
Earlier this week, Research and Markets announced the addition of the "Global Hydraulic Excavator Market: Trends and Opportunities (2014-2019)" report to its offering.
" Global Hydraulic Excavator Market: Trends & Opportunities (2014-2019)" provides an in-depth analysis of the global hydraulic excavator market (including crawler mounted hydraulic excavator) with detailed analysis of market sizing and growth, market share and economic impact of the industry. Detailed analysis of global hydraulic excavator resale and auction market is also presented in this report.
Despite a decline in sales in the years 2012 and 2013, the global hydraulic excavator market is anticipated to grow at a sustained pace. Factors like increasing spending on construction, growing construction equipment market and improving economic conditions will be driving the growth of this market. Like Europe, the hydraulic excavator market in the U.S. experienced steep decline during the recession period because of the depressed construction expenditure in housing market and low investment in the non-residential construction market.
The report also assesses the key opportunities in the market and outlines the factors that are and will be driving the growth of the industry. Growth of the overall global hydraulic excavator industry has also been forecasted for the period 2014-2019, taking into consideration the previous growth patterns, the growth drivers and the current and future trends. In addition to global hydraulic excavator market, detailed country/regional analysis of China, Japan, Europe, the US, India, Oceania and Asia is also provided. Further, key players of the hydraulic excavator industry like Caterpillar, Hitachi; Komatsu and Liebherr are also profiled with their financial information and respective business strategies.
Follow this link for more information about this report.
After we saw this news, we thought it would be a stupendous opportunity to fire up our Storify account and gather a week's worth of excavator activity on the old social media interweb sites. Given our coverage of the compact equipment market, the focus of the Storify round-up below is on the compact side of things.
Here's some of our most recent excavator stories:
The essentials to excavator attachment safety
Terex releases Tier 4 Final TC16 and TC29 compact excavators
Compact Power Equipment Rental names JCB as preferred compact excavator supplier
Enjoy our recap, have a great weekend and we'll see you back here on Monday morning for the latest compact construction equipment news.