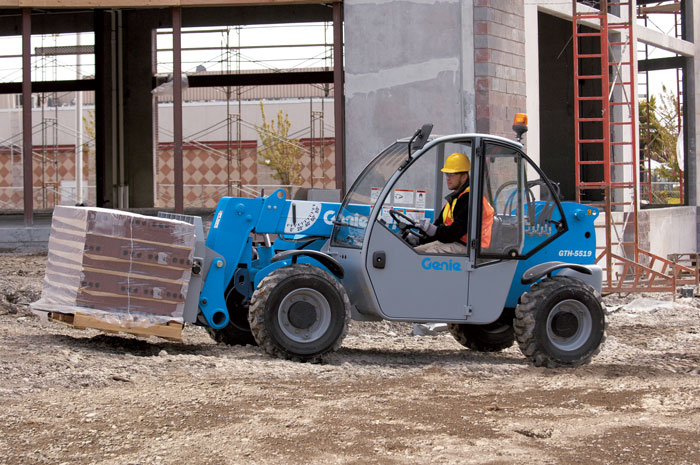 Aerial work environments call for extra reach. Construction, landscape and agricultural professionals all have elevated work applications that require a long arm and a deft touch (jobs like framing houses, loading silos, lifting bales of hay, grabbing recycling, helping with disaster cleanup and spearheading snow removal). Ideal for these applications is a one-armed work mobile called a compact telehandler, and it's a category of small equipment that's often overlooked by North American contractors.
Like a stylish and maneuverable little roadster, with a two-stage telescoping arm (going up 13- to 20- plus ft), crews can not only pick and place pallets of materials (like larger telehandler varieties), but also wield various attachments (from brooms to buckets) in long-reach applications. Migrating from Europe, where they are used in markets as diverse as farming and waste, compact telehandlers are offering owners extra options.
"The compact telehandler market in North America in 2012 was over 2,000 units or 15 percent of the total market," says Steve Kiskunas, product manager with Manitou Americas. "The three most popular markets for these units are rental, general construction and agriculture."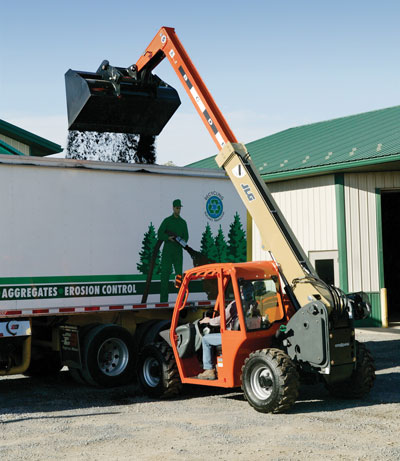 "Telehandlers with a maximum lift height under 20 ft represent approximately 17 percent of the overall global telehandler market," explains Brian Boeckman, global product director for telehandlers at JLG Industries Inc. "Approximately 1,900 of these units were sold in the U.S. alone last year and 6,600 globally of which 66 percent were in Europe and 32 percent were in the Americas. We expect the category to continue to grow. Some of the applications for these machines include landscaping where end-users appreciate the reach that a telescopic handler can provide while retaining compact dimensions which allow the machine to operate in tight quarters."
As the name implies, compact telehandlers are smaller in dimension than traditional telehandlers (those large pick-and-place telehandlers with three- and four-stage booms, going up 50 ft plus for the bridge and commercial construction industries). When combined with a tight turning radius, these smaller versions of telehandlers are engineered with increased maneuverability in confined spaces, going from crowded construction sites to decimated disaster zones, built with low profile dimensions so barns, low-access buildings and even parking garages are accessible. Despite their reduced size, compact telehandlers can offer lift heights up to 23-plus ft and outreach that ranges from 10 to 12 ft, creating a larger work envelope for accurately placing loads or running attachments. Meanwhile, maximum carrying capacity of the machines ranges from 5,000 to 7,000 lbs to provide the strength and power for a productive work environment.
Most compact telehandlers are defined by weight, size, reach and boom style. Compacts usually weigh less than 11,000 lbs; most are shorter and narrower with booms typically only telescoping two stages. The big brands in the industry include Caterpillar, JLG, Genie, Manitou, Bobcat and JCB. Nearly all compact telehandlers utilize low pivot booms (where the boom mounts lower than the cab for increased visibility when carrying loads), as opposed to high pivot booms (where the boom mounts higher than the cab for increased visibility when lifting and placing very high loads). Small telehandlers are also popular rental items. Compared to the spectrum of compact equipment (from skid steers to mini excavators), they are not the cheapest piece of machinery (ranging in price from $50,000 to $70,000), so sometimes rental is a good way to explore these units for the first time.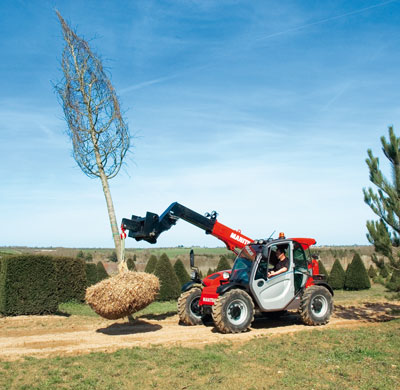 "Compact telehandlers have become the Swiss Army knives of the telehandler construction business," explains Scott Krieger, senior product manager with Terex Aerial Work Platforms. "They can be equipped with a large variety of attachments, work on large and small jobsites and perform many different types of applications. The vast majority of these units go into rent-to-rent fleets, and due to their low weight and smaller dimensions are easy to transport. And while they are easy to operate, it is very important to have a trained operator in order to maximize performance, productivity and to ensure safety."
Compact telehandlers cost more than your average compact machine, but they pay for it in high reach, spacious and comfortable cabs, fast travel speeds, tool-carrying capabilities, three steering modes and accessibility into confined, rough terrain and even indoor jobsites. When it comes to efficient mobility, small telehandlers have a variety of specified steering modes for quick, maneuverable and precise jobsite work and travel. Most manufacturers offer three steering modes as standard equipment — two-wheel (mainly for traveling at high speeds over long distances), four-wheel (best used for tighter turning radii and maneuverability on difficult terrain) and crab steer (enables both the front and rear wheels to shift 45 degrees left or right, allowing the machine to slide left or right for final placement tweaking).
"Many of the machines in the market utilize a hydrostatic transmission which allows the operator to select a direction and simply step on the accelerator to move the machine," says Boeckman. "The boom functions can be combined on a single joystick and provide the operator with enhanced boom control. A lift/loader switch in the cab allows the operator to tailor the machine to his/her preference by changing the joystick operation from lift mode to loader mode. In lift mode the X-axis of the joystick operates the telescope function, and in loader mode the X-axis operates the bucket or fork tilt function."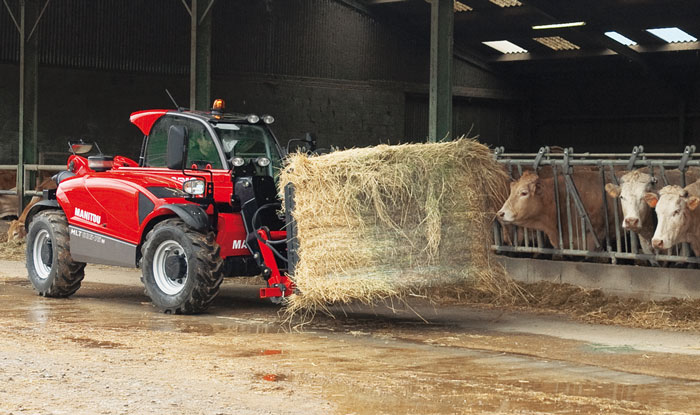 Driving a telehandler is similar to driving a car, although using a telescoping boom in tight spots is not as easy as parallel parking. In fact, OSHA requires operator certification. Operators are certified after attending and passing an operator training and safety course. There are several things operators need to be trained on, including: 1) the operator's manual; 2) hands-on training through a dealer or a private training institute; and 3) a full understanding of the load charts (i.e., lifting with a 19-ft machine with a rated capacity of 5,500 lbs does not mean it will lift that load throughout the boom's full range of motion).
"Compact telehandlers have the same operator certification requirements as the larger telescopic handler models," explains Kiskunas. "Effective December 1, 1999, all telescopic handler operators must be trained per OSHA regulation 1910.178. This training includes both a written test and hands-on operation. We strongly recommend the operator read and study the operator's manual before operation of any telescopic handler."
The control pattern consists of a steering wheel, pedals and joystick to operate the boom. The cab environment itself is one of the more spacious and comfortable work areas in small equipment. While a simple ROPS cage might be the minimalist's choice for an inexpensive machine, those who crave creature comforts can go with a fully-enclosed, quiet cab with a standard windshield washer, as well as a heater and defroster for cold climates. The left and rear windows can open for ventilation, and air conditioning is also available as an option. Adjustable suspension seats, arm rests, tilt steering, cup holders and even satellite radio are available for true telescoping enthusiasts.
Compact telehandlers are engineered similar to skid steers and wheel loaders in their ability to run attachments, which extends their versatility beyond load-and-place jobs (although that is still a popular application). Many manufacturers today allow their compacts to use some skid steer attachments (along with telehandler-specific implements), understanding the lift capacity and hydraulic flow of telehandlers and skid steers are different. Generally, compact telehandlers offer a hydraulic gallons per minute (gpm) flow of around 22 gpm.
Popular implements include: industrial grapple buckets, which clamp down to grab hard-to-handle loads for easy, secure transportation; heavy-duty multi-purpose buckets, equipped with a bolt-on cutting edge for material transfer applications; truss booms, used for overhead lifting as they provide extra reach to lift framing materials over obstacles; fork carriages, which shift from side-to-side or rotate to give the operator precise control of a load for pick-and-place applications; augers, an ideal tool for drilling holes for posts, piers, poles and trees; and brooms, used to sweep driveways, sidewalks, parking lots, loading docks, warehouses and quick snow work.
"Compact telehandlers can be found on large jobsites unloading trucks and managing the lay down yard, or they can be seen out on the farm moving and stacking bales of hay — attachments give these machines diversity," describes Boeckman. "And with typical stowed heights of less than 76 in., these machines can go from parking garage construction to use in agricultural barns with low overhead height requirements."
Comfort, control, versatility, high reach and speed (telehandlers can go up to 20 mph) have made the small telehandler industry a new darling among manufacturers. While companies like Manitou and JCB offered compact telehandlers in America since the mid-1990s, it's only in the last few years that North American machine makers and their dealers have really embraced the market. What will it take for these long-armed compact units to find more popularity in North America?
"Compact telescopic handlers provide a versatile four wheel drive, four wheel all-terrain platform for a number of applications," says Kiskunas. "Having the correct attachments for the required work is vital for the growth of these units into new markets. The rental market appreciates the compact size of the units which allows them inside buildings and in parking decks where larger units will not be able to operate."
Keith Gribbins is managing editor of Compact Equipment, based in Brecksville, Ohio.
Tags:
Caterpillar
,
JCB
,
Manitou
,
Telehandlers