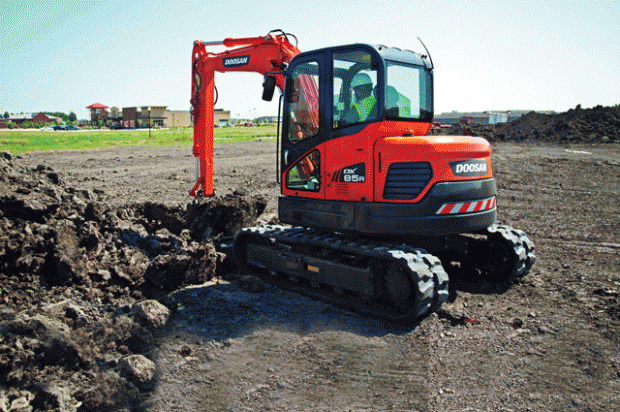 The DX63-3 and DX85R-3 Complement Doosan's Larger Diggers
While Doosan is a relatively young construction equipment brand in North America, the organization has a global manufacturing history going back more than 75 years. Doosan compact excavators complement its line of larger crawler and wheel excavators, and they provide customers with machines that are designed to access and work in confined spaces where larger excavating machines can't fit.
Doosan DX63-3 and DX85R-3 compact excavators are Tier 4-compliant models. They were upgraded from earlier iterations to provide operators with higher-precision controls, greater breakout force and overall enhanced productivity. Improvements from previous compact excavators include a blade float feature, improved multi-function joysticks, color instrumentation panel and an auto-shift drive system.
Providing best-in-class, over-the-side lifting performance, says Doosan, the DX63-3 is a 58.6-net hp conventional tail swing compact excavator and weighs 6.3 metric tons. It is 77 in. wide and designed to travel between existing homes and along property lines. The larger DX85R-3 also has a 58.6-net hp electronically controlled diesel engine, is a minimal tail swing compact excavator and weighs 8.6 metric tons. The DX85R-3 has 5.8 in. of tail overhang and is designed to work in congested environments and tight spaces next to buildings or other obstructions.
A blade float feature provides Doosan excavator operators the ability to smoothly grade, level or backfill material when traveling backward. Operators control the excavator's dozer blade with an easy-to-access lever. The excavator's standard rubber track undercarriage minimizes disruption to existing surfaces and helps the excavator to float across dirt when backfilling material. Auto-shift travel shifts Doosan compact excavators out of high range or low range and back automatically, offering operators travel performance without having to manually downshift. Operators can focus on the direction and speed with this standard feature for the DX63-3 and DX85R-3.
Doosan DX63-3 and DX85R-3 excavators have fingertip boom swing and auxiliary hydraulic functions. This provides operators with improved multifunction capabilities and more floor space for improved operator comfort. Adjusting variable auxiliary hydraulic flow is easily accomplished via a roller switch on the right-hand joystick.
Similar to instrumentation available for larger Doosan excavators, a multi-language, color, 5.7-in. LCD monitor provides a quick visual of machine vitals. The main screen displays fuel level, coolant temperature, day/time, throttle position and engine rpm. Operators can select auxiliary hydraulic flow modes and rates from the panel.
Doosan compact excavators can complete a variety of jobs with attachments. DX63-3 and DX85R-3 excavators are approved for use with ditching and trenching buckets and quick-couplers, and they are clamp ready with durable clamp mounts integrated into the excavator's arm. Two-way auxiliary hydraulic lines with flush-face quick couplers are standard equipment and allow operators to quickly connect hydraulic attachments.
Advice to Buyers
"Compact excavators may be small machines, but they are versatile as they can be equipped with various buckets, hydraulic breakers and clamps," says Brian Bereika, Doosan product specialist. "Additionally, ground pressure is no more than 5.5 psi, and their maneuverability and size is useful when working inside buildings with narrow doorways."