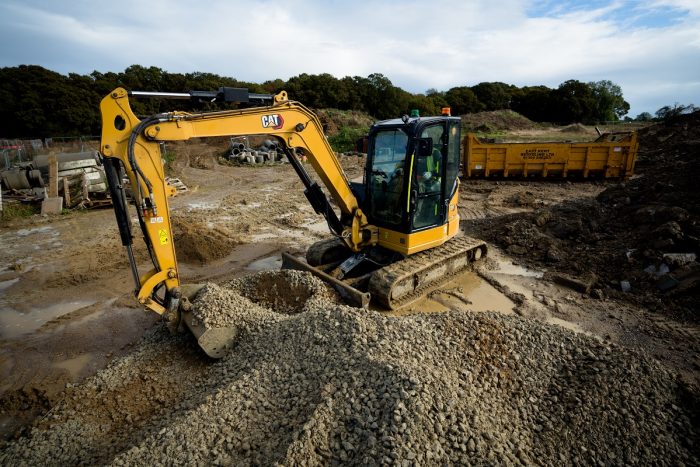 We chat a lot about mini excavators on here. Don't believe me? Just look here. And you can't blame us for rambling on about these awesome machines. For starters, they can be used for a wide variety of tasks, tackling everything from excavating for utility lines to moving rocks in a landscaping project to breaking up concrete in a demo job. Cool, right? Next, add in their compact size which allows most of them to be transported without a CDL and work in areas where larger equipment simply cannot fit. Versatility and productivity in a compact size? Sign us up. And if you're interested in the buying or renting this type of machine, just scroll down for advice from 17 mini excavator manufacturers.
Yanmar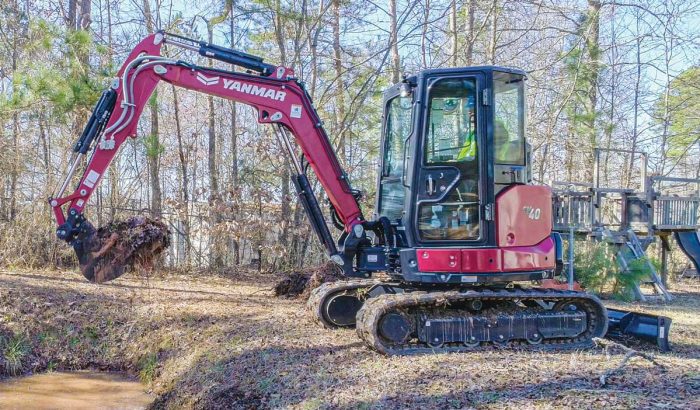 "The ability to work in tight spaces with less risk of hitting a structure can be a great relief on the jobsite," says Jeff Pate, director of sales for Yanmar Compact Equipment North America. "Look for a mini excavator with either a zero tail swing or an ultra-tight tail swing. This will allow you to focus more on your work and less on the risk of causing damage on the jobsite or to your equipment."
John Deere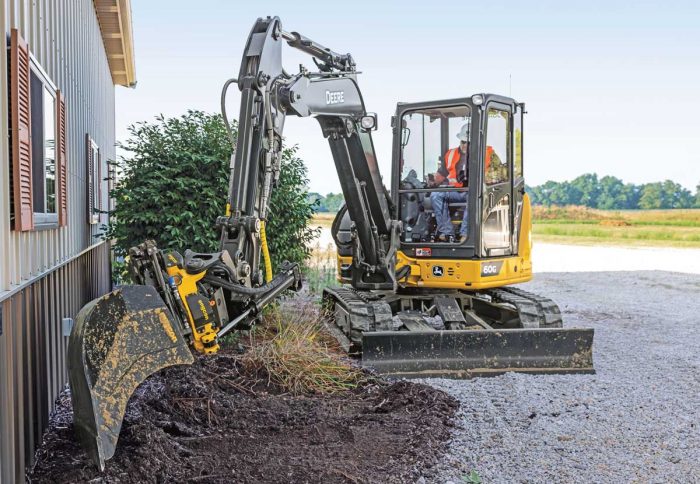 "We are committed to providing quality excavators with versatile attachments to give customers the best possible return on their investment," explains Justin Steger, solutions marketing manager for John Deere. "Choosing a dealer that can provide one point of contact for sales, service, parts and attachments can be beneficial for customers and reduce complexity."
Takeuchi-US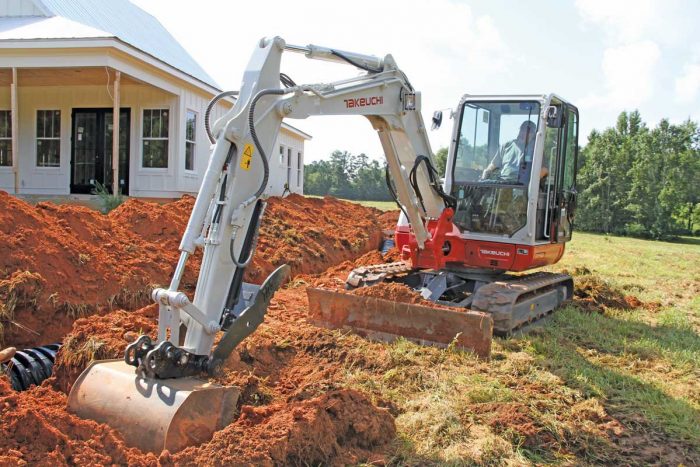 "When choosing a compact excavator, first determine your budget and what you can afford," says David Caldwell, national product manager for Takeuchi-US. "Consider not only what you want to use your machine for today, but also how you'd like to use it in the future as you grow. Determine your needs for implements and tools as this will help in your purchasing decision. If your work will require you to use a broad range of hydraulically driven attachments then choosing an excavator equipped with the necessary hydraulic circuits installed from the factory can save you time and money."
Kubota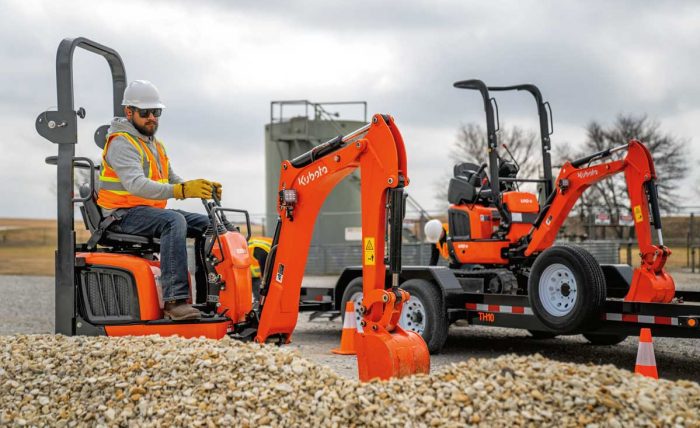 "Look for an excavator that is ideal for tight, confined spaces. Maybe look for a minimal tail swing model or retractable tracks. Those units are ready to work in even the narrowest spaces on the jobsite," says Patrick Baker, Kubota construction equipment product manager. "The rental or professional customer, for example, may require a compact excavator in the 0- to 1-ton range, but in a more compact frame with minimal tail swing to be more nimble and agile than ever before for both residential and commercial work."
Caterpillar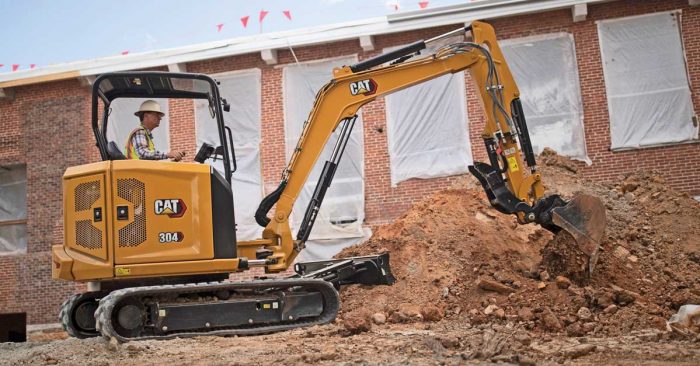 "The mini excavator market is constantly evolving with new technology on machines. From touchscreen monitors and USB chargers to grade control and indicate functionality," says Amy Vincent, product application specialist with Caterpillar. "Many of these new features deliver benefits in performance, versatility, ease of maintenance, safety, operator comfort and affordability. Machines are now able to be adapted to individual operators with customizable settings. Advanced features, such as grade control, help operators be more precise and accurate to provide increased productivity and speed. Do your research and understand what technology is available on the machine you are buying and how that can provide you an improved operator experience and increased efficiency."
Wacker Neuson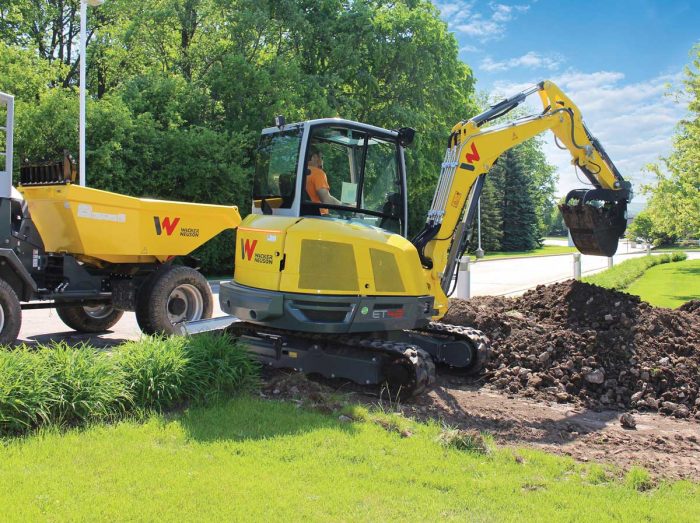 "From a purely performance standpoint, many mini excavators on the market today are fairly equal," says Jay Quatro, commercial product manager at Wacker Neuson. "Buyers should look deeper and consider things like the operator experience and total cost of ownership. Excellent visibility from the seat, both to the front and corners, and simplicity of the HQC system are examples that the operator was top of mind during the design and development process. When considering total cost of ownership, perspective buyers should pay attention to accessories like hydraulic couplers that may be included with the machine. Service access for daily maintenance and service intervals are also an important part of ownership costs. Finally, with rising fuel prices, eco modes that reduce fuel consumption and auto idle are relevant features to consider."
Case Construction Equipment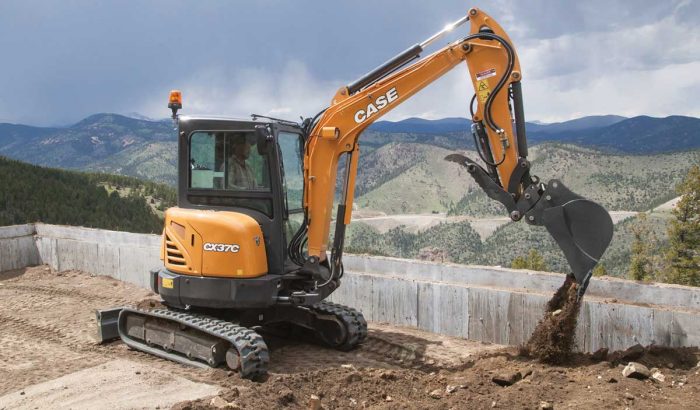 "1D and 2D grade control solutions have become more and more readily available to business owners, and the lower price-point on these systems has significantly lowered any perceived barrier-to-entry for machine control technologies," says Brad Mace, product manager, compact excavators, Case Construction Equipment. "These systems are also very easy to use and require less manpower on the jobsite. It's as simple as setting the laser, setting the sensor and the operator is hitting grade every time — without the need for workers down in the trenches taking measurements."
Hitachi Construction Machinery Americas Inc.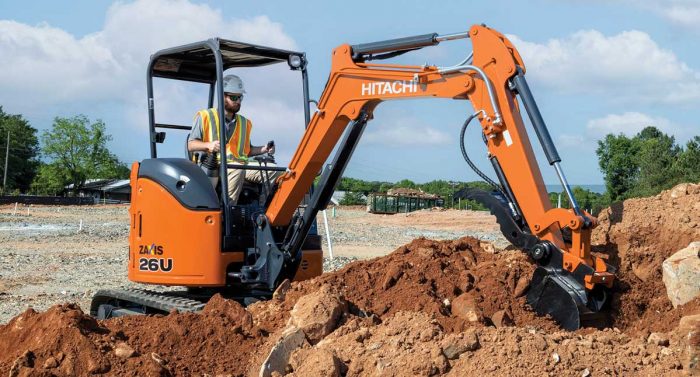 "Compact excavators excel in confined-space applications," says Sam Shelton, communications manager for HCMA. "There are many considerations to selecting the correct machine for the job. These include the machine width for accessing the job, the machine operating weight for ease of transport, dig depth, lift capacity and plumbing to run attachments. A machine needs to be big enough to handle the work typically performed, yet it should be easily transportable."
Doosan Infracore North America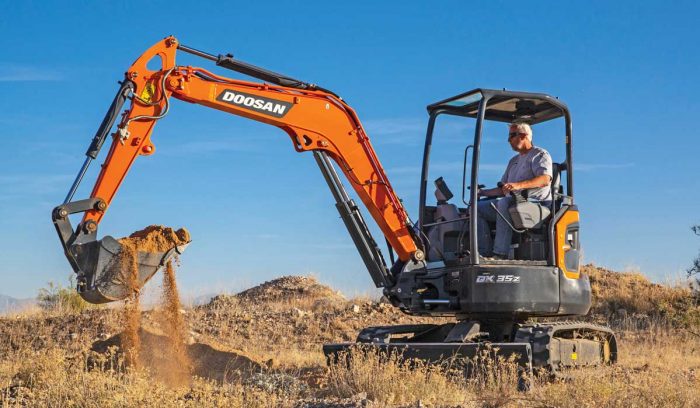 "Look for mini excavators that come standard with telematics," says Steven Americano, Doosan mini excavator product manager. "Customers can remotely monitor their mini excavator to ensure it's not stolen or operated outside of preset hours of operation. Using an app or web browser, customers can access the telematics system and monitor machine usage, as well as be notified when the machine has a fault code that needs to be addressed."
Bobcat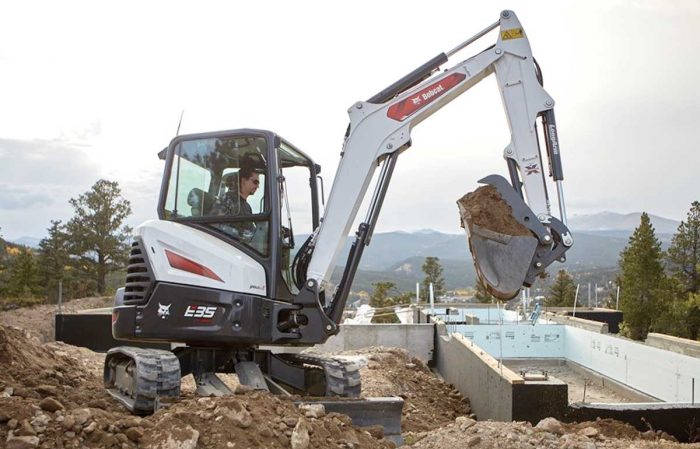 "When considering which excavator model is best for you, it's important to take your application into consideration," says Mike Fitzgerald, marketing manager at Bobcat. "Size and performance are usually your biggest decision points. Your compact excavator needs to have the performance to operate in your most challenging applications yet sized right to fit on your most common jobsites. It's never a bad idea to demo a machine if you are unsure. It will confirm whether or not you have the right size and performance to match the types of jobs you do."
JCB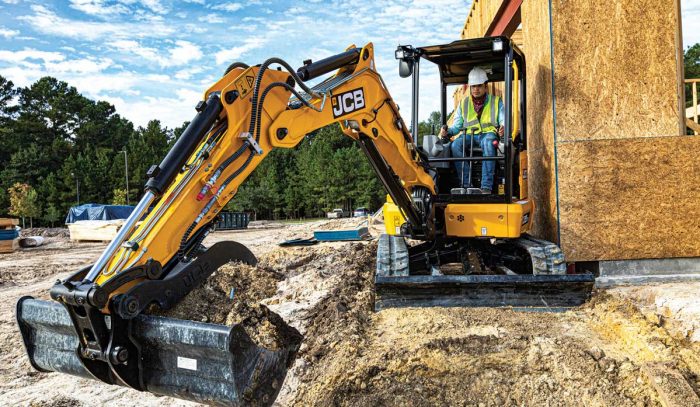 "Consider daily checks and the time spent doing nonvalue-added activities," says Chris Lucas, JCB product manager — excavators. "Look for excavators that can go 500 hours between greasing intervals. In total, customers can save an average of 15 minutes per shift in pre-start checks. Consider comfort and lastly consider serviceability like service access with large service doors, easily removeable side panels and a quick-access cab floor."
Volvo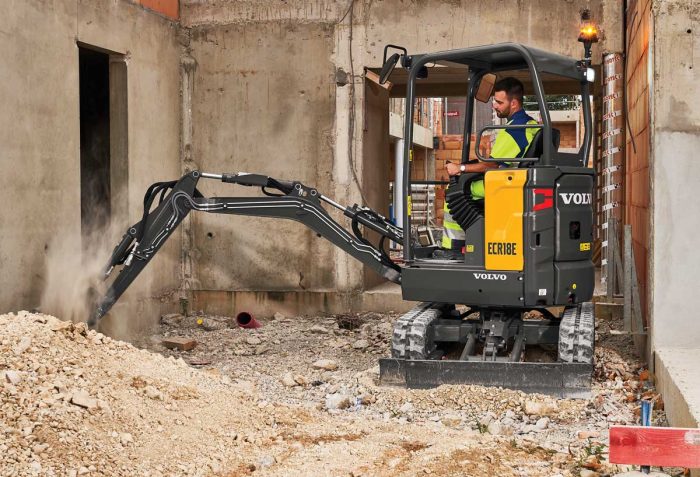 "Diesel models will continue to be the lower-cost option compared to electric machines in the short term, but electric models are grabbing attention and new business opportunities are opening up," says Lars Arnold, product manager, Volvo Construction Equipment. "Jobsites like indoor demolition, food production and landscaping are ideal applications for emissions-free machines. Costs can be quickly offset with electric models as well, thanks to significantly lower maintenance needs."
New Holland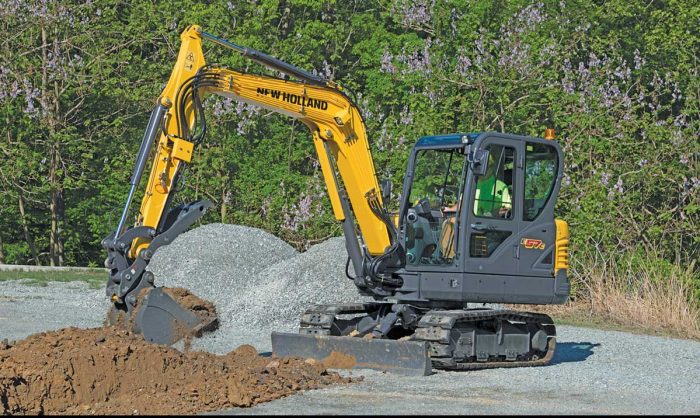 "Consider a coupler that will most benefit you," says Ryan Anderson, NHCE product manager. "New Holland offers four couplers: direct pin-on, mechanical pin grabber, KLAC and hydraulic pin grabber. Each coupler type has buckets dedicated to their design. Direct pin-on couplers are simple but less convenient for frequent bucket changes. KLAC couplers and mechanical pin grabbers use a dedicated tool to release the bucket. KLAC couplers are convenient for switching buckets, but there is a mild loss in bucket breakout force. Hydraulic pin grabbers allow the operator to use a switch in the cab to attach and detach buckets. This allows easy and fast attachment changes but has the greatest loss in bucket breakout force."
LiuGong North America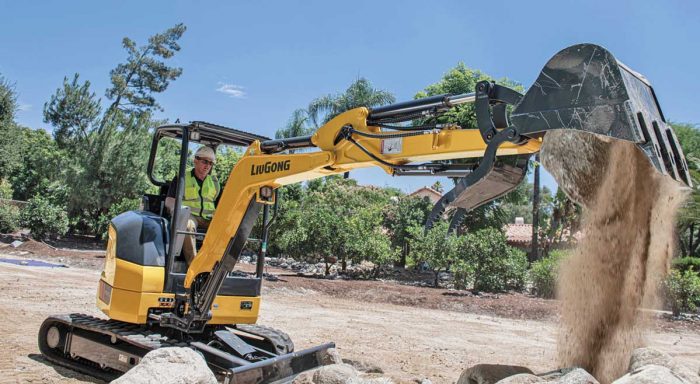 "The key to long, trouble-free service life in a machine is keeping up with the preventive maintenance. This means using high-quality lubricants and also grease with at least 3 to 5 percent molybdenum disulfide or 'moly,'" says Jim Joy, product manager, compact equipment and work tools, LiuGong North America. "It's also important to change air, oil and fuel filters as often as specified. Consider doing regular oil sampling, which will tell you if your service intervals are on target for the operation and environmental conditions. Be diligent about cleaning the radiator and coolers. Keeping your fluids cool and clean is the key to overall machine health."
Mecalac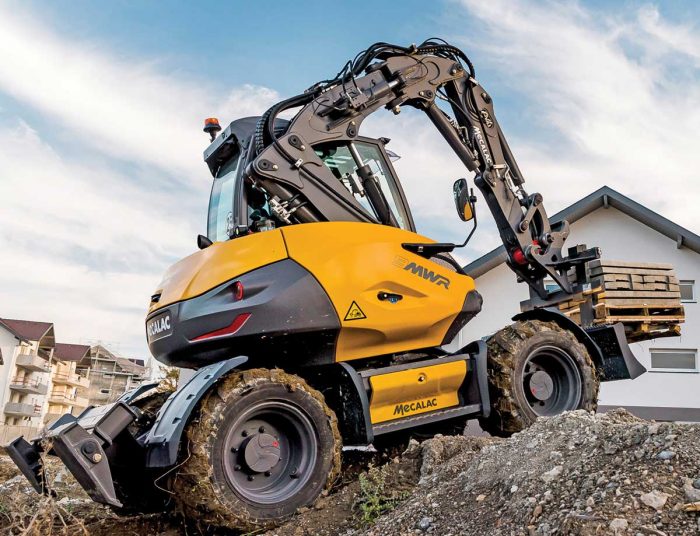 "It's possible to get more machine than you need or the opposite, not enough machine," says Peter Bigwood, general manager for Mecalac North America. "A contractor who wants to streamline their operation could find themselves in the latter category if they go by price and end up with limited functions. A multifunctional machine that offers higher speeds, more control, greater stability and unparalleled range of motion will be game-changing for them."
Kobelco Construction Machinery USA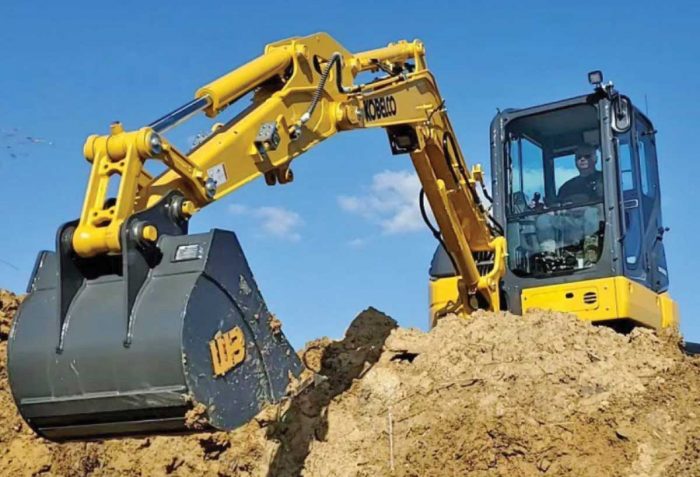 "Closely consider the different sizes, options and configurations that will best fit your current and future jobsite demands," suggests Dan Collins, product marketing manager at Kobelco USA. "Machine size and weight are important to consider for ease of transportation. While several manufacturers offer mini excavators, not all of these machines are equal in regards to specifications, technology, quality and support. Dig depth and reach have significant variances in model size ranges. A machine's horsepower, digging force, lift capacity and hydraulic output are also key in the selection process."
Sany America

"The compact excavator market is advancing, and there are many new options for a buyer to consider. After you have reviewed your application needs and narrowed your search based on size, weight and performance, it's a good idea to move forward with a demo and get a first-hand feel for how the machine performs," says Zac Evans, product manager at Sany America. "While reviewing the machine, try to pay attention to access for general maintenance and service items as this can impact your overall experience. Proper care of your machine will help extend the value of your investment and help prevent any unnecessary downtime that could negatively impact your bottom line."
Mini excavators are making big waves on jobsites all over North America. Click here for the latest news on these machines and the companies that make them. Tags: Bobcat, Case Construction Equipment, Caterpillar, Doosan Infracore North America, Hitachi Construction Machinery Americas Inc., JCB, John Deere, Kobelco Construction Machinery USA, Kubota, LiuGong, Mecalac, New Holland, Sany America, Takeuchi-US, Volvo Construction Equipment, Wacker Neuson, Yanmar