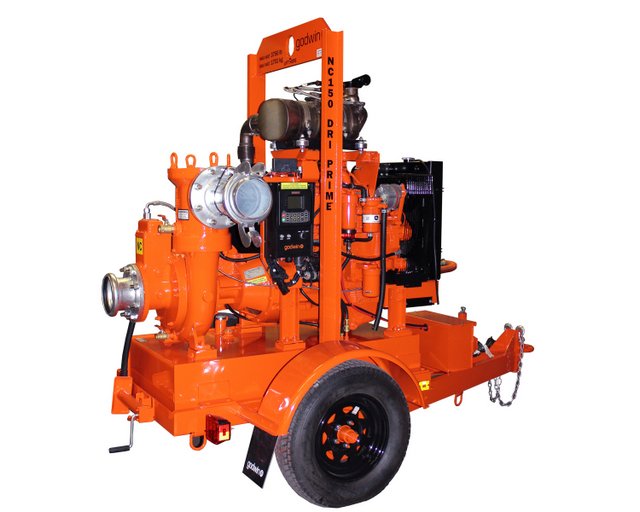 Xylem, a leading global water technology company dedicated to solving the world's most challenging water issues, recently announced that its Godwin range of powerful diesel pumps is now available with Tier 4 engines, the most up-to-date engine technology available. The new Tier 4 engines in Godwin pumps reduce air pollution by minimizing particulate matter (PM) and nitrogen oxides (NOx), as well as delivering enhanced engine control and reduced engine noise.
Tier 4 engines are now required under the United States' Environmental Protection Agency (EPA), Clean Air Act: emissions standards for diesel engines. Manufacturers are currently required to abide by Final Tier 4 regulations for 25-74 horsepower engines.
"We have worked closely with engine manufacturers to package this new technology within our sale and rental equipment. Godwin is committed to providing the best pumps in the industry and to helping customers understand the new requirements and the impact these changes will have on their businesses," said Mike Ramos, vice president and director of operations and engineering for Xylem's Godwin brand. "While these standards will demand some adjustment across the industry, we are committed to guiding our customers through the transition and helping them understand the operation and application of these advanced engines within dewatering pumps in the field. This year we have added nearly 300 Interim Tier 4 and Final Tier 4 engines to our rental fleet, with plans to add hundreds more of Tier 4-equipped pumps in 2015. As always, we are committed to supporting our customers to solve their toughest dewatering challenges.
"The new diesel engines are just one of the many technological advancements Godwin has introduced over the last year. For example, our new Field Smart Technology works with Godwin's PrimeGuard pump controller, enabling customers to constantly monitor and control equipment remotely and ensure optimum efficiency," concluded Ramos.
In order to support customers' budget planning, Xylem is communicating the additional costs associated with these updated Tier 4 diesel engines while there are still options available, before regulations require the entire HP range to be upgraded to Final Tier 4. Final Tier 4 diesel engine pricing in the 25-74 horsepower range will increase the cost of Godwin four inch and six inch dewatering pumps by between 25-35 percent. The price increase is mainly due to Final Tier 4 engines having electronic builds instead of the previously used mechanical builds. The inclusion of a diesel particulate filter – which had not been supplied with this horsepower range of engines previously, but is now required by the regulations — also adds to the price change. Over the coming years, larger horsepower engines will also see a price increase as Tier 4 regulations come into effect for pumps in the higher HP range.
Tier 4 diesel engine technology is available within Xylem's Godwin dewatering pump equipment for sale or rental. Xylem also offers alternative pumping solutions such as Godwin electric driven Dri-Prime or Flygt submersible pumps, and variable frequency drives to meet customers' varied needs.
Tags:
Godwin
,
Tier 4
,
Xylem