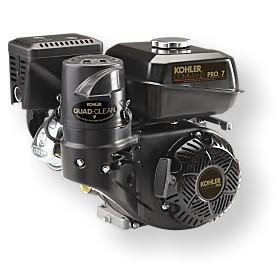 Kohler Engines, a manufacturer and marketer of gas and diesel engines for lawn and garden, commercial, construction and agriculture markets, has recently upgraded its Rental Partner Program to include more savings and opportunities for current and new rental merchants.
"Kohler Engines Rental Partner Program makes it easier for equipment rental yards to do business with us, creating better access to the value-added benefits that make Kohler small gas and diesel engines a preferred power source for professional-grade equipment," said Cam Litt, marketing manager at Kohler Engines. "Success for a rental yard operator depends upon maximizing the equipment fleet uptime. With our Rental Partner Program, Kohler Engines can actively ensure the readiness of a rental yard's equipment by providing many of the benefits available to Kohler full-line dealers, but designed specifically for rental yard operators."
The Rental Partner Program has been upgraded to include:
Repower Rebate — When replacing/repowering a competitive single cylinder engine with a new Kohler Command PRO engines (CH270, CH395 or CH440), a Kohler Rental Partner qualifies for a $50 rebate on the engine.
BOGO Engines — New participants in the program qualify within the first year to "buy-one-get-one-free" (BOGO) certain engines. Purchase all of Kohler's three single cylinder engine models (CH270, CH395 or CH440) in 2012 and get one free. 
Other Kohler Engines Rental Partner Program benefits:
·         Free online access to service literature, warranty claims & marketing materials
·        Online access to illustrated parts lists
·        Easy online ordering system and fast delivery
·        Discounts on Kohler engines and maintenance parts
·        Additional rebate availability for replacing competitive engines
·        Ability to service own fleet
·        Kohler training
·        Troubleshooting techniques
·        Engine service best practices
·        Warranty benefits
·        Profit opportunity on warranty parts
·        Labor reimbursement on warranty repairs
·        Online warranty claim submission; expedited payments
Creating a direct relationship between rentals yard operators and Kohler central distributors, Kohler Engines Rental Partner Program enables rental yards opting into the program to power their commercial-grade rental equipment with Kohler's comprehensive lineup of gas and diesel engines, backed by expanded and direct access to Kohler parts and service, as well as warranty fulfillment, to protect a rental yard's investment in Kohler engines.