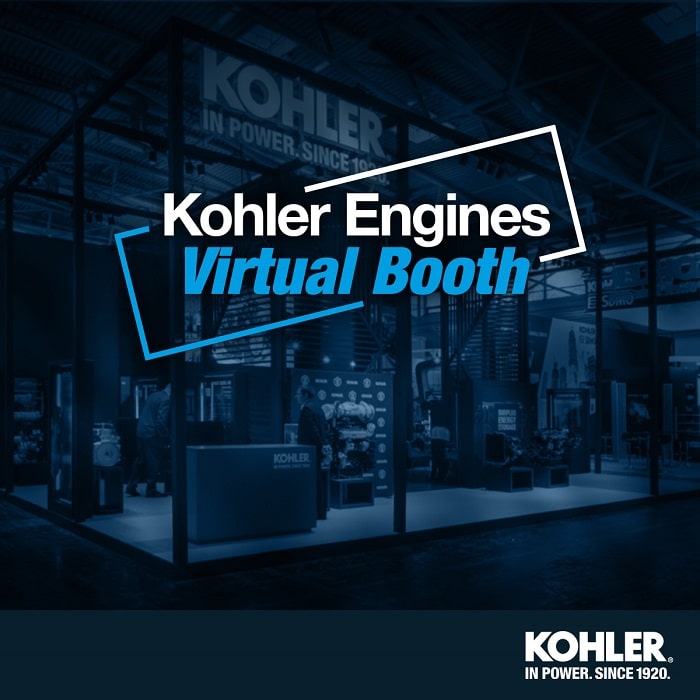 Even in this period of great changes in the way we live and work, Kohler Engines' determination to provide excellent and innovative products and services has led the company to the creation of a new digital space: Kohler Virtual Booth. It is a new way to serve and support OEMs remotely.
In fact, Kohler is offering an authentic experience to those who want to deepen their knowledge about Kohler's products through discussions, webinars and presentations.
Visiting the Kohler Virtual Booth will feel exactly the same as coming to the Kohler booth at trade shows. Visitors will have the chance to stroll around the booth and find Kohler engines displayed along with a series of technical information. Moreover, it will be easy to book a meeting with expert salesmen and product managers to discuss the latest developments and to get answers to any questions concerning Kohler's products and services.
Also, the company has scheduled a series of webinars that will address significant issues in the engine world. You can register and attend them with just a few simple clicks during your visit to the Kohler Virtual Booth.
Kohler Virtual Booth has been launched on Sept. 7, 2020. The company has identified limited periods for every sector Kohler engines are used in, exactly like trade shows do in the real world. The first focus will be on Lawn & Garden from today Sept. 21 to Sept. 25,2020. Kohler Engines professionals be available to the OEMs of this category to show them the company's portfolio, discuss ongoing projects and propose further developments.
Access the Kohler Virtual Booth by clicking here.
Tags:
Kohler Engines