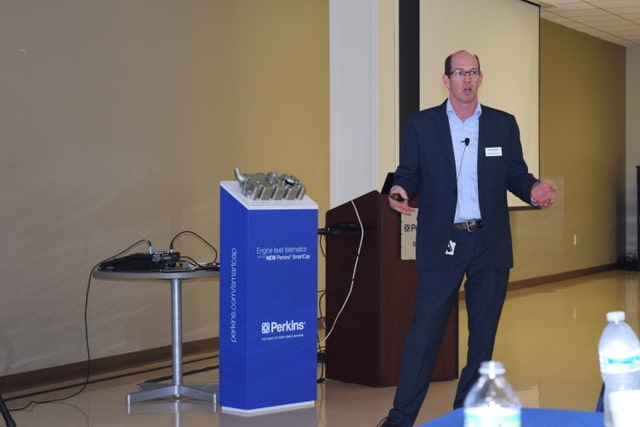 Perkins told us they had a big announcement coming the last week of June to commemorate its 85th anniversary, so we flew down to Seguin, Texas, to hear all about it. By the end of the presentation, I was pretty sure I made a wrong turn and ended up in Silicon Valley. Other than the lack of black Steve-Jobs-style turtlenecks, the only sign we were still in Seguin was, I suppose, the massive 850,000-sq-ft facility that was meticulously manufacturing 1500 and 2000 series Perkins engines.
And yes, we toured that facility and got the lowdown on the flexibility of the engine giant's modular Syncro line of compact engines, but the big focus of the day was an audio-visual presentation explaining a new approach for buying, owning and servicing Perkins engines — an updated strategy for meeting the needs of today's customers.
Connection is the key
Consider the position Perkins is in, with 5 million engines currently in service, a fleet composed of all different sizes, ages and configurations. That's 5 million different service strategies dispersed around the globe.
But they all have caps. Yes, this grand new vision starts with a small scale, low-cost aftermarket oil cap upgrade that streamlines the service capabilities of all 5 million engines in the market.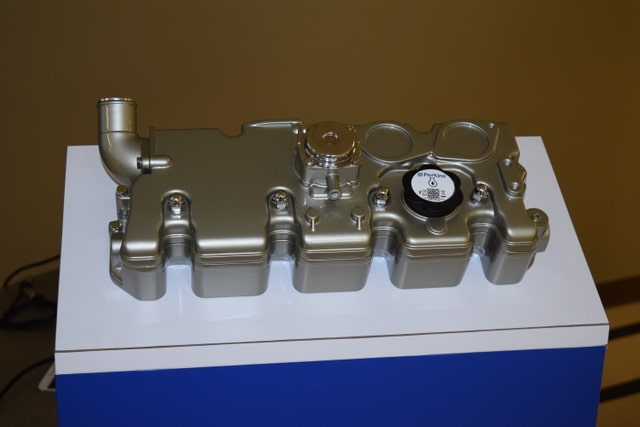 This Perkins SmartCap is a nifty telematics device that connects you to your engine's vitals via the free Perkins My Engine app. Think of it like a Fitbit for your Perkins engine. The cap monitors the Perkins engine and sends data direct to the app, including:
• Engine running hours
• Engine location
• Service reminders and service log
• Start/stop data
• Parts book and consumables information
"The low cost Perkins SmartCap in conjunction with the Perkins My Engine App will, for the first time, enable Perkins customers to easily track use of their engine and servicing requirements, locate their local Perkins distributor, see parts information and receive service updates, all in one place," said Michael Wright, General Manager — Aftermarket.
Whether you own (or work on) one or 100 Perkins engines, you'll be able to monitor and set mobile alerts for everything, from the smallest reminders about oil filters to critical updates on part failures. They are also GPS equipped for remote location monitoring.
Production release is September 2017.
Streamlined, regionalized parts
That convenient engine performance data is enough to make the one-time $49.99 price tag worth it, but because of that Perkins app, that engine information connects directly to the new Perkins online marketplace and an expanding regional distribution network. The cap says you are due for a filter change and you are out of filters? A couple taps and one will be sent to you ASAP.
Plus, once your engine is registered, you can access its OMM and parts book, keep a detailed service record and easily make contact with your local Perkins distributor.
Cap or no cap, Perkins' online shop also has been updated to streamline to parts ordering experience. The site is easy to navigate, enabling customers to sort by engine series or product category, and search by part name or part number. Each part has a full description and image, allowing customers to be confident they are ordering the correct part, each and every time.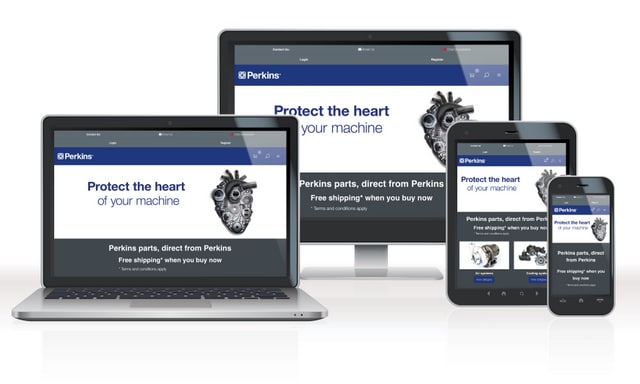 If a part isn't currently available to buy through perkins.com/shop, then end-users will be able to register their interest in the product. This request will be passed on to the local Perkins distributor, who will follow up with the customer on their purchase and other service needs.
The ordering ease is just one part of this equation. The other is the new Perkins Regional Parts Distribution Center in Elizabethtown, Ky., that has 7,000 part numbers in stock. Parts ordered through the shop will benefit from rapid shipping by air and road, depending on the customer's preference, direct from the Kentucky parts warehouse — the logistics of which are handled by UPS.
"We are making significant new investments in our aftermarket offering, giving end-users quick access to genuine Perkins parts, up to date information on their engine and service and support from their local Perkins distributor," Wright said. "The launch of the shop is a key element of our strategy to enhance the service and support millions of Perkins end users already receive from our global network of trained Perkins distributors."
FYI: To support Perkins' US customers, all parts orders placed before July 31, 2017, will benefit from free road delivery.
From inside the engine, to your phone, directly to Perkins itself — this is what Perkins sees as the next frontier for engine ownership and on-demand customer service. We think they are on to something, even without the turtlenecks.
Chris Crowell is a contributing editor of Compact Equipment.