We've discussed the emergence of Tier 4 technology extensively in Compact Equipment and on the Machine Works blog. As diesel engine technology continues to change, so is the fuel and engine oils that power and service these next-gen power plants. Stopping by the Shell booth today, we learned about Shell Lubricants innovative engine oils that are designed to both meet the challenges of today and the future. The Shell Rotella Energized Protection product portfolio is led by three premium heavy-duty engine oils that are part of a tiered, easy to understand, ladder of protection.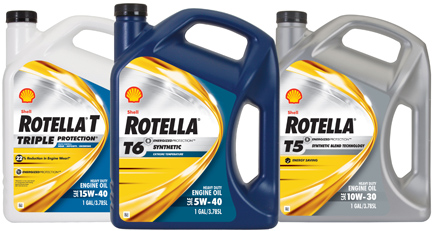 Shell Rotella T5 10W-30 Synthetic Blend Technology, which delivers better fuel economy than Shell Rotella T Triple Protection 15W-40 oil, expands the product line of the No. 1 brand of heavy duty engine oils. A new formulation of Shell Rotella T6 Full Synthetic offers improved viscosity protection, and Shell Rotella T Triple Protection, which features an enhanced engine wear claim, completes the simplified portfolio.
Shell Rotella Energized Protection engine oils are formulated with adaptive technology to provide targeted protection across all driving conditions — physically and chemically reacting to the ever-changing needs of an engine. Adaptive technology consists of molecules that when under load and temperature stresses form a protective layer on engine surfaces, which helps to keep moving parts separated, thus helping reduce wear.  
"Because Shell Rotella heavy-duty diesel engine oils provide protection in critical areas, engine life can potentially be extended and maintenance costs reduced," said Dan Arcy, OEM technical manager for Shell Lubricants. "Shell Rotella T5 10W-30 and Shell Rotella T6 offer improved fuel efficiency and protect the performance of exhaust-emission control systems, and Shell Rotella T Triple Protection demonstrates the ability to provide added wear protection compared to previous formulations."
No matter how hot, cold, steep, dusty, muddy or extended the operation, Shell Rotella T6 Full Synthetic, Shell Rotella T5 Synthetic Blend Technology and Shell Rotella T Triple Protection provide protection in three critical areas: 
1. Acid control – helps protect against corrosion from acids formed as fuel burns 
2. Deposit control – helps keep engines clean for optimum performance and long life
3. Wear control – helps keep moving metal engine surfaces apart for long life
Each of the top-tier Shell Rotella Energized Protection engine oils meets the requirements of on- and off-highway equipment, including the latest vehicles fitted with diesel particulate filters (DPFs) and catalysts. All Shell Rotella multi-grade engine oils meet API CJ-4 standards.