Power, size, efficiency, emissions — all common and important ways to classify and judge an off-highway diesel engine — but let's not forget flexibility. A diesel engine in a skid steer will need to be flexible enough to power a variety of applications and attachments (from trenching to asphalt planing) while juggling varying temperatures, altitudes, ground conditions and operators. An adaptive diesel engine might even be used across completely different machine categories, engineered into a concrete pump, industrial generator or street sweeper.
Much of that flexibility is designed into the power plant, but a lot of it also comes from the distributors that actually sell the engines to equipment makers. These distributors also adapt, add on extras and tailor these off-highway diesel engines to their customers' specificities. It's a fact that recently got refreshed in my mind on a visit to Continental Engines in Greenville, S.C., an engine distributor with an impressive portfolio of product lines — JCB, Yamaha, Yanmar, Kirloskar, MBW Technologies, Lofa Controls and Hatz. In fact, Continental has done so much Hatz business lately (recently winning a sales contest) that it was awarded the first production model of Hatz's H-Series 3H50TIC diesel engine, which was a winner of a 2018 Innovative Iron award from Compact Equipment.
"It's the service and the value-add that we do," said Jeff Cooper, Continental Engines president, explaining the company's decades of success. "We do a lot of engineering for our customers, and most of it is at no charge to try to fit the engine into that exact application to get long-term business from that customer. It's almost necessary to do that."
I spent the afternoon talking with Cooper and his Continental staff, touring the facilities and doing interviews with some notable Hatz-shots, including president and CEO of Hatz Diesel of North America Mike Hartoonian, director of sales and marketing Bernhard Richter-Schutzeneder and chairman of the advisory board and fourth-generation family member Wolfram Hatz. Throughout the day I learned how engine distributors were both the key to customizing engines exactly for each OEM and providing outstanding service that keeps customers coming back. Where do they start?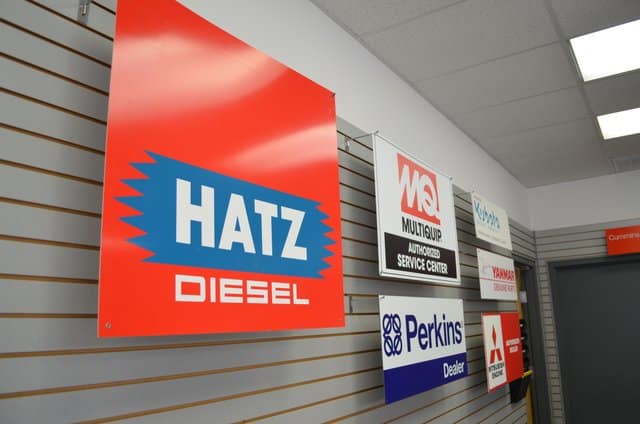 "First, we identify the horsepower and torque requirements for the application, and then we just look at the installation hurdles and go from there," explained Brandon Wells, Continental's product development and mechanical engineering manager for engine applications. "I would say space requirement is the biggest thing. If you're displacing an engine, they've got all their routing, all their accessory supports, all that stuff is nestled in around that engine. It's amazing how a four-cylinder can still require such an invasive change. Hurdles are mainly accessories or different types of alternators, air conditioning, compressors, hydraulic pumps and then whether or not there's a housing requirement. And then just keeping up, being responsive enough that we can provide a solution, but we can also vet it and run it by the factory and make sure that we're not creating some sort of problem down the road as well."
Continental supplies and services customers from Maine to Florida, depending on the product line. Its Hatz territory is mainly in the southeast from Virginia to Florida, with Tennessee and Kentucky included. Customers include the likes of LeeBoy, American Waterjet Robotics, Next Generation Power Solutions and Reinert Concrete Pumps.
"A lot of times the client doesn't necessarily know what's best for them," said Wells. "They know what they think they need, but we have to kind of see through that and say, 'How can we cost-effectively provide a solution while not just saying, no, actually this is what you really need?' I think that's kind of part of it. It's a little bit of a sales engineering application work. You kind of have to wear both hats."
Continental has sold more than 3,800 Hatz engines in its tenure, including a lot of 3H50TICs. Last year, Hatz premiered the new H-Series product line to American distributors in Chicago. I got the opportunity to visit a media launch in its hometown of Ruhstorf an der Rott in Germany last summer. The H-Series is especially innovative for its size-to-power ratio. It's a great example of the industry's downsizing trend (partly pushed by EPA Tier 4 emissions requirements, partly pushed by the need for more efficiency), which allows customers to replace larger engines with smaller ones in high-power demand applications. The H-Series is also Hatz's most significant endeavor into liquid-cooled engines.
"Our product is very, very flexible and unique in its compactness," said Richter-Schutzeneder. "Also, it is very good on fuel consumption, which is not the big topic here but will be. We have also been factory mounting, for example, radiators, which no engine manufacturer really does. So, the difference is also in the service."
Great distributors like Continental Engines are essential components of that service network. To showcase its award-winning services, Continental will now be able display the first production model of Hatz's H-Series 3H50TIC diesel engines in its office, which was also signed by Mr. Hatz himself.
"I've known Continental Engines all my career, right when I joined Hatz," said Richter-Schutzeneder. "Continental Engine is, as you can see here, also one of the distributors that really understands what value-added means. We are not the box-in/box-out guys with standard products. We need people that can help us overcome engineering challenges, and Continental Engines has always been a distributor that really understood that and has invested into resources to make it happen. Understanding is one thing, but making it happen is another. I think together, we are quite a success."
---
Diesel Update
Perkins New 18-Liter Series Twin Turbo Is Dual Certified for EU and US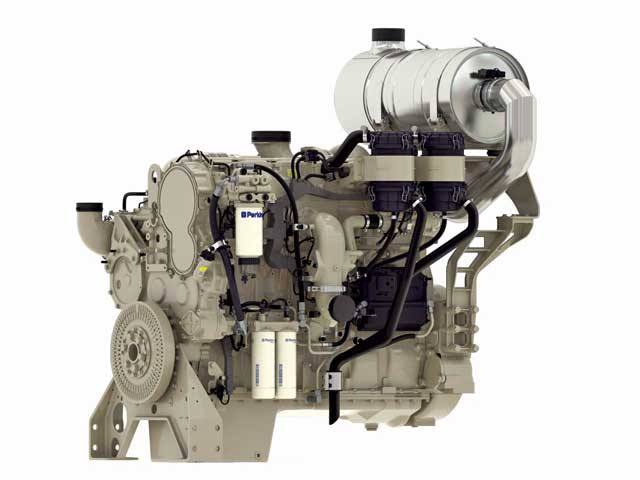 Perkins newest dual-certified engine complies with both America's and the European Union's stringent emissions requirements, which makes it attractive for global OEMs. When Stage V emissions standards took effect earlier this year, it meant U.S. OEMs selling machines into the EU needed to upgrade with new engines — many of which require high-power engines over 750 hp (560 kW), previously unregulated in the Europe Union. Perkins' solution is the 2806J-E18TTA — a Stage V/U.S. EPA Tier 4 Final dual-certified engine — which means it can be installed in products used in the European Union and North America without modification. The engine uses a maintenance-free diesel oxidation catalyst (DOC) aftertreatment to meet emissions standards — an ideal solution for engines in the 750- to 800-hp range. Learn more at perkins.com.
Tags:
Hatz Diesel of North America
,
home
,
July/August 2019 Print Issue
,
Perkins