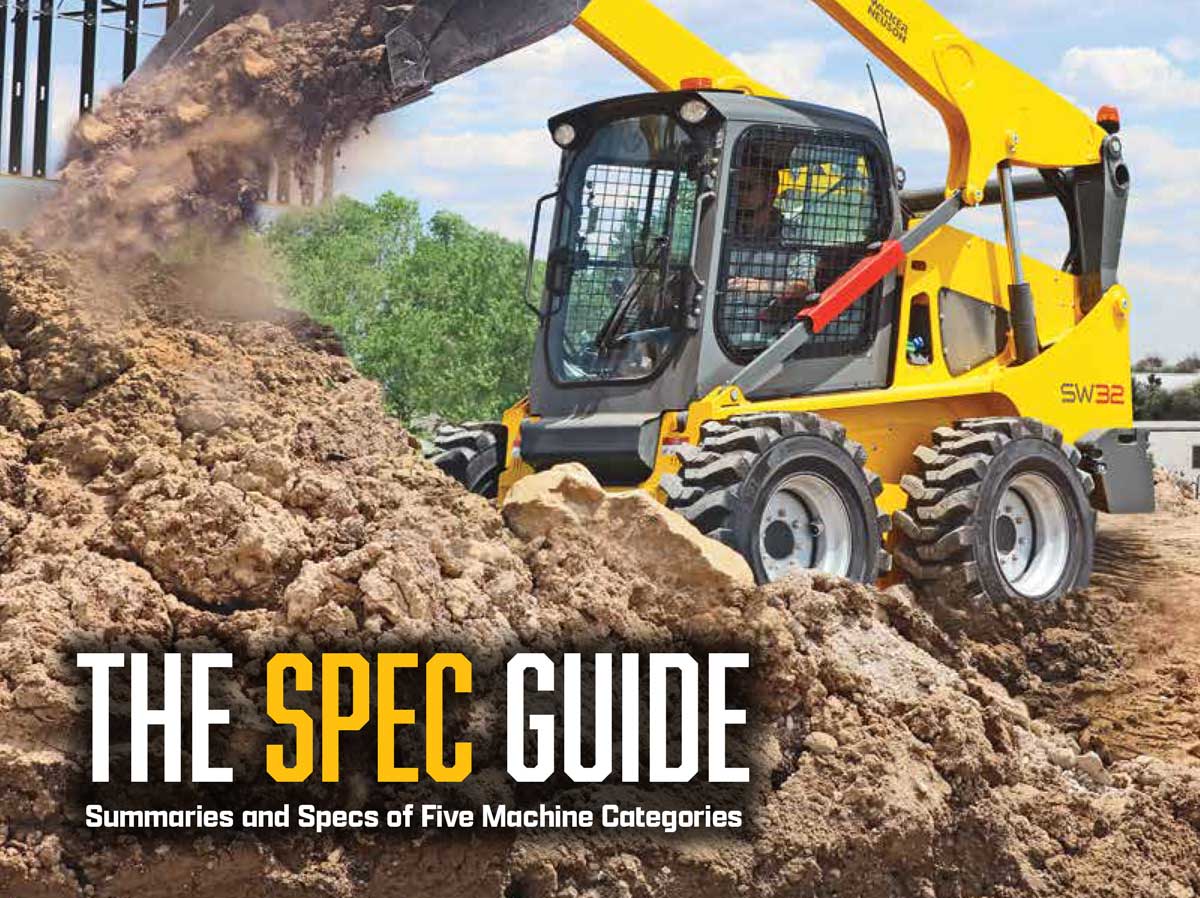 The annual Compact Equipment Spec Guide arrives at an exciting time in the off-highway machinery sector. Small, attachment-taking machines are reaching new heights in popularity with commercial contractors, rental lots and homeowners. Compact track loaders are seeing sales in the 80,000-units-a-year spectrum. Mini excavators have never been so popular (especially the 3- to 4- and 5- to 6-metric ton units), with this Spec Guide covering 17 different manufacturer lines. And even though we did not include compact tractors in this year's edition, check out this article to see how utility tractors are just flying off dealer lots like never before.
That popularity is being supplied by a gigantic selection of units on the market. An imposing amount. In print, this Spec Guide is a 100+ page behemoth, detailing five main categories of compact equipment: 1) skid steers; 2) compact track loaders; 3) mini excavators; 4) compact tool carriers (stand-on or walk-behind units); and 5) compact wheel loaders. This magazine summarizes hundreds of different models, each with varying options and configurations. So, where do you start? Just to get us warmed up, I picked a listing of cool models to pique your curiosity (all recent additions to the market).
Skid steers: ASV just added the vertical-lift VS-75 and radial-lift RS-75 skid steers to its high concept/high comfort MAX-Series lineup. Each unit's impressive all-clear sides and frameless door provide industry-leading floor to ceiling glass area.
Track loaders: Kubota's newest unit, the SVL97-2, sets the bar high with standard equipped telematics, rearview camera, lockable DEF door, redesigned DEF System, 7,961 lbs of breakout force and an impressive 3.4 ft of reach at max height.
Mini excavators: Cat just released the biggest mini ex model with a retractable undercarriage, an option on the 302.7 CR. It can hydraulically retract its track width to 53.3 in. for confined spaces and expand to 70.1 in. for standard digging.
Compact tool carriers: Toro's e-Dingo 500 has all the benefits and power of a standard CTC with no fuel costs and zero emissions. Ideal for indoor construction jobs, it's powered by lithium-ion battery tech with a max operating capacity of 515 lbs.
Wheel loaders: Gehl's ALT950 articulated wheel loader is telescopic, extending boom reach up to 17 ft with a tipping capacity of 10,974 lbs. The ag-focused ALT950 can even do ridiculous U-turns, making 44-degree turns in either direction.
Just remember: This magazine is a reference guide, so make a little space on the shelf for this particular edition. It's the most comprehensive summary of these five machine categories anywhere in print. We'll also be highlighting these machines twice a day here at compactequip.com, so be sure to check them out!
Keith Gribbins is publisher of Compact Equipment.
Tags:
July August 2021 print issue