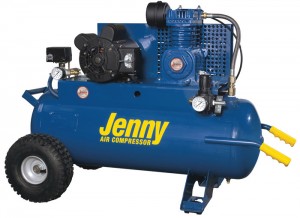 Jenny Products Inc. recently announced that every electric air compressor produced by the company can now be certified to UL 1450 and C22.2 No. 68-09, the safety standards covering motor-operated air compressors, vacuum pumps, and painting equipment, for the United States and Canada. The requirements met for the certification were issued by CSA (Canadian Standards Association), which found that Jenny air compressors met the high safety standards of the UL 1450 code.
CSA, a UL approved test laboratory and facility, certifies, validates, tests, inspects, audits, and advises and trains in order to provide knowledge and expertise for customers to navigate various markets in Canada and United States. The Jenny air compressors now certified UL 1450 and C22.2 No. 68-09 include all electric units, from the small AM-Series hand-carry models up to the largest T-Series stationary compressors.
"Being UL 1450 and C22.2 No. 68-09 Certified adds even greater peace of mind to the purchase of a Jenny air compressor," said Daniel Leiss, president of Jenny Products. "Our models are already known as some of the most durable and reliable on the market, and this certification gives customers another reason to place their trust in our products."
For more coverage of air compressors, go ahead and click this link. We promise interesting copy.