It's amazing what air compressors can do on a job. Whether it's a demolition contractor breaking concrete with a hammer or a landscaper clearing out irrigation lines, air compressors lend a powerful hand in checking off boxes on the to-do list. With options from manufacturers such as Chicago Pneumatic Power Technique, Atlas Copco, Doosan Portable Power and way more, it's important to know what to look for and what's new in the market.
Like any piece of equipment, step one in the search for an air compressor is to know what jobs an operator is expected to complete and what tools he or she plan to use. This will allow a dealer to narrow down the options and decide how much cubic feet per minute (cfm) is needed. Make sure an air compressor can produce enough air at the right pressure for any air tools that may be used, as well as any other applications they may take on. Read this story to learn more about compressor buying tips, and then peruse the units below to find some truly towable options.
Doosan Portable Power High-Pressure XP185
Doosan Portable Power expanded its small air compressor lineup with the Doosan XP185WDO. The high-pressure model produces 185 cfm and 125 psi, making it ideal for general construction, sandblasting, pneumatic tool operation and fiber-optic cable installation. The XP185 can simultaneously power both air and electrical tools when outfitted with an optional 4-kW generator. The unit has a 10-hour runtime at 100 percent load and is equipped with two 120-V duplex outlets located on the rear curbside panel of the compressor. The outlets are compatible with most handheld electrical tools, battery chargers and phone chargers. An onboard toolbox allows storage. For more info, visit doosanpowermoves.com.
Sullair 400HH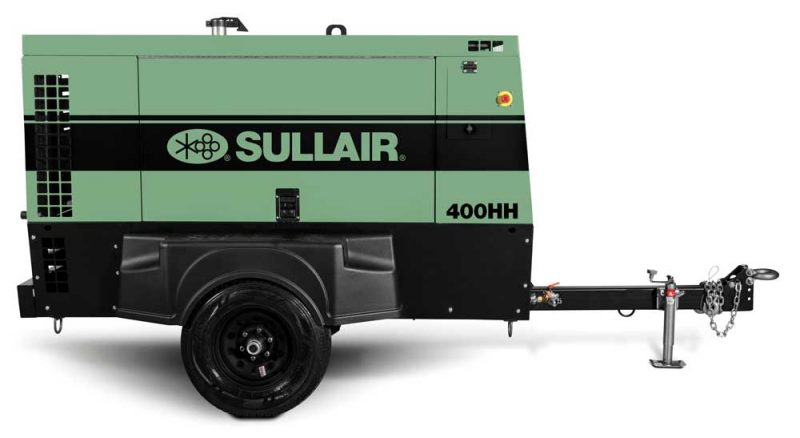 Sullair, an industry leader in innovative compressed air solutions since 1965, expanded its Perkins portable diesel air compressor line. Sullair now offers a comprehensive line of Tier 4 Final Perkins-powered small air machines, including the new 400HH. The Sullair 400HH compressor is powered by a Perkins Tier 4 Final compliant 1204F-E44, four-cylinder engine rated at 122 hp. The 400HH unit delivers 400 cfm at 200 psig. The compressor features the Sullair 16-Series airend assembled in the United States and an oversized 65-gal fuel tank providing up to 10 hours of run time. Additionally, front and rear swing doors with slam latches offer easy access to key components. For more info, visit sullair.com.
Atlas Copco XAS 950
Atlas Copco Power Technique is promoting its XAS 950, a single-stage, oil-injected rotary screw type portable air compressor. Powered by a liquid-cooled, six-cylinder, turbocharged Cat C7.1 Tier 4 Final diesel engine, this unit offers simplified maintenance and cost savings. Featuring new pressure adjusted through cognitive electronics (PACE) technology, the air compressor matches engine speed, power and torque with air demand, resulting in 15 to 20 percent fuel savings. The XAS 950 has variable flow and pressure settings through the PACE technology, resulting in a wide range of pressure and flow settings (950 cfm at 100 psi, 900 cfm at 150 psi and 750 cfm at 200 psi). For more information, visit atlascopco.us.
Kaeser M55PE Mobilair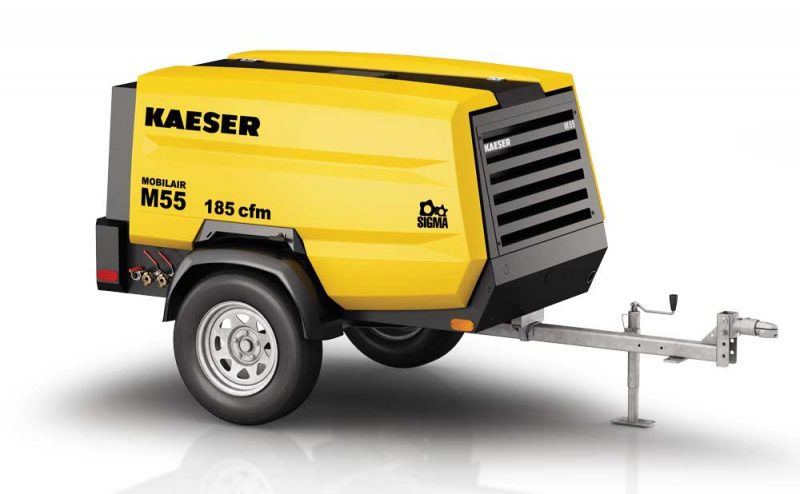 Kaeser's new M55PE Mobilair compressor delivers 185 cfm at 100 psig — adjustable up to 125 psig. The heavy-duty Tier 4 Final D1803CR-T Kubota diesel engine, coupled to the new Sigma 17G airend, produces even more air with less horsepower. With its large 21-gal fuel tank, the M55PE can run fully loaded for 10 hours before refueling. The eye-level curbside instrument panel features the Sigma Control Smart electronic controller with intuitive user display, system monitoring and diagnostics. The cold start battery ensures year-round reliability, and Kaeser's anti-frost valve prevents tool freezing. The powder coated steel chassis is topped with a scratch and dent-resistant polyethylene enclosure. For more info, visit us.kaeser.com/mobilair.
APT 110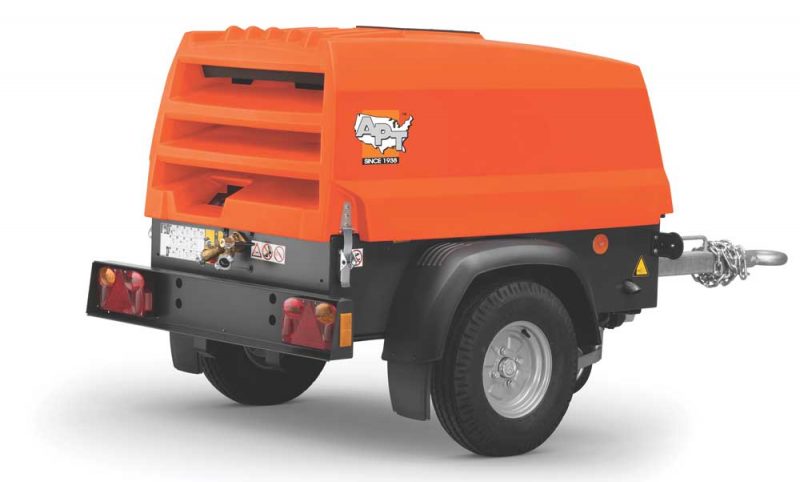 The APT 110 compressor can power two breakers with effortless ease. The compressor is designed for maximum performance and efficiency. It's durable as well as easy to transport and maintain. The canopy is made from tough polyethylene, protecting the working parts and ensuring the compressor looks and performs to its maximum. It is trailer mounted with road lights as standard. The APT 110 features an oil-injected airend, and all air outlets are at the rear of the machine for ease of use. The reliable Kubota diesel engine meets Tier 4 Final emissions standards without requiring exhaust aftertreatment components like a DPF. Options include cold weather kits, aftercoolers, fine air filters and more. For more info, visit apt-tools.com.
Chicago Pneumatic CPS 250
Chicago Pneumatic Power Technique (CP) offers a cool CPS 250, a single-stage, oil-injected, rotary screw portable compressor. Featuring new pressure adjusted through cognitive electronics (PACE) technology, the operator can now control the pressure of the machine. The new intuitive XC2003 controller is coupled with PACE functionality and adjusts the pressure in increments of 2 psi. The operator can also toggle between two predefined set points. In addition to the new controller, CP increased the operating range of the compressor in the 100- to 150-psi range, making the machine more versatile and user friendly. The CPS 250 also comes with a hard hat canopy/sound attenuated Zincor steel enclosure. For more info, visit cp.com.