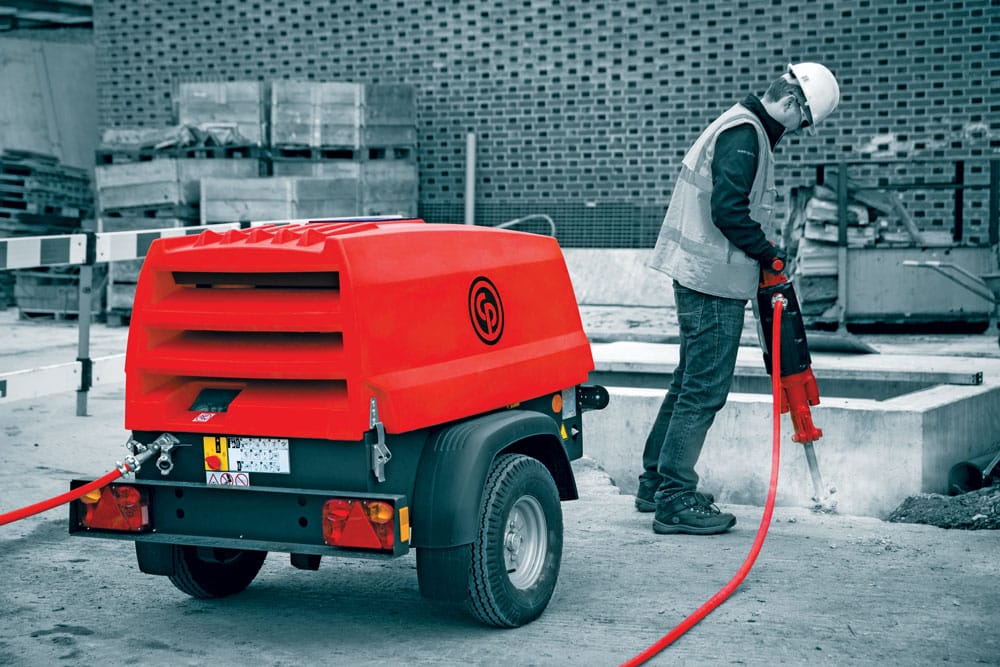 It's amazing what air compressors can do on a job. Whether it's a demolition contractor breaking concrete with a hammer or a landscaper clearing out irrigation lines, air compressors lend a powerful hand in checking off boxes on the to-do list. With options from manufacturers such as Chicago Pneumatic Power Technique, Atlas Copco and Doosan Portable Power, it's important to know what to look for and what's new in the market.
Like any piece of equipment, step one in the search for an air compressor is to know what jobs an operator is expected to complete and what tools he or she plan to use. This will allow a dealer to narrow down the options and decide how much cubic feet per minute (cfm) is needed. Eric Massinon, business development director at Chicago Pneumatic Power Technique, says a buyer should make sure an air compressor can produce enough air at the right pressure for any air tools that may be used, as well as any other applications they may take on.
"Many air compressors are rated at a higher cfm than they actually produce," he says. "When purchasing or renting ask if the compressors meet the International Organization for Standardization's test criteria [ISO 1217:2009 Displacement Compressors — Acceptance tests], this standard ensures you are getting the volume you are paying for."
Determining what tools an operator plans to use will decide whether a single- or two-tool compressor is needed. Massinon explains that single-tool compressors are rated around 100 cfm and the two-tool compressors around 185 cfm. "These size ratings were based on the typical air consumption from the 90-lb pavement breaker [each tool uses an average of 85 cfm]," he says.
Fuel economy is another important feature to look at, especially since manufacturers offer models with varying fuel efficiencies.
Aside from enough cfm and fuel efficiency, Brent Sexton, Atlas Copco product manager — portable compressors, shares a few more purchasing pointers:
Consider a tough canopy: "To protect your investment, choose a compressor with a tough canopy," he says. "Polyethylene is widely accepted as the best material for compressor canopies. It is resistant to low/high temperatures and fading thanks to UV stability and long-term antioxidants within the plastic. Look for a canopy that is also made from approved recyclable material to minimize environmental impact."
Watch your weight: "A portable compressor's weight will make a big difference when you need to transport it, regardless of whether it's a few feet or miles," says Sexton.
Keep working: "Look for a compressor with maximum uptime," he continues. "Minimum service time and simple service procedures that can be accomplished without custom tools or training as well as extended service time all play a role in accomplishing maximum uptime. Also, look for a compressor with easy access to all parts and an easily-replaced filter."
What's New?
When discussing air compressors, the manufacturers we surveyed all agreed that engine emissions regulations have been the talk of the market and foundation for changes in their models.
"Over the past several years, the newest thing to everyone in the air compressor market has been the diesel Tier 4 Interim and Final technology," says Jeremy Bailey, air products manager — Americas at Doosan Portable Power. "Some customers who haven't purchased an air compressor in the last 10 years may not be familiar with those changes and the sticker shock that comes with the new technology; the technology is more expensive for all OEMs across the board. We have had a lot of discussions at trade shows and during customer visits explaining what's changed, what's taking place and what new technologies everyone is using in their compressors, such as diesel oxidation catalyst [DOC], diesel exhaust fluid [DEF], etc."
Despite the popularity of two-tool line models, Massinon points out that he's seeing a shift in customers looking at single-tool air compressors.
"The industry changed when the price of the single-tool compressors became comparable to the price of two-tool compressors," says Massinon. "From that point on the industry shifted to a 185-cfm compressor. This shift has remained for over 20 years because the average price difference was less than $1,000, and there were no operational issues in using a single-tool with a two-tool compressor. Now, over 20-plus years later the price difference is closer to an average of $5,000 and rental companies and contractors are evaluating much more carefully what they really need for air consumption on the job. There is currently a push for creating a single-tool compressor market once again."
What's Out There?
Thanks to various offerings from manufacturers, customers have options when looking for the right air compressor. Here's a sample of what's out in the market today.
Chicago Pneumatic recently introduced its CPS 110 Red Rock compressor which, according to Massinon, fits perfectly into the new single-tool compressor market.
"Besides the benefit of the lower price, the CPS 110 has the added advantage of meeting the Tier 4 Final emissions requirements with a simple mechanical engine," he says. "This means there are no DPF, DOC or SCR systems to service and maintain. The mechanical engine does not require a PLC controller, making the compressor controls easier to operate and service. The smaller, lighter package saves fuel ultimately lowering the overall cost of ownership."
Atlas Copco's XAS 110 is the result of over a decade of continuous development. Sexton points out that the fuel-efficient XAS 110 model is compact, lightweight, designed for fast and simple maintenance, provides maximum uptime and delivers 110 cfm of air power without the need for exhaust aftertreatment.
"The XAS compressor is up to 15 percent smaller and consumes up to 12 percent less fuel than comparable models," he says. "With a footprint of just 26 sq ft, the XAS 110 offers easy maneuverability through narrow, cramped jobsites, more space to move around the machine and easier storage options. A weight of only 1,100 lbs — as much as 330 lbs less than comparable models — means fuel costs associated with towing are cut."
The P185 from Doosan Portable Power has been a customer favorite for years, according to Bailey. "It's a tried-and-true model," he says. "With 100 psi at 185 cfm, it has enough flow and pressure for a variety of jobs such as breaking concrete or running different tools. It has been a good fit for a wide range of customers — everyone from renters, homeowners and contractors."
Tags:
Atlas Copco
,
Chicago Pneumatic
,
Doosan Portable Power
,
February 2018 Print Issue
,
home