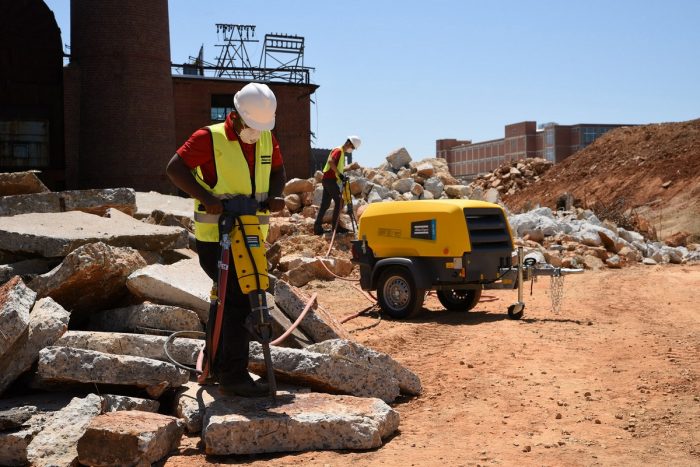 Portable air compressors, no matter the size or size of your company, are a major purchase. They are also most likely business-critical to your operations. It is important to consider your options carefully before selecting and investing in such a vital and integral part of your business. It's also important to understand how to operate and maintain these air power units properly. So, we highly suggest reading these articles:
Then, we suggest you peruse some of these portable air compressor units that we find very cool. Enjoy!
Atlas Copco's E-Air VSD Compressors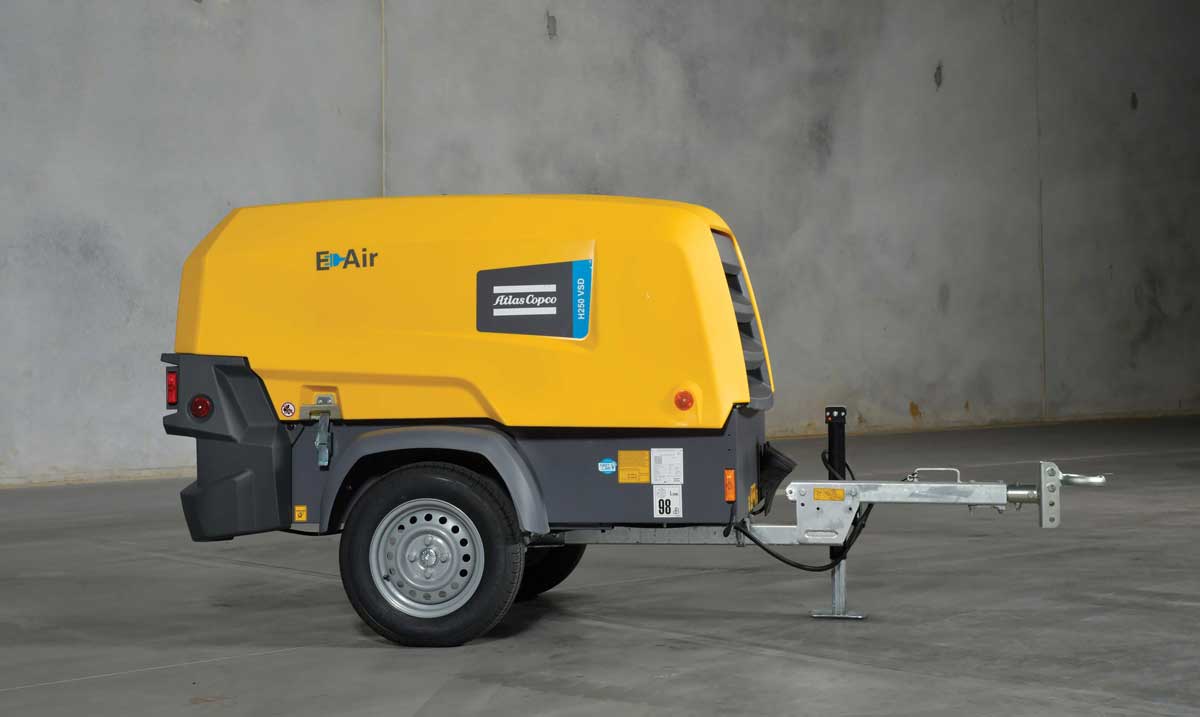 Atlas Copco's range of E-Air VSD compressors is easy to operate and features clean and quiet motors. The E-Air VSD Range brings the highest efficiency with an Advanced PM Motor combined with Variable Speed Drive (VSD) technology. The VSD Motor power consumption closely follows air demand, while the PM motor has the lowest energy consumption at any working condition. With camlocks available on every unit, it's an easy-to-use, plug-and-play solution. The E-Air range is designed so compact it uses a 50 percent smaller footprint compared to standard electrical units. From freight to mobility on site, this is a huge advantage when considering logistics. Plus, the longer service intervals of 2,000 hours/two years for compressor oils, oil filter and separator element reduce service cost and lower interventions, meaning you can work uninterrupted longer. For more info, visit atlascopco.com.
Doosan Portable Power's XP185-VHP165WDO-T4F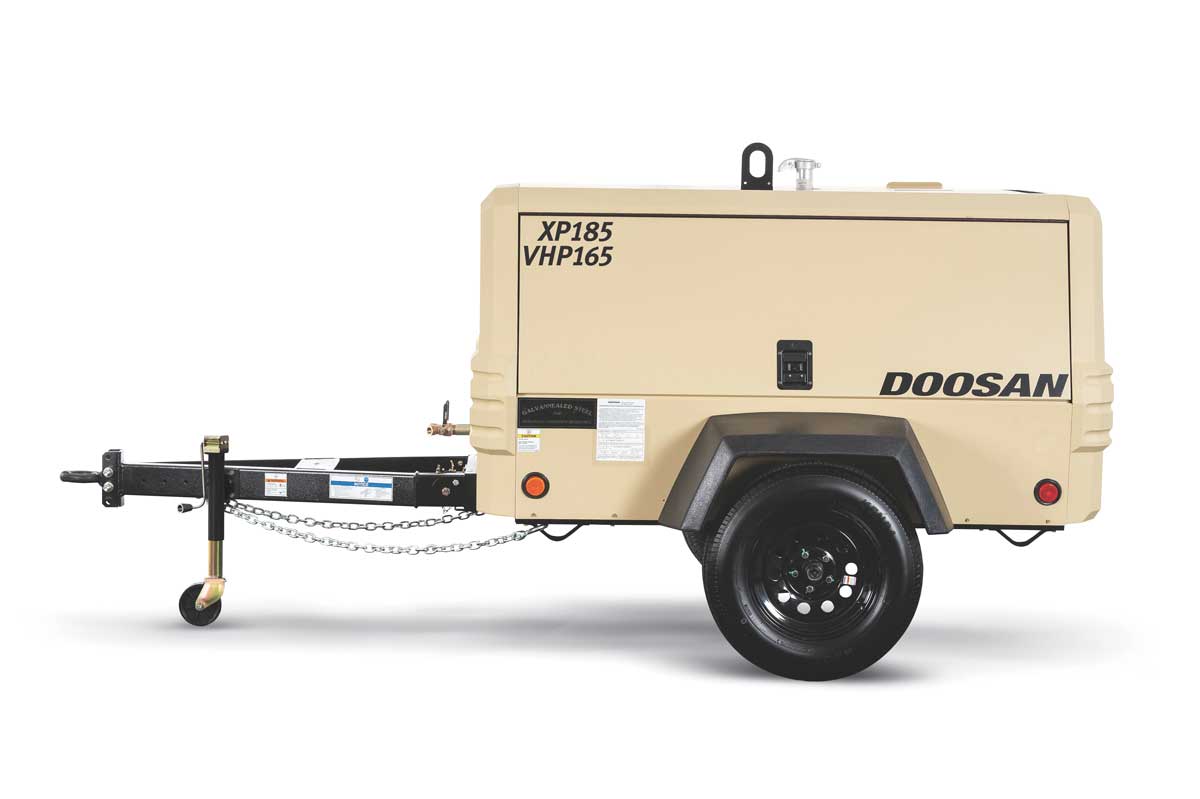 The XP185-VHP165WDO-T4F is the most versatile addition to Doosan Portable Power's small air compressor lineup. With Doosan's FlexAir system, which comes standard, this high-pressure model produces up to 185 cfm with pressures ranging from 100 to 200 psi. Powered by the dependable 74-hp Doosan D24 engine, this air compressor can operate at full load for 11 hours. The XP185-VHP165WDO can be made more versatile with the addition of an optional 4-kW onboard generator. Operators can simultaneously power both air and electrical tools without impacting the XP185-VHP165's fuel efficiency. For more info, visit doosanportablepower.com.
Chicago Pneumatic's Four New Portable Compressors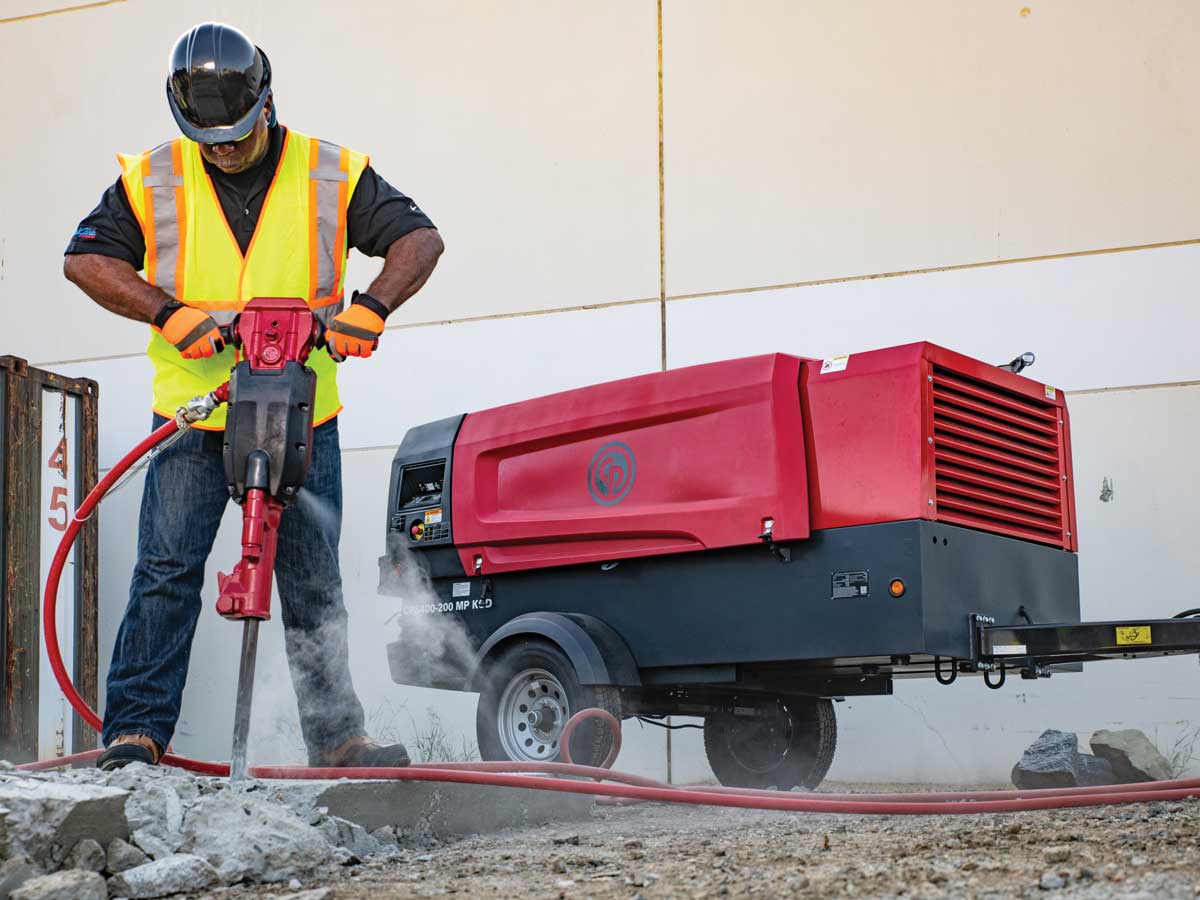 Chicago Pneumatic is introducing four new compressors for 2023, the CPS 175-100, CPS 185-100, CPS 400-150 and CPS 400-200 MP. These upgraded compressor models are designed for the toughest working environments. Powered with liquid-cooled Kohler diesel engines, the compressors have the power to run multiple tools or supply air for plant air backup. All the flow rates are measured according to ISO 1217 ed.3 1996 annex D. The CPS 175-100 and the CPS 185-100 include the Xc1004 controller — an easy-to-use controller that enhances visibility of operating parameters. The Xc1004 controller is easy to operate and can effectively display compressor and engine operating parameters, warnings, operational settings and more. The CPS 400-150 MP and CPS 400-200 MP is built to the same level of performance but with the added features provided with the XC 2003 controller. The Chicago Pneumatic XC 2003 controller offers two adjustable pressure settings that are controlled electronically. These working pressures set points are maintained within up to 4 psi of the desired set points. For more info, visit cp.com.
I hate to be the bearer of bad news, but sometimes you can't have it all… unless you rent. From finding the right dealer to scoring the perfect rental machine, we have you covered!