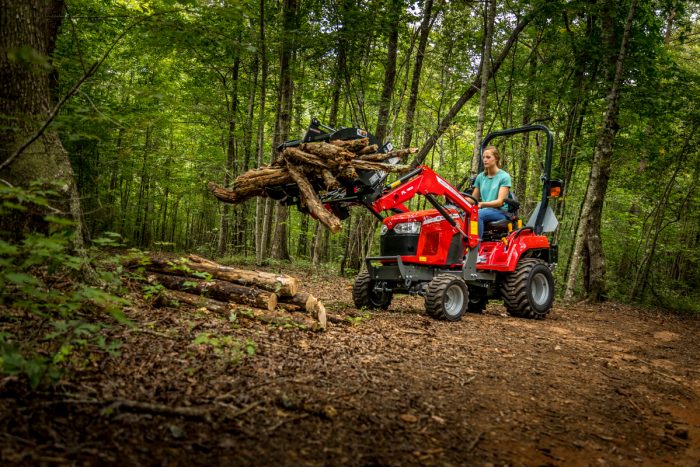 Selecting the right compact or sub-compact tractor can be a tough decision. You're not only looking for the features and capabilities you need today, but those you might need down the road. For those on the fence, jumping up into the next hp range will usually provide more versatility and more room to grow, but there's no sense investing in a larger machine if it doesn't fit your situation. We've compiled a list of features and benefits landowners should look for when considering a sub-compact or compact utility tractor. It's always a good idea to talk to a local dealer about specific requirements, but hopefully this list will provide information to help get the conversation started.
Sub-Compact vs. Compact
Sub-compact tractors are traditionally those under 25 hp. They are nimble, compact and ideal for tight quarters. Depending on attachment selection, these versatile machines are great for mowing, loading, digging, pulling small implements and much more. Their adaptability and range of application makes them a must-have for 3-acre homesteads all the way up to 35,000-acre operations.
To maximize productivity, look for customizable models from reputable manufacturers, allowing completion of a wide range of tasks with a single machine. This reduces maintenance and space requirements while increasing efficiency. Industry-leading manufacturers will provide a wide range of attachment options, including backhoes, loaders, snow blowers and belly-mount mowers. Some manufacturers also work with third-party vendors to increase equipment capabilities with specialty implements. For small-scale farmers, adding a tiller or pull-behind sprayer might be enough to handle their farming needs. For the homeowner with a heavily wooded lot, a woodchipper and mid-mount belly mower could reduce the number of machines necessary for yardwork, freeing up space in the garage for other recreation equipment.
These sub-compact machines provide a lot of power in a small package; however, those looking to do a little more — or work a little more comfortably — should consider jumping up to the 35- to 60-hp range.
Why Buy a Compact Tractor?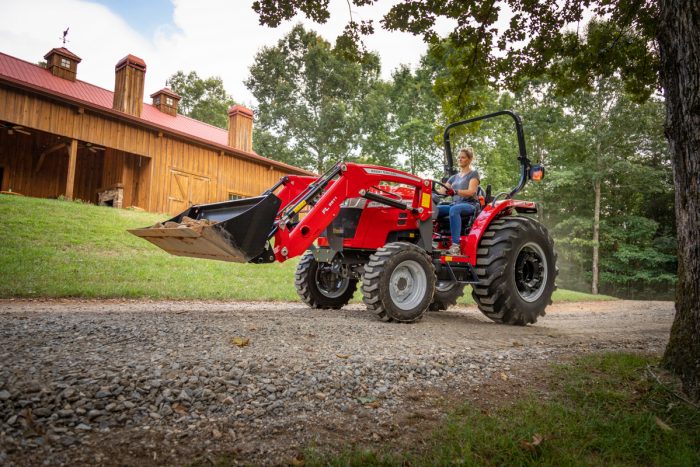 If sub-compact tractors are so versatile, why spend more on a larger machine? This will mostly depend on intended use — and location. 35- to 60-hp tractors provide more power to handle larger loads. For example, a small-acreage farm or homestead could haul pallets of feed or mulch, move small round bales for light feeding, or snow blow a long driveway with a little more power. At the same time, operators aren't sacrificing much in the way of maneuverability or footprint. They can still move around tight spaces easily.
Perhaps the biggest benefit of a compact tractor over a sub-compact, though, is the optional cab available from some manufacturers. For those in harsher climates, a place to keep out of the heat, cold, wind, rain, etc., makes work much more enjoyable.
We'd love to keep in touch! Check us out on Facebook, Twitter and LinkedIn!
Further Ramp Up Ability
Continuing to the next hp range, 50- to 60-hp large compact models allow operators to take on tougher jobs on a larger scale. Models usually provide a wider, longer frame for more stability and ground-to-tire contact.
Look for models with a 3-point hitch option and range of implements to allow for maximum versatility. These tractors offer ample power for rotary mowing, light hay work, loader work and hauling. This size tractor is intended for small farms where a landowner might be moving round bales to feed cattle or horses, using a grapple to move trees or a number of other applications. Additionally, some models from leading manufactures offer a third-function kit that increases capabilities without overcomplicating operations.
Which Is the Best Compact Tractor for Me?
Selecting the right machine will depend on your specific situation. The best way to ensure smart equipment investment is to think through current and future capability needs. There are a lot of sub-compact and compact tractor options out there, and what's on the price tag doesn't necessarily reflect the true cost-benefit analysis for your operation. For example, saving at time of purchase might not work out to long-term ROI if the machine you buy doesn't provide the durability or features you need in a couple years. Work with brands you trust with a reputation for quality, dependability and straightforward operation.
Garrett Davis is the Tactical Marketing Manager for Massy Ferguson's CUE lineup. He maintains a small homestead in southeast Georgia with several horses. He is also the host of At Home with Massey Ferguson, a YouTube series for CUE owners.