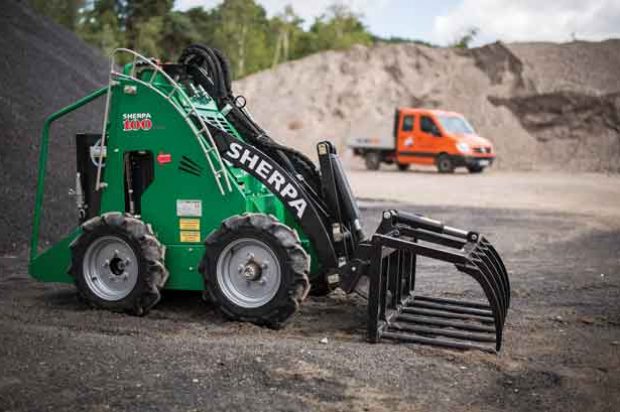 The World's First and Only Battery-Powered Compact Tool Carrier
Triple E Equipment was started back in 2013 as a company that was looking to bring the newest construction equipment technology to the United States. The company started out with the world's first and only battery-powered compact tool carrier, the Sherpa 100ECO, but now has expanded its product line into battery-powered wheelbarrows and buggies. The Sherpa 100ECO is still its most popular product and is widely used throughout North America as it is the only battery-powered compact tool carrier available on the market, says the company. With its mini tool carrier line, Triple E Equipment has been able to help demolition contractors save time on projects, keep concrete cutters from hurting their back while lifting heavy objects and so much more.
The Sherpa 100ECO has been altered over time with small changes to make servicing the machine easier, but the overall size and mechanics of the machine have gone unchanged. The machine has always been 31 in. wide, weighed under 1,600 lbs and has a full dump height of over 6 ft, 3 in. It is the perfect machine to clear debris in an occupied building that has a fume restriction or assisting with taking care of farm animals without the noise of a combustion engine.
The Sherpa 100ECO is four-wheel drive and operates like a true compact tool carrier. The wheelbase is 26 in. and has a 5-in. ground clearance. With a tipping load of more than 1,000 lbs, this machine is perfect for light-duty projects both indoors and outdoors. It is the first machine of its kind that can be operated as efficiently and safely indoors as it can outdoors, says Triple E Equipment.
There is a metric ton of attachments for the 100ECO due to its hydraulic auxiliary function. Currently, the company offers more than 30 different attachments ranging from hydraulic clamps and pallets forks to concrete mixers and vacuum lifts. The most popular attachments are the grapple bucket and vacuum lifting system, but each customer is different and has the ability to get a custom solution to help make their projects easier.
The Sherpa 100ECO has been used in many different applications. It has been used in the largest LEED Double Platinum Certified building in the United States and at The California Academy of Sciences for green roof maintenance and landscaping. This unit was once even used in Miami Children's Hospital for a select demolition project while surgery was taking place on the other side of the wall. The electric motor makes this the most versatile compact tool carrier available in the marketplace today, says Triple E Equipment.
Advice to Buyers
"If you are looking to buy a new piece of machinery, know what you are trying to accomplish with the new unit and understand what the unit costs and what you will save by using the unit each working day," says Alex Berg, president and CEO of Triple E Equipment. "If the unit will save you $1,000 every day you use it and it costs $35,000, will you use the machine 20, 50, 100 days per year? Know what your return on investment will be, and you can better understand if purchasing a new piece of equipment is right for you."